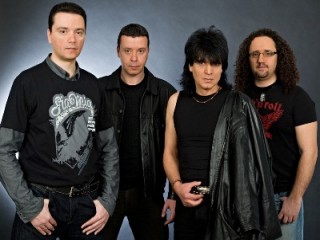 Pace Ride
Date of birth : -
Date of death : -
Birthplace : Sofia, Bulgaria
Nationality : Bulgarian
Category : Arts and Entertainment
Last modified : 2011-06-16
Pace Ride is a Sofia-based Rock/ Heavy Rock/ Metal band formed in 2008.

The band's roots can be traced back to the early 90's when Valentin Guevski (ex-B.T.R.) and Stavri Stavrev (ex-Impuls, FDB and Konkurent) got acquainted while touring with their respective bands. They jammed on several occasions and even discussed the idea of setting up a band together. However, their ways parted shortly thereafter, as Valentin decided to put the music on hold and pursue a career in corporate finance in the UK, while Stavri continued putting his unmistakable stamp on Bulgaria's nascent rock scene with FDB and later on with Konkurent.

They reconnected in the late 2000's through the best friend of Valentin's brother Svetoslav, Radoslav, with whom Svetoslav played in a band in the mid-90's and jointly operated one of the first rehearsal houses in Sofia, the "Brother House". Stavri was the first to receive a call when Valentin, Svetoslav and Radoslav decided to get a drummer to fill the void in their newly assembled band, Pace Ride. Stavri's initial temporary assignment gradually turned into a permanent role in the band, and he quit Konkurent for good to devote all of his energy and talent to Pace Ride.


View the full website biography of Pace Ride.