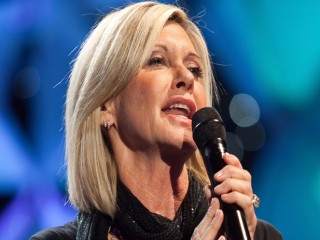 Olivia Newton-John
Date of birth : 1948-09-15
Date of death : 2022-08-08
Birthplace : Cambridge, England
Nationality : Australian
Category : Arts and Entertainment
Last modified : 2022-08-10
Olivia Newton-John was an Australian singer and actress who was born in Britain.

She was a four-time Grammy award winner who has amassed five No. 1 and ten other Top Ten Billboard Hot 100 singles and two No. 1 Billboard 200 solo albums.
Eleven of her singles (including two platinum) and 14 of her albums (including two platinum and four double platinum) have been certified gold by the RIAA. Her music has been successful in multiple formats including pop, country and adult contemporary and has sold an estimated over 100 million albums worldwide.

She co-starred with John Travolta in the film adaptation of the Broadway musical, Grease, which featured one of the most successful film soundtracks in Hollywood history.

Newton-John has been a long-time activist for environmental and animal rights issues. Since surviving breast cancer in 1992, she has been an advocate for health awareness becoming involved with various charities, health products and fundraising efforts. Her business interests have included launching several product lines for Koala Blue and co-owning the Gaia Retreat & Spa in Australia. Newton-John died of breast cancer after decades of fighting the disease.


Newton-John has been married twice. She currently lives with her second husband, John Easterling, in Jupiter Inlet Colony, Florida. She is the mother of one daughter, Chloe Rose Lattanzi, with her first husband, actor Matt Lattanzi.

"Let Me Be There" her debut U.S album in 1973 on MCA Records produced her first top ten single of the same name, Tthe Academy Of Country Music honored Oliva as the Most Promising Female Vocalist and a Grammy Award as Best Country Vocalist.

Just before she moved to the United States to build upon her burgeoning success there, Olivia represented the UK in the Eurovision Song Contest in 1974. The number she sang, which was selected by a poll of TV viewers, was a terrible song called "Long Live Love", and together with a long flowing baby-blue dress, turned out to be a disaster. Olivia was up against stiff competition, as ABBA stole the show with a barnstorming performance of their song "Waterloo", which launched their international career. Olivia came in a distant fourth.

Olivia left England for America in 1975 to promote her next album "Have You Never Been Mellow". The title song charted at #1 and her next single from the album, "Please Mr Please", reached #3. This was the start of a long list of hits which continued throughout the 70s. Olivia became a regular on the TV show "Midnight Special", and in 1976 she had her own TV special on ABC called "A Very Special Olivia Newton -John".

Soft ballads were Olivia's strong suit, and she rattled off a string of albums, including, "Clearly Love", "Come On Over", "Don't Stop Believin", and "Making A Good Thing Better". She toured Japan in 1976 and a concert was recorded as a live album titled "Love Performance".

This proved to be only the beginning of a very exciting career. Her countless successes include three more Grammys, numerous Country Music Awards, American Music Awards and Peoples Choice Awards, five #1 hits including "Physical," which topped the charts for ten consecutive weeks, and 15 top 10 singles. In 1978, her co-starring role with John Travolta in "Grease" catapulted Olivia into super-stardom. This film led to the production Role with John Travolta in "Grease" catapulted Olivia into super-stardomof the most successful movie musical soundtrack in history, featuring the duets "You're The One That I Want" and "Summer Nights," with Travolta, as well as her mega-hit, "Hopelessly Devoted To You." The film was re-released worldwide in 1998 in celebration of it's 20th anniversary to even more acclaim, a true testament to it's timeless quality. Her other film credits include "Xanadu," "Two Of A Kind," "It's My Party," and recently the independent feature, "Sordid Lives." She followed that success, by co-starring with her daughter, Chloe, in the Showtime movie, "The Wilde Girls." Clearly following in her mother's footsteps, Chloe has performed on stage with Olivia during her last two tours.

Olivia's public appeal has proved to be equally timeless. Her career has spanned more than three decades and she is still a vibrant, creative individual that is adored by fans across the world. Throughout her career, the much-loved star, who danced with Gene Kelly in "Xanadu," hosted the popular internationally syndicated "Wild Life" television show, was bestowed an O.B.E. (Order Of The British Empire) by Queen Elizabeth in 1979, has held many humanitarian causes close to her heart, particularly since the birth of her daughter Chloe in 1986. She served as Goodwill Ambassador to the United Nations Environment Programme and in 1991, the Colette Chuda Environmental Fund/CHEC (Children's Health Environ-mental Coalition) was founded after the tragic death of Chloe's best friend from a rare childhood cancer, with Olivia serving as National Spokesperson for ten years. Her steadfast devotion and shared commitment to CHEC's mission and goals enabled the organization to receive worldwide attention and support.

Her charmed life has not been without it's share of upset. In the 90's, Olivia successfully overcame her own battle with breast cancer, which inspired her self-penned and produced album, "GAIA," her most personal album reflecting upon her experiences with cancer. She used these experiences to gain greater self-awareness and became a positive inspiration to millions of people battling cancer. As a breast cancer survivor, Olivia has become increasingly well known and respected for talking openly about her battle with breast cancer and for promoting public awareness of the importance of early detection. Her personal victory against cancer led her to announce her partnership with the Austin & Repatriation Medical Centre and the creation of the "Olivia Newton-John Cancer Centre" (ONJCC) on the Austin Campus in her hometown, Melbourne, Australia. The ONJCC will provide a comprehensive range of services and facilities for cancer treatment, education, training and research. Olivia continues to give back to the community generously and has been acknowledged many times by charitable and environmental organizations for her ongoing efforts, among them: the American Red Cross, the Environmental Media Association, the Women's Guild of Cedar's Sinai Medical Center, the Rainforest Alliance and Concept Cure.

Her album - Back With A HeartIn 1999, with the release of her album, "Back With A Heart," Olivia garnered an Emmy Award for her songwriting and returned to work as a performer touring extensively in the United States for the first time in seventeen years. In the new millennium, her international recognition has continued to grow. She was invited by the Vatican on behalf of Pope John Paul II to perform at the Jubilee Celebration for the Sick and Healthcare Workers. Olivia was thrilled to sing the duet, "Dare to Dream" with fellow Australian John Farnham at the Opening Ceremony of the Sydney 2000 Olympics to an estimated global viewing audience of four billion people. Adding to this Olympic experience is what Olivia feels is one of her most memorable moments - the honor of carrying the Olympic Torch and then passing it to tennis legend, Pat Rafter, on the steps of the Sydney Opera House, during the Olympic Torch Relay.

In 2000/2001, Olivia released her only live album, "One Woman's Live Journey," followed by "Magic - The Very Best of Olivia Newton-John," which celebrated thirty years of recording. And if that wasn't enough, she also released her first holiday album, "The Christmas Collection." In 2002, Olivia was inducted into the prestigious Australian Music Hall Of Fame at the 16th Annual Aria Awards. Her passion for Australia was proven once again when Olivia recently reunited with friend and business partner Pat Farrar to launch their distinctly Australian wines under the iconic homegrown brand Koala Blue, to proudly bring the "taste of Australia" to the rest of the world. Her current cd, simply titled, "2," was recorded in 2002 in Australia and features a host of talented Ozzies along with a couple of her American friends (honorary Ozzies!) and is quickly garnering international acclaim.

View the full website biography of Olivia Newton-John.