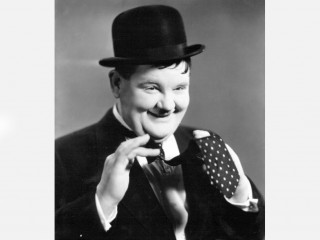 Oliver Hardy
Date of birth : 1892-01-18
Date of death : 1957-08-07
Birthplace : Harlem, Georgia, U.S.
Nationality : American
Category : Famous Figures
Last modified : 2010-05-31
Oliver Hardy born Norvell Hardy was an American comic actor famous as one half of Laurel and Hardy, the classic double act that began in the era of silent films and lasted over 31 years, from 1926 to 1957.

Unlike his future screen partner Stan Laurel, American comedian Oliver Hardy did not come from a show business family. His father was a lawyer who died when Hardy was ten; his mother was a hotel owner in both his native Georgia and in Florida. The young Hardy became fascinated with show business through the stories spun by the performers who stayed at his mother's hotel, and at age eight he ran away to join a minstrel troupe. Possessing a beautiful singing voice, Hardy studied music for a while, but quickly became bored with the regimen; the same boredom applied to his years at Georgia Military College (late in life, Hardy claimed to have briefly studied law at the University of Georgia, but chances are that he never got any farther than filling out an application). Heavy-set and athletic, Hardy seemed more interested in sports than in anything else; while still a teenager, he umpired local baseball games, putting on such an intuitively comic display of histrionics that he invariably reduced the fans to laughter. In 1910, he opened the first movie theater in Milledgeville, Georgia, and as a result became intrigued with the possibilities of film acting.

Traveling to Jacksonville, Florida in 1913, he secured work at the Lubin Film Company, where thanks to his 250-pound frame he was often cast as a comic villain. From 1915-25, Hardy appeared in support of such comedians as Billy West (the famous Chaplin imitator), Jimmy Aubrey, Larry Semon (Hardy played the Tin Woodman in Semon's 1925 version of The Wizard of Oz), and Bobby Ray. An established "heavy" by 1926, Hardy signed with the Hal Roach studios, providing support to such headliners as Our Gang and Charley Chase. With the rest of the Roach stock company, Hardy appeared in the Comedy All-Stars series, where he was frequently directed by fellow Roach contractee Stan Laurel (with whom Hardy had briefly appeared on-screen in the independently produced 1918 two-reeler Lucky Dog).

At this point, Laurel was more interested in writing and directing than performing, but was lured back before the cameras by a hefty salary increase. Almost inadvertently, Laurel began sharing screen time with Hardy in such All-Stars shorts as Slipping Wives (1927), Duck Soup (1927) and With Love and Hisses (1927). Roach's supervising director Leo McCarey, noticing how well the pair worked together, began teaming them deliberately, which led to the inauguration of the "Laurel and Hardy" series in late 1927. At first, the comedians indulged in the cliched fat-and-skinny routines, with Laurel the fall guy for the bullying Hardy. Gradually the comedians developed the multidimensional screen characters with which we're so familiar today. The corpulent Hardy was the pompous know-it-all, whose arrogance and stubbornness always got him in trouble; the frail Stan was the blank-faced man-child, whose carelessness and inability to grasp an intelligent thought prompted impatience from his partner. Underlining all this was the genuine affection the characters held for each other, emphasized by Hardy's courtly insistence upon introducing Stan as "my friend, Mr. Laurel." Gradually Hardy adopted the gestures and traits that rounded out the "Ollie" character: The tie-twiddle, the graceful panache with which he performed such simple tasks as ringing doorbells and signing hotel registers, and the "camera look," in which he stared directly at the camera in frustration or amazement over Laurel's stupidity. Fortunately Laurel and Hardy's voices matched their characters perfectly, so they were able to make a successful transition to sound, going on to greater popularity than before. Sound added even more ingredients to Hardy's comic repertoire, not the least of which were such catch-phrases as "Why don't you do something to help me?" and "Here's another nice mess you've gotten me into."

Laurel and Hardy graduated from two-reelers to feature films with 1931's Pardon Us, though they continued to make features and shorts simultaneously until 1935. While Laurel preferred to burn the midnight oil as a writer and film editor, Hardy stopped performing each day at quitting time. He occupied his leisure time with his many hobbies, including cardplaying, cooking, gardening, and especially golf. The team nearly broke up in 1939, not because of any animosity between them but because of Stan's contract dispute with Hal Roach. While this was being settled, Hardy starred solo in Zenobia (1939), a pleasant but undistinguished comedy about a southern doctor who tends to a sick elephant. Laurel and Hardy reteamed in late 1939 for two more Roach features and for the Boris Morros/RKO production The Flying Deuces (1939). Leaving Roach in 1940, the team performed with the USO and the Hollywood Victory Caravan, then signed to make features at 20th Century-Fox and MGM. The resultant eight films, produced between 1941 and 1945, suffered from too much studio interference and too little creative input from Laurel and Hardy, and as such are but pale shadows of their best work at Roach.

In 1947, the team was booked for the first of several music hall tours of Europe and the British Isles, which were resounding successes and drew gigantic crowds wherever Stan and Ollie went.

Upon returning to the States, Hardy soloed again in a benefit stage production of What Price Glory directed by John Ford. In 1949, he played a substantial supporting role in The Fighting Kentuckian, which starred his friend John Wayne; as a favor to another friend, Bing Crosby, Hardy showed up in a comic cameo in 1950's Riding High. Back with Laurel, Hardy appeared in the French-made comedy Atoll K (1951), an unmitigated disaster that unfortunately brought the screen career of Laurel and Hardy to a close. After more music hall touring abroad, the team enjoyed a resurgence of popularity in the U.S. thanks to constant showings of their old movies on television.

Laurel and Hardy were on the verge of starring in a series of TV comedy specials when Stan Laurel suffered a stroke. While he was convalescing, Hardy endured a heart attack, and was ordered by his doctor to lose a great deal of weight. In 1956, Hardy was felled a massive stroke that rendered him completely inactive; he held on, tended day and night by his wife Lucille, until he died in August of 1957.

Ironically, Oliver Hardys passing occurred at the same time that he and Stan Laurel were being reassessed by fans and critics as the greatest comedy team of all time.
View the full website biography of Oliver Hardy.