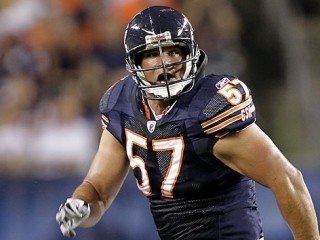 Olin Kreutz
Date of birth : 1977-06-09
Date of death : -
Birthplace : Honolulu, Hawaii
Nationality : American
Category : Sports
Last modified : 2011-01-07
Olin Kreutz is a center and current member of the Chicago Bears in the National Football League (NFL).

NFL Career:

A six-time Pro Bowl selection, the keystone of the Bears offense for the past 11 seasons, enters his 13th year in the NFL... Heads into 2010 having started 118 consecutive regular season contests and 137 of the Bears last 138 games, including the playoffs... His 118 straight starts is the third-longest streak among active NFL centers... Has started all 16 contests in a season nine times in his career, including seven straight years entering the 2010 season... One of nine players in franchise history to be named to six Pro Bowls, tying him for 5th in club history in most Pro Bowl selections, trailing only Walter Payton (9), Jay Hilgenberg (7) and Stan Jones (7) among Bears offensive players... His six straight Pro Bowl selections (2001-06) trail only Hilgenberg and Jones (7) for most consecutive selections by a member of the Bears offense... Has helped pave way for six 1,000-yard running backs in his career, all in the last 10 seasons... Chicago has had 100-yard rushers in 28 games over the past seven seasons... Tied with Pat Mannelly as the longest-tenured Bear, each having joined Chicago in 1998... Last missed a game 11/18/02 while recovering from an appendectomy: played the week following the bye in 2004 in which he had elbow surgery... Has started each of his last 172 games played, including all 5 career postseason contests... Only four-time veteran winner of the Brian Piccolo Award which is voted on by his teammates.

HONORS AND AWARDS: 2009 - All-Decade (ESPN, AP); Brian Piccolo Award.
2006 - Pro Bowl; All-Pro first-team (AP, The Sporting News); All-NFL (Pro Football Weekly) All-NFC (Pro Football Weekly); Brian Piccolo Award.
2005 - Pro Bowl.
2004 - Pro Bowl; Brian Piccolo Award.
2003 - Pro Bowl; Brian Piccolo Award.
2002 - Pro Bowl.
2001 - Pro Bowl.

2009 SEASON: Started all 16 games, extending his consecutive games started streak to 118 games... Helped block for Jay Cutler who threw for the second most yards in Bears history (3,666)...One of three offensive lineman to start every game.

2008 - Offensive captain anchored line that had the same five starters for all 16 games... Blocked for RB Matt Forte who broke the Bears rookie rushing record and finish third in the NFL in scrimmage yards (1,715)... Protected Bears QB Kyle Orton who threw for 2,972 yards, the sixth-highest mark in franchise history.

2007 - Continued his streak of consecutive games started, starting all 16 of the Bears contests for the fifth straight year... One of two Bears offensive lineman to start every game (Roberto Garza)... Part of O-line that helped produce over 100 net rushing yards in three of the final seven games.

2006 - Anchored Bears offensive line by starting all 16 games at center for the 4th straight season for a Bears O-Line that allowed just 25 sacks, tied for 6th fewest in the NFL and 2nd fewest in his 9-year career (17, 2001)... Under Kreutz's leadership, Chicago gained 5,199 yards in total offense, the most since 1999 (5,523) including 1,918 rushing yards, the second-most in his career... Helped Thomas Jones rush for over 1,000 yards for second consecutive season, the first time Bears had an individual rush for 1,000 yards in back-to-back years since Neal Anderson in 1989-1990; also marked the first time Chicago had back-to-back 1,000 yard backs since James Allen (2000) and Anthony Thomas (2001)... Started all 3 postseason contests as the Bears allowed just 4 sacks... Did not play in the Pro Bowl.

2005 - Centerpiece of Chicago O-line that averaged fewer than 2 sacks allowed per game while helping the Bears tie for 10th in the league with just 31 sacks allowed... Helped open holes for Bears ground attack that ranked 8th in rushing yards in the NFL... Started all 16 games at center for 3rd straight season... Member of O-line vs. CIN (9/25) that did not allow a sack for the first time in 46 games... Played in 100th career game as offense rushed for 2 TD and threw for 2 more vs. MIN (10/16)... Started 100th career game at PIT (12/11)... Started vs. CAR (1/15) in Divisional Playoff... Did not play in Pro Bowl.

2004 - Part of Bears O-line for all 16 games for the fourth time in 6 seasons and was named as NFC's Pro Bowl starter for the fourth straight campaign... Contributed to season-high 182 rushing yards at GB (9/19)... Made 75th career start vs PHI (10/3).
2003 - Earned third consecutive Pro Bowl start after starting all 16 games... Caught deflected pass for a loss of 8 yards vs. OAK (10/5) for his first career reception... Did not play in Pro Bowl due to injury.

2002 - Remained a constant throughout the season for an injury-depleted O-line and earned recognition as the conference's top center with his selection as the NFC's Pro Bowl starter for the second consecutive year... Played all but 1 game despite having mid-season surgery to remove his appendix... Started Games 1-9, 11-16; Inactive Game 10... Streak of 25 consecutive starts ended at STL (11/18) when an appendectomy (11/11) caused him to be inactive at STL (11/18)... Returned to the starting lineup vs. DET (11/24) for the final 6 games of the season.

2001 - Earned first career Pro Bowl start after starting all 16 games at center, plus the playoff contest, as the anchor of an experienced O-line that allowed the fewest sacks in the league... Member of O-line that featured the same 5 starters for all 16 regular season games and the playoff contest... Helped Bears average 108.9 rushing yards per game, the team's highest season-ending average since 1997 (109.1)... Made postseason debut in Divisional Playoff start vs. PHI (1/19/02).

2000 - Voted third alternate to NFC Pro Bowl team despite being available for only 7 games during the season due to a knee injury... Started Games 1-3 and 8-11; Inactive Games 4-7... Left start vs. NYG (9/17) with knee injury... Inactive for next 4 games due to injury... Returned to starting lineup at PHI (10/22)... Made fourth consecutive start at center vs. TB (11/19) before leaving game in 3rd quarter with knee injury... Placed on injured reserve (11/22) for final 5 games, 1 of 15 Bears to end season on injured reserve.

1999 - Named second alternate to NFC Pro Bowl squad after starting all 16 games at center for first time in his career. 1998 - Played 9 games as a rookie, starting 1 and seeing action at center and guard... Inactive Weeks 1-3 and 6... Made NFL debut subbing for injured Todd Perry at LG vs. DAL (10/18)... Played on special teams and at center on team's final drive at DET (11/15)... Played center for half of game vs. TB (11/29) and played RG in 2nd quarter due an injury to Chris Villarrial... Made first career start vs. GB (12/27), playing the 1st and 3rd quarters.

College:

Two-year starting center for Washington (1995-97) who entered draft following junior season... Earned first-team All-Pac-10 honors each season... All-America selection by Football News and The Sporting News after junior year after starting every game and being graded by coaches as team's top O-lineman... Did not allow a sack or pressure in 10-of-11 games... One of two O-lineman to start every game for Huskies... Recovered fumble for TD vs. Oregon... Delivered team-high 90 knockdowns as a sophomore and graded highest of team's O-linemen... Only true freshman to see playing time in 1995; appearing in every game as the second-team center... Majored in sociology.

Personal:

All-state first-team selection and Super Prep All-American at St. Louis H.S. in Honolulu, HI... Senior team captain played center, guard and tackle during prep career... Also won state heavyweight wrestling title and competed as shot putter... Makes his off-season home in Honolulu... He and his wife, Wendi, have 4 children.


View the full website biography of Olin Kreutz.