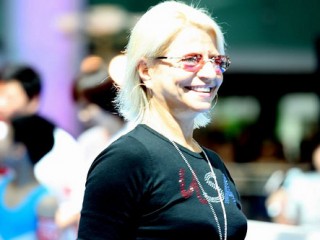 Olga Korbut
Date of birth : 1955-05-16
Date of death : -
Birthplace : Grondo, Belaruss
Nationality : Belarussian
Category : Sports
Last modified : 2010-07-06
Olga Korbut (also known as: Mrs. Leonid Borkevich) born May 16, 1955 in Grodno, Soviet Union is a Belarussian gymnast .


Soviet gymnast Olga Korbut revolutionized the sport of gymnastics with her charm and incredible flexibility. She captured the hearts of millions of television viewers worldwide and brought gymnastics to the forefront of the Olympics.

Early Interest in Gymnastics

Korbut was born May 16, 1955, in the town of Grodno, close to the border of Poland in the former Belorussian Soviet Socialist Republic, which is now Belarus. Her father, Valentin, was an engineer, while her mother, Valentina, was a cook. She was the youngest of four sisters.

One sister, Ludmilla, was involved in gymnastics, and Korbut followed her lead and started training. She was small, but her size made her more determined to succeed. She could run faster and jump higher than all the other children.

When she was eleven, Korbut qualified to attend the Soviet Union's government sports school. More than 500 girls attended the school.. She started training with Yelena Volchetskaya, a gold medal winner from the 1964 Olympics. Volchetskaya saw Korbut's potential and brought her to the attention of the man who ran the school, Renald Knysh. They both were impressed with her determination and fearlessness. She was always willing to try new flips, jumps, and twists.

New Moves

In 1967, Korbut entered the Belorussian junior gymnastics championships. In 1968, she won gold medals in the vault, balance beam, and uneven bars at the Spartakiade school championship, competing against some of the best gymnasts in the Soviet Union.

At her first Soviet national championship in 1969, the age rules were altered to allow the fourteen-year-old Korbut to participate. She performed two new moves that she had been working on with her coaches. The Korbut Salto was a backwards-aerial somersault, launching and then landing back on the four-inch wide balance beam. Even more daring was the Korbut Flip, an unprecedented back flip on the uneven bars. She placed fifth in her first major competition, but controversy surrounded the unorthodox moves. Some officials complained that they were not in keeping with traditional gymnastics. Others were concerned that they were dangerous.

Korbut became the Soviet vault champion at the Soviet national championships in 1970 and took eighth place overall. She was taken along to the 1970 world championships as a reserve competitor. Soviet officials were concerned that she was too young to compete, but they allowed her to travel with the team to gain the experience of an international meet. Although she did not compete, she did perform for a panel of judges, who were very impressed.

In 1971, she placed fourth in the Soviet national championships. She also earned her Master of Sports title, granted to those who attained excellence in sports. At the time, she was the youngest person to be granted the honor. She decided that she had two goals: to win a gold medal at the Olympics and to finish school.

She finished third in the Soviet national championships in 1972. She then participated in the Riga Cup in Latvia, her first international championship, and won. This allowed the Korbut Salto, the Korbut Flip, and a new move, the Korbut Flic-Flac, to earn wider recognition.

1972 Munich Olympics

Korbut completed school and went to the USSR Cup, which was also the selection trial for the Olympics. She was named as an alternate to the Soviet team. When a teammate was injured, Korbut was added to the squad. Her yarn-bound pigtails made her seem much younger than her seventeen years. She was four feet eleven inches tall, weighed 90 pounds, and was the smallest of all the competitors in the 1972 Olympics.

Five days before the team left for Munich, West Germany, Korbut decided to change her musical selection for the floor exercise. Her coaches strongly advised against it, concerned that she would disrupt her peformance, but Korbut was insistent. Her mother's advice to Korbut before she left, according to the book Comebacks: Heroic Returns, was: "Be careful, be first, be joyful."

In the first days of the Olympics, Korbut helped the Soviets win the team gold medal. She also captured the attention of television viewers around the world who watched her joyfully fly through her routines. Most of the Soviet competitors were stern, but Korbut was smiling. People tuned in to see her incredible flexibility but also to see her spirit.

Next came the all-around competition, where gymnasts competed in all four exercises: vault, balance beam, uneven parallel bars, and floor exercise. The athlete with the highest combined score wins the gold medal. Korbut vaulted well, scoring a 9.7 out of 10. She then scored a 9.75 on the floor exercise. As she faced the uneven parallel bars, she was in third place, just 0.15 from first place. Then she fell apart. She bobbled on her start, and it seemed to disrupt her rhythm. Then she caught her toe but recovered. She lost her composure and lost her balance, falling off the bars. She completed her performance and headed back to the bench. The television cameras followed her to watch her cry her eyes out. The world watched and sympathized.

The next day, Korbut returned to the arena and made an incredible comeback. She executed a back flip on the balance beam and a back flip on the uneven bars. Her incredibly flexible body performed contortions that amazed everyone watching. She won individual gold medals on the balance beam and the floor exercise and a silver medal on the uneven bars.

Stardom

The world was enamored of Korbut. Within days, she had catapulted to stardom. The press followed her everywhere. People paid attention when she said she liked ketchup. It was news when she told a reporter, "Life is marvelous now because I have a tape recorder." The American Broadcasting Company's "Wide World of Sports" named her Athlete of the Year. In early 1973, the Associated Press conducted on international poll and named Korbut as Athlete of the Year, marking the first time in more than forty years that an athlete from a communist country received the honor.

Following the Olympics, Korbut attracted huge crowds as she toured the United States and Europe. She visited President Richard Nixon at the White House. She also met with the prime minister and the queen of England. She received bags full of fan mail. Some of it was simply addressed to "Olga, Moscow."

Interest in gymnastics exploded around the world. In the United States, there were 15,000 practicing gymnasts prior to the 1972 Olympics. A decade later, there were 150,000.

Korbut returned to Grodno to attend college. In 1975, she was honored by the United Nations Educational, Scientific and Cultural Organization for bringing the world together. They named her the Woman of the Year and awarded her with the "gold tuning fork."

1976 Montreal Olympics

Korbut returned to the Olympics in 1976 in Montreal. Once again, she was a part of a gold-meal-winning Soviet team. She also took an individual silver medal on the balance beam. However, that year there was a new darling of gymnastics. A fourteen-year-old named Nadia Comaneci scored the first perfect 10 in Olympic history.

Officially retiring from gymnastic competition in 1977, Korbut returned home and completed college. She then accepted a position as head coach of the Belorussian team in Minsk. She was the first inductee when the Gymnastics Hall of Fame opened in 1987. She married Soviet rock star Leonid Bortkevich, and in 1979 they had a son, Richard.

Chernobyl

On April 26, 1986, disaster struck the Soviet Union. There was a nuclear disaster at Chernobyl, 180 miles from Korbut's home in Minsk. She and her family could see the radiation cloud, but they were never warned to stay inside. "I was at my home in Minsk when Chernobyl happened, and they didn't tell us for three or four days," People reported Korbut as saying. "You in the West knew first. When people began hearing bits of information, they felt panicky. They were afraid to drink the water, breathe the air, afraid of everything. We were all outdoors, because it was close to the May 1 celebrations, and we were planting gardens and enjoying the spring. If they had told us Chernobyl had exploded, we would have stayed inside and maybe avoided those early heavy doses of radiation." She was outraged at the government for endangering the lives of so many people.

Korbut and her husband sent their son to live with relatives in New Brunswick, New Jersey, in order to keep him away from any further effects of the radiation. "Most of the doctors say the biggest thing you can do for kids is take them out of the country. But so many people can't do that," she told People.

While traveling in the United States in 1989, she found that she had developed thyroid problems, most likely the result of her exposure to the fallout from the nuclear disaster. In 1990, she became the spokesperson for the Emergency Help for Children Foundation, a nonprofit agency set up to help the victims of the Chernobyl disaster.

Life in the United States

Korbut and her husband moved to the United States in 1991, settling with their son in Atlanta, Georgia, where she continued her coaching. Korbut and Bortkevich divorced in 2000. In 2001, an eviction notice was served at the house in Atlanta. Bortkevich had bought out Korbut's interest in the house during divorce proceedings. Korbut had not lived there for some time, but her son was still there. Officials were surprised to find $30,000 in counterfeit bills as well as child pornography. Officials moved everything from the home, including Korbut's Olympic memorabilia. "She hasn't lived there for two years," Andre Gleen, a part owner in the facility where Korbut coached, told Sports Illustrated. Korbut was not implicated in the case.

In January 2002, Korbut was arrested for shoplifting $19 worth of food from a Publix grocery store in Atlanta, Georgia. She avoided prosecution by paying a fine and agreeing to take a "life values" course. She also agreed never to shop at Publix again.

Despite taking a few tumbles, Korbut once again staged a comeback. She married Alex Voinich. In 2002, she moved to Scottsdale, Arizona, where she trained young gymnasts. She also presented clinics and made motivational speeches. Her legacy remained untarnished. Almost single-handedly, Olga Korbut revolutionized the sport of gymnastics, making it a highlight of the Summer Olympics for many decades.


AWARDS

Master of Sports, Soviet Union, 1971; Olympic Gold Medal, Soviet gymnastics team, 1972; Olympic Gold Medal, balance beam, 1972; Olympic Gold Medal, floor exercise, 1972; Olympic Silver Medal, uneven bars, 1972; Female Athlete of the Year, Associated Press, 1972; Athlete of the Year, ABC Sports, 1972; Top Athlete of the Year, BBC, 1974; Woman of the Year and Golden Tuning Fork, United Nations Educational, Scientific, and Cultural Organization,1975; Olympic Gold Medal, Soviet gymnastics team, 1976; Olympic Silver Medal, balance beam, 1976.
View the full website biography of Olga Korbut.