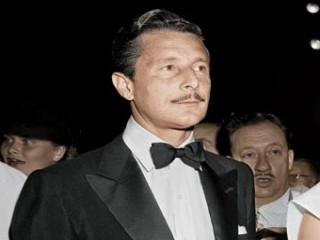 Oleg Cassini
Date of birth : 1913-04-11
Date of death : 2006-03-17
Birthplace : Paris, France
Nationality : French-American
Category : Famous Figures
Last modified : 2011-08-30
Oleg Cassini was a French-born American fashion designer noted for being chosen by Jacqueline Kennedy to design her state wardrobe in the 1960s.

Cassini was born in Paris in 1913 into a family bearing aristocratic titles on both sides. His mother's Italian family, the Cassinis, had ties to imperial Russia, and Cassini's maternal grandfather had been the Russian ambassador to the United States earlier in the century. His father, Alexander Loiewski, was a Russian diplomat who lost his fortune a few years later when the Loiewski properties were seized in the aftermath of the Bolshevik Revolution. Impoverished, the family dropped the Russian surname and settled in Florence, where Cassini's mother, Marguerite, opened a successful dress business that sold copies of the newest French fashions. It was here that the future designer received his earliest training in the business.

After graduating from Florence's Academia Belle Arte in 1934, Cassini set up his own dressmaking enterprise in Rome before he and his brother, Igor, emigrated to the United States in 1936. Practically penniless when they arrived, they spent a few lean years living in a New York City rooming house and eating hot dogs. Their suave European manners and titled legacy opened doors in high society, however, and in 1938 Cassini wed a cough-syrup-fortune heiress. The union was shortlived, its end well-chronicled in the gossip press, and Cassini headed for Hollywood, where his impressive portfolio of sketches landed him a job as an assistant to famed costume designer Edith Head.

Cassini became an American citizen and served in the U.S. Army during World War II, and spent most of the 1940s dressing his second wife, the film star Gene Tierney, for a slew of hit movies. The marriage produced two daughters, but the first one, Antoinette Daria, was born with severe birth defects in 1943 after a pregnant Tierney was exposed to rubella, or German measles, by a zealous fan. Both parents were devastated by the tragedy, and their marriage suffered for it. Reconciliations were interrupted by periods of infidelity on both sides, and they divorced in 1953, the year their second daughter, Christina, turned five.

Returning to New York City, Cassini launched his own label in 1950, and his stylish, flattering but affordable frocks sold well and established his name as a designer. His reputation as somewhat of an adorable rake continued, and he dated a slew of well-known celebrities and socialites. There were rumors he was engaged to the film star Grace Kelly, but she reportedly ended their romance when she met Prince Rainier of Monaco.

Cassini achieved worldwide fame shortly after John F. Kennedy was elected to the White House in 1960, when Kennedy's young, glamorous wife announced that she had chosen Cassini to serve as her official couturier. The fashion establishment was rather miffed that someone of Cassini's standing known more as a playboy than a serious designer was chosen outside of their ranks, but Cassini was socially acquainted with the Kennedy clan and had convinced Jacqueline Kennedy that his Hollywood experience would help him make her a fashion standout as First Lady. He proved correct, for from Inauguration Day 1961 forward, details of her ensembles were breathlessly chronicled by the press and avidly copied by manufacturers. "Cassini from the start produced a wardrobe that was elegant but modern," noted the Times of London, including the one he designed for Kennedy at her husband's swearing-in ceremony.

The Kennedy Administration lasted less than three years, but the 300 outfits that Cassini made for Jacqueline Kennedy set several trends that endured for the entire decade. His style signatures included A-line geometric dresses, pillbox hats, boxy jackets with oversized buttons, and a leopard coat that became a ubiquitous staple for the well-dressed woman. Cassini was also an astute entrepreneur, venturing into menswear and then becoming the first American designer to license his name to other products. "Oleg Cassini" hosiery, handbags, and even bed linens earned him a small fortune.

Cassini worked steadily until his death, even designing a line of dresses for David's Bridal the year before he died. He remained an unrepentant raconteur, and chronicled his fascinating encounters with the equally rich and famous in a 1987 autobiogra- phy, In My Own Fashion .

He died on March 17, 2006, in Manhasset, New York, at the age of 92. His third wife, Marianne, told the press that a broken blood vessel in his head was the cause of death. Daughters Daria and Christina also survive him, as do four grandchildren.

View the full website biography of Oleg Cassini.