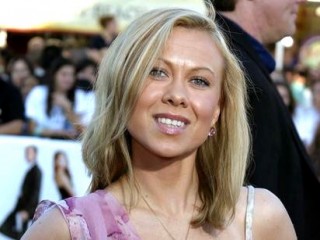 Oksana Baiul
Date of birth : 1977-11-16
Date of death : -
Birthplace : Dnipropetrovsk, Ukraina
Nationality : Ukrainian
Category : Sports
Last modified : 2011-10-14
Oksana Serhiyivna Baiul is a Ukrainian professional figure skater. She is the 1994 Olympic Champion in Ladies' Singles and 1993 World Champion.

Baiul won the 1993 World Championships in her first senior competitive season at the age of 15. She then won the gold medal at the 1994 Winter Olympics, defeating Nancy Kerrigan of the United States. Baiul had nearly missed competing in the free skate altogether, having been injured after a collision with Tanja Szewczenko of Germany during a warm-up session following the ladies' short program. She required stitches in her leg, and received two Olympic-approved pain-killing injections of anesthetics in her lower back and shoulder which enabled her to perform and complete her free skate.

Despite their status as Olympic champions, Baiul and Viktor Petrenko faced the same difficulties back home in Odessa as their fellow Ukrainians, living in a financially-strapped country where even meat was a luxury and utility outages were a common occurrence. Conditions at their rink in Odessa had deteriorated severely due to the lack of financial support from the government for figure skating since the breakup of the Soviet Union. They had no working ice resurfacer, so coaches and skaters often had to resurface the ice by hand. The conditions influenced her decision to turn professional after the 1994 Winter Olympics, even though she was only 16 years old at the time and had competed in only four major international events (winning the two highest ranked — World Championships and the Olympics – and finishing second in the European Championships in 1993 and 1994). Her coach and surrogate mother, Zmievskaya, negotiated a very profitable contract for her to tour the United States following the Olympics, an opportunity she could only take advantage of as a professional.

Baiul was soon plagued by physical ailments that affected her skating ability. She required arthroscopic knee surgery in the summer of 1994, after which she was advised by her doctor not to return to the ice for two months. Due to the million-dollar touring contract signed by her coach/manager/surrogate mother, Zmievskaya, Baiul ignored doctor's wishes and was skating again in two weeks; she was performing again in six. This move, along with changes in her maturing body, drastically hindered her jumping ability.

In December 2006, Baiul skated at the Red Square ice rink in Moscow alongside famous champions from Russia, China, France and other countries. In February 2007, she collaborated with renowned ballet dancer Saule Rachmedova to bring together Ice Theatre of New York and couture fashion for the debut of innovative fashion designer Levi Okunov's "Winter Collection." The following month, Baiul appeared on MTV's Total Request Live. She was there to promote the new ice skating film Blades of Glory (2007), starring Will Ferrell.

Baiul currently has a role in the skating stage musical, Cold as Ice. The story surrounds six skaters from Canada, Russia, and the United States preparing for their national championships and the Olympics while dealing with demanding coaches, stage mothers, and other trials. The story itself was conceived and written by former skater Frank D'Agostino. A full stage version of Cold As Ice was produced and presented by the Gateway Playhouse in May 2007.

On March 8, 2009, and again on March 14, 2010, Baiul made guest appearances at the Kate Wollman Skating Rink at Prospect Park in Brooklyn, NY, as part of the skating center's annual show. She also took part in meet-and-greet sessions with skating students after each performance.

On Saturday, March 27, 2010, Oksana skated at the One Step Closer HIV AIDS figure skating exhibition. Directed and produced by Tim David, the benefit was for the AIDS Resource Foundation for Children. She performed her signature Swan Lake program and was part of the meet-and-greet after the show. In January 1997, Baiul was arrested for driving under the influence of alcohol after crashing her car into a tree in Connecticut. The charges were eventually dropped after she met the terms of probation and completed an alcohol education program. Baiul is mentioned in the Family Guy episode, "Wasted Talent" (season 2, episode 20), during brewmaster Pawtucket Pat's song about his brewery

Baiul lived in Richmond, Virginia for several years in the late 1990s before moving to her current residence in Cliffside Park, New Jersey. She ended an engagement to her long-time boyfriend, clothing entrepreneur Gene Sunik, in 2005. She has her own line of clothing and jewelry. In November 2005, Baiul appeared on the Bravo television program Celebrity Poker Showdown.
She was also part of the celebrity panel of judges (along with Steve Garvey and Jonny Moseley) on the ABC show Master of Champions, which aired briefly in 2006.
View the full website biography of Oksana Baiul.