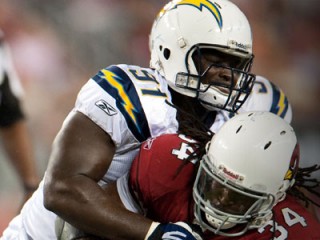 Ogemdi Nwagbuo
Date of birth : 1985-12-24
Date of death : -
Birthplace : San Diego, California, United States
Nationality : American
Category : Sports
Last modified : 2010-09-20
Ogemdi Sharron Nwagbuo (born December 24, 1985 in San Diego, California) is an American football defensive tackle for the San Diego Chargers of the National Football League. He was signed by the New York Giants as an undrafted free agent in 2008. He played college football at Michigan State.

Nwagbuo rose from obscurity in 2009. A practice squad player in 2008 who was likely destined for the same role in '09, he made the opening day active roster with the help of a solid training camp and a rash of injuries along the defensive line and put up some impressive numbers.

Nwagbuo's background made him one of the more interesting stories to watch in 2009. Pronounced (oh-GEM-dee new-WAH-boe), his parents were born in Lagos, Nigeria, and even though "OG," as he is referred to by teammates, was born in San Diego, he was given a Nigerian name, which translated to English means "my time will come." Nwagbuo is the family's surname.

Nwagbuo got a late start playing football. As a junior at Mt. Miguel High School in the San Diego suburb of Spring Valley, he played just three snaps. Later, the CIF, the governing body of high school sports in California, ruled Nwagbuo as ineligible for his senior season because his family had moved and he'd violated the CIF's transfer rules. After graduating, Nwagbuo enrolled at Southwestern College in Chula Vista, California, where he got his first real exposure to the game. Despite very limited football experience, Nwagbuo had a successful two-year stint at Southwestern, earning second-team all-conference honors as a sophomore. It led to a scholarship offer from Michigan State where he played football and earned a degree in interdisciplinary studies. Following graduation, Nwagbuo signed as a free agent with the New York Giants. He went through training camp with the Giants in '08 but got cut before the season started. Out of football, Nwagbuo took a job in customer service for Enterprise Rent-a-Car back in San Diego. The Chargers eventually signed Nwagbuo to their practice squad in Dec. 2008 and he took a small break from Enterprise, but returned to work for them after the season. In fact he continued to work at Enterprise through the Chargers' 2009 offseason conditioning program, leaving the job only a couple weeks before training camp began in late July.

2009: Game Ball for sack in 4Q of first-career game Sept. 14 MNF at OAK...Game Ball Sept. 20 vs. MIA...third-and-goal TFL vs. Ronnie Brown one of season-high two TFLs on day... tipped pass led to Quentin Jammer INT and TD by offense Nov. 29 vs. KC..."Reserve Injured" (ankle) Dec. 9.

2008: Five weeks, including playoffs, on practice squad.

COLLEGE: Played 2006-07 at Michigan State...second-team All-Foothill Conference at Southwestern College in Chula Vista, Calif. as soph in 2005...degree in interdisciplinary studies in social science–human resources.

PERSONAL: Born in San Diego...prepped at Mt. Miguel HS in Spring Valley.
View the full website biography of Ogemdi Nwagbuo.