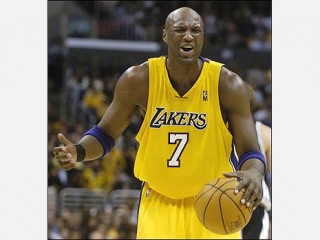 Odom Lamar
Date of birth : 1979-11-06
Date of death : -
Birthplace : South Jamaica, Queens, New York
Nationality : American
Category : Sports
Last modified : 2010-06-03
Lamar Joseph Odom (born November 6, 1979) is an American professional basketball forward for the Los Angeles Lakers.

Odom was born in South Jamaica, Queens, New York. His father was a heroin addict and his mother died of colon cancer when he was twelve years old. He was raised by his grandmother Mildred.

In his first three years of high school, Odom played for Christ The King Regional High School in Middle Village, New York. He transferred first to Redemption Christian Academy in Troy, New York for the basketball season and then to St. Thomas Aquinas High School in New Britain, Connecticut. Odom was named the Parade Magazine Player of the Year in 1997. He was named to the USA Today All-USA 1st Team as a senior. During his youth, Odom was teamed with Elton Brand of the Philadelphia 76ers and Ron Artest of the Los Angeles Lakers on the same AAU team.

NBA career

Odom declared his eligibility for the 1999 NBA Draft after his freshman year at the University of Rhode Island in 1999. The 6 foot 10 inch forward was selected by the Los Angeles Clippers with the fourth overall pick. In his first season with the Clippers, Odom averaged 16.6 points, 7.8 rebounds, and 4.2 assists per game, including 30 points and 12 rebounds in his NBA debut. He was named to the 2000 NBA All-Rookie First Team.

Odom was involved in controversy in November 2001 when he was suspended for violating the NBA's anti-drug policy for the second time in eight months. It is generally accepted that Odom's suspension was for use of marijuana, which is not subject to the NBA's harsher "Drugs of Abuse" rules. At the time, he admitted to smoking marijuana.

He was then a restricted free agent and was acquired by the Miami Heat in the off-season. The Clippers declined to match the Heat's offer for Odom after matching another offer Miami made to Elton Brand.

Along with promising young rookie Dwyane Wade, Odom had a very notable season with the Miami Heat, in which they made the playoffs after struggling all year. He had a very solid season compared to his sub-par season with the Clippers the previous year. After the season, Odom was traded in a package with Caron Butler and Brian Grant to the Los Angeles Lakers for All-Star Shaquille O'Neal.

In his first year with the Los Angeles Lakers incurred a left shoulder injury which forced him to miss the end of the 2004-05 NBA season. The Lakers finished out of the playoffs for only the 5th time in franchise history. Following the 2004-05 season, the Los Angeles Lakers re-hired former coach Phil Jackson.

In the first half of the 2005–06 NBA season, Odom displayed inconsistency while playing with the Lakers. However, as Los Angeles progressed towards the NBA playoffs, Odom's performance gradually improved. Along the way, he posted consecutive triple-doubles for the first time as a Laker against the Golden State Warriors and Portland Trail Blazers. The Lakers were eliminated in 7 games in the first round of the playoffs against the Phoenix Suns, after the Lakers lost a 3-1 series lead.

Battling injuries, Odom was limited to 56 games in the 2006-07 season, but finished with a average of 15.9 points (his highest as a Laker to date) and 9.8 rebounds per game. In a rematch of the previous year's series, the Lakers were again defeated by the Phoenix Suns in the first round of the 2007 NBA Playoffs.

After young center Andrew Bynum went down with a knee injury during the 2007–08 NBA season, and Pau Gasol was acquired by the Lakers midseason, Odom played well, averaging 15.3 points, 12 rebounds, and 4 assists per game. Odom finished the season with 14.2 ppg 10.6 rpg and 3.5 apg. Odom's numbers were down in the Finals, however, where he averaged 13.5 points, 9.0 rebounds and 3.0 assists per game, with the Lakers losing in the 2008 NBA Finals to the Boston Celtics.

At the beginning of the 2008-09 NBA season, Odom was moved to the bench and served as a sixth man, backing up the Lakers' frontcourt of Gasol and Bynum. When Bynum was injured in a game against the Memphis Grizzlies in January, Odom returned to the starting lineup. In the month of February, Odom, playing 36 minutes per game, averaged 16.5 points, 13.4 rebounds (4.9 offensive and 9.5 defensive), 2.4 assists, 1.4 blocks, and .9 steals. The February run included a good performance at Quicken Loans Arena at Cleveland. With 15 points in the 3rd quarter, Odom helped the Lakers out of a 12 point deficit to turn it into a 10 point victory, breaking Cleveland's 23 game home win-streak. He finished the game with 28 points, 17 rebounds and 2 assists.

Odom adjusted back to his sixth man role when Bynum returned on an April 9 home matchup versus the Denver Nuggets. Odom finished his season with 11.3 points, 8.2 rebounds, 2.6 assists, 1.0 steals and 1.7 blocks with 29.7 minutes per game. He won his first NBA championship when the Lakers defeated the Orlando Magic in the 2009 NBA Finals.

During the 2009 Los Angeles Lakers off-season as a free agent, Odom was courted heavily by the Miami Heat, the team that traded him to the Lakers in 2004. Despite pleas from Miami guard Dwyane Wade and Heat Executive Pat Riley, Kobe Bryant remained optimistic Odom would return to Los Angeles to team up with newly acquired forward and Odom's fellow New Yorker, Ron Artest. After a month of tedious negotiations, on July 31, 2009 the Lakers announced that they had agreed to a four-year deal worth up to $33 million with Odom.

Odom played in the 2004 Summer Olympics in Athens for the US national team, averaging 5.8 ppg en route to a bronze medal. He made 14 appearances for the US Team. He was invited to play for the FIBA World Championships for 2006 and 2007 but did not go because of the death of his son. However, he was invited back to the U.S.A Men's Basketball team for the 2010-2012 run.

Personal life

Odom was recently featured in Pro Skater Rob Dyrdek's MTV show Fantasy Factory, and is planning to invest in an L.A. restaurant with Dyrdek. He also made a cameo appearance in the music video for "We Made It" by Busta Rhymes and Linkin Park. Odom also has his own music and film production company, Rich Soil Entertainment. He appeared in a Taco Bell commercial with Charles Barkley during Super Bowl XLIV.

Odom is noted for being a professional athlete with a significant fondness for candy. Wrigley made a replica of the Larry O'Brien Championship Trophy out of candy in celebration of the Lakers' victory in the 2009 Finals, and Odom's name is featured on the base.

Odom has had three children, Destiny (1998), Lamar Jr. (2002), and Jayden (born December 15, 2005), with his ex-girlfriend Liza Morales. On 29 June 2006, Odom's 6½-month-old infant son Jayden died from SIDS while sleeping in his crib in New York.

In September 2009, it was reported that Odom was engaged to reality television personality Khloé Kardashian. Odom and Kardashian were married on Sunday, 27 September 2009.
View the full website biography of Odom Lamar.