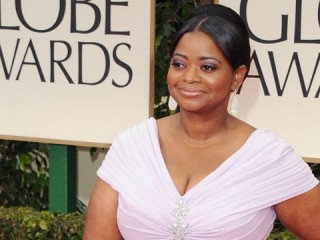 Octavia Spencer
Date of birth : 1972-05-25
Date of death : -
Birthplace : Montgomery, Alabama, U.S.
Nationality : American
Category : Arts and Entertainment
Last modified : 2012-02-27
Octavia Lenora Spencer, a native from Montgomery, Alabama she become a well known actress, with the most notable role as Minny in the Academy Awarded movie "The Help". Octavia received an Academy Award for Best Supporting Actress, a Golden Globe Award for Best Supporting Actress, a BAFTA for Best Supporting Actress, and a Screen Actors Guild Award for Outstanding Performance by a Female Actor in a Supporting Role for her role in "The Help".

Possessing the talent to make even the most minor of roles memorable, Octavia Spencer was a fixture for years on both the small and big screens in supporting roles that called for either a caring nurse or a mouthy blue-collar worker. After making her feature film debut in the crime drama "A Time to Kill" (1996), Spencer went on to appear on such popular programs as "Chicago Hope" (CBS, 1994-2000), "The X-Files" (Fox, 1993-2002), and the hit comedy "Ugly Betty" (ABC, 2006-2010). Spencer's perfect timing and natural sass also helped her land roles in feature comedies such as "Big Momma's House" (2000) and "Beauty Shop" (2005), as well as a breakout role on Comedy Central's "Halfway Home" (2007), appearing as a loudmouthed ex-con who is always picking fights with her housemates. After many years of paying her dues as background or supporting players, Spencer garnered much-deserved praise and an Oscar nomination for her glowing performance in "The Help" (2011), based on Kathryn Stockett's best-selling novel of the same name. She was pitch-perfect as Minny Jackson, a determined and sharp-tongued maid who secretly helps an aspiring writer accurately chronicle the lives of African-American domestics in racially-charged 1960s Mississippi. The high-profile role finally thrust Spencer's talents into the forefront, earning her recognition as a truly multifaceted actress.

Octavia Spencer was born on May 25, 1972 in Montgomery, AL. The sixth of seven siblings, the future star always knew that she would pursue a career in the film industry, but never thought that it would be as an actress. She attended Auburn University in Auburn, where she graduated with a bachelor's degree in liberal arts. In 1996, Spencer made her film-acting debut in the crime drama "A Time to Kill," based on the best-selling 1989 novel by John Grisham. In the popular film starring Sandra Bullock and Matthew McConaughey, she played a nurse who tended to Ellen Roark (Bullock) after her assault by members of a Ku Klux Klan chapter in a rural town in Mississippi. Adding to her résumé, Spencer appeared on a number of sitcoms such as "Moesha" (UPN, 1996-2001), and guest starred countless times as a nurse on dramas like "Chicago Hope" (CBS, 1994-2000), "Roswell" (The WB, 1999-2001; UPN, 2001-02) and "The X-Files" (Fox, 1993-2002). Spencer also landed small parts in feature comedies such as "Big Momma's House" (2000) starring Martin Lawrence and "Beauty Shop" (2005) as one of the opinionated clients who frequent a new salon run by its equally sassy owner (Queen Latifah). Aside from her film and TV projects, Spencer was also a talented stage actress. She received accolades for her performance in the Los Angeles production of "The Trials and Tribulations of a Trailer Trash Housewife" (2003) opposite veteran stage performers Beth Grant, Dale Dickey and David Steen.

In 2007, Spencer became one of the most buzzed about stars of the comedy series "Halfway Home," an improvised show about the daily adventures and mishaps of five ex-cons living together in a rehab facility. Her character, Serenity Johnson, served time for armed robbery and was, ironically, the most aggressive in the group. She had delusions of fame after landing an interview for a reality show about criminals, only to find out later that the show was titled "America's Stupidest Criminals." On a definite career roll, Spencer next had a recurring role on the hit ABC series "Ugly Betty," as an immigration agent who stalked the father of Betty Suarez (America Ferrera). In 2008, Spencer delivered an emotionally charged performance in "Seven Pounds," playing the caretaker of Rosario Dawson's character, a terminally ill patient who receives the heart of a man (Will Smith) who seeks redemption by donating his vital organs to seven people.

In 2012 she is set to star in Smashed, a critically acclaimed memoir written in 2005 by American writer Koren Zailckas and published by Viking Press. The book has spent more than 10 weeks on the New York Times Best Seller list.

View the full website biography of Octavia Spencer.