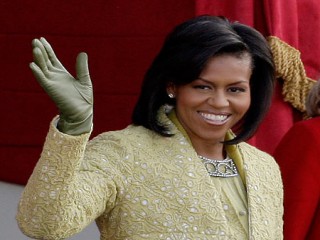 Obama, Michelle
Date of birth : 1964-01-17
Date of death : -
Birthplace : Chicago, Illinois
Nationality : American
Category : Politics
Last modified : 2010-04-09
Michelle LaVaughn Robinson Obama (born January 17, 1964) is the wife of the forty-fourth President of the United States, Barack Obama, and is the first First Lady of the United States of African-American heritage.

Michelle Robinson was born in and grew up on the South Side of Chicago. She graduated from Princeton University and Harvard Law School. After completing her formal education, she returned to Chicago and accepted a position with the law firm Sidley Austin, where she met her future husband. Subsequently, she worked as part of the staff of Chicago mayor Richard M. Daley, and for the University of Chicago Medical Center. Throughout 2007 and 2008, she helped campaign for her husband's presidential bid and delivered a keynote address at the 2008 Democratic National Convention. She is the mother of two daughters, Malia and Sasha, and is the sister of Craig Robinson, men's basketball coach at Oregon State University.

Career

Following law school, she was an associate at the Chicago office of the law firm Sidley Austin, where she first met her future husband. At the firm, she worked on marketing and intellectual property. Subsequently, she held public sector positions in the Chicago city government as an Assistant to the Mayor, and as Assistant Commissioner of Planning and Development. In 1993, she became Executive Director for the Chicago office of Public Allies, a non-profit organization encouraging young people to work on social issues in nonprofit groups and government agencies. She worked there nearly four years and set fundraising records for the organization that still stood 12 years after she left.

In 1996, she served as the Associate Dean of Student Services at the University of Chicago, where she developed the University's Community Service Center. In 2002, she began working for the University of Chicago Hospitals, first as executive director for community affairs and, beginning May 2005, as Vice President for Community and External Affairs. She continued to hold the University of Chicago Hospitals position during the primary campaign, but cut back to part time in order to spend time with her daughters as well as work for her husband's election;she subsequently took a leave of absence from her job. According to the couple's 2006 income tax return, her salary was $273,618 from the University of Chicago Hospitals, while her husband had a salary of $157,082 from the United States Senate. The total Obama income, however, was $991,296, which included $51,200 she earned as a member of the board of directors of TreeHouse Foods, and investments and royalties from his books.

She served as a salaried board member of TreeHouse Foods, Inc. (NYSE: THS), a major Wal-Mart supplier with whom she cut ties immediately after her husband made comments critical of Wal-Mart at an AFL-CIO forum in Trenton, New Jersey, on May 14, 2007. She serves on the board of directors of the Chicago Council on Global Affairs.

She met Barack Obama when they were among the few African Americans at their law firm, Sidley Austin (she has sometimes said only two, although others have pointed out there were others in different departments), and she was assigned to mentor him as a summer associate. Their relationship started with a business lunch and then a community organization meeting where he first impressed her. The couple's first date was to the Spike Lee movie Do the Right Thing. The couple married in October 1992, and they have two daughters, Malia Ann (born 1998) and Natasha (known as Sasha, born 2001). After his election to the U.S. Senate, the Obama family continued to live on Chicago's South Side, choosing to remain there rather than moving to Washington, D.C. Throughout her husband's 2008 campaign for President of the United States, she made a "commitment to be away overnight only once a week — to campaign only two days a week and be home by the end of the second day" for their two children.

In May 2007, three months after her husband declared his presidential candidacy, she reduced her professional responsibilities by 80 percent to support his presidential campaign. Early in the campaign, she had limited involvement in which she traveled to political events only two days a week and traveled overnight only if their daughters could come along; by early February 2008 her participation had increased significantly, attending thirty-three events in eight days. She made several campaign appearances with Oprah Winfrey. She wrote her own stump speeches for her husband's presidential campaign and generally spoke without notes.

Throughout the campaign, the media often labeled her as an "angry black woman," and some Web sites attempted to propagate this image, prompting her to respond: "Barack and I have been in the public eye for many years now, and we've developed a thick skin along the way. When you're out campaigning, there will always be criticism. I just take it in stride, and at the end of the day, I know that it comes with the territory." By the time of the 2008 Democratic National Convention in August, media outlets observed that her presence on the campaign trail had grown softer than at the start of the race, focusing on soliciting concerns and empathizing with the audience rather than throwing down challenges to them, and giving interviews to shows like The View and publications like Ladies' Home Journal rather than appearing on news programs. The change was even reflected in her fashion choices, wearing more informal clothes in place of her previous designer pieces. The View appearance was partly intended to help soften her public image, and it was widely-covered in the press.

On an October 6, 2008 broadcast, Larry King asked her if the American electorate was past the Bradley effect. She stated that her husband's achievement of the nomination was a fairly strong indicator that it was. The same night she also was interviewed by Jon Stewart on the Daily Show where she deflected criticism of her husband and his campaign.

Style and fashion sense

With the ascent of her husband as a prominent national politician, Michelle Obama has become a part of popular culture. In May 2006, Essence listed her among "25 of the World's Most Inspiring Women." In July 2007, Vanity Fair listed her among "10 of the World's Best Dressed People." She was an honorary guest at Oprah Winfrey's Legends Ball as a "young'un" paying tribute to the 'Legends,' which helped pave the way for African American Women. In September 2007, 02138 magazine listed her 58th of 'The Harvard 100'; a list of the prior year's most influential Harvard alumni. Her husband was ranked fourth. In July 2008, she made a repeat appearance on the Vanity Fair international best dressed list. She also appeared on the 2008 People list of best-dressed women and was praised by the magazine for her "classic and confident" look.

Many sources have speculated that, as a high-profile African-American woman in a stable marriage, she will be a positive role model who will influence the view the world has of African-Americans. Her fashion choices were part of Fashion week, but Obama's influence in the field did not have an impact on the paucity of African-American models who participate, as some thought it might.

She has been compared to Jacqueline Kennedy due to her sense of style, and also to Barbara Bush for her discipline and decorum. Her white, one-shoulder Jason Wu 2009 inaugural gown was said to be "an unlikely combination of Nancy Reagan and Jackie Kennedy". Obama's style is described as populist. She often wears clothes by designers Calvin Klein, Oscar de la Renta, Isabel Toledo, Narciso Rodriguez, Donna Ricco and Maria Pinto, and has become a fashion trendsetter, in particular her favoring of sleeveless dresses that showcase her toned arms.

She appeared on the cover and in a photo spread in the March 2009 issue of Vogue. Every First Lady since Lou Hoover (except Bess Truman) has been in Vogue, but only Hillary Clinton had previously appeared on the cover.

The media have been criticized for focusing more on the first lady's fashion sense than her serious contributions. She has stated that she would like to focus attention as First Lady on issues of concern to military and working families. U.S.News & World Report blogger, PBS host and Scripps Howard columnist Bonnie Erbe has argued that Obama's own publicists seem to be feeding the emphasis on style over substance. Erbe has stated on several occasions that she is miscasting herself by overemphasizing style.

Charity work and causes promoted

During her early months as First Lady, she has frequently visited homeless shelters and soup kitchens. She has also sent representatives to schools and advocated public service. On her first trip abroad in April 2009, she toured a cancer ward with Sarah Brown, wife of British Prime Minister Gordon Brown. She has begun advocating on behalf of military families. Like her predecessors Clinton and Bush, who supported the organic movement by instructing the White House kitchens to buy organic food, Obama has received attention by planting an organic garden and installing bee hives on the South Lawn of the White House, which will supply organic produce and honey to the First Family and for state dinners and other official gatherings.

She has gained growing public support in her early months as first lady. She is notable for her support from military families and some Republicans. As the public is growing accustomed to her, she is becoming more accepted as a role model. Newsweek described her first trip abroad as an exhibition of her so-called "star power" and MSN described it as an display of sartorial elegance. There were questions raised in the American and British media regarding protocol when the Obamas met Queen Elizabeth II, and Michelle reciprocated a touch on her back by the Queen during a reception, purportedly against traditional royal etiquette. Palace sources denied that any breach in etiquette had occurred.

After her first year in office, she undertook her first lead role in an administrationwide initiative. Her goal was to make progress in reversing the 21st century trend of childhood obesity. She stated that her goal is to make this effort her legacy: "I want to leave something behind that we can say, 'Because of this time that this person spent here, this thing has changed.' And my hope is that that's going to be in the area of childhood obesity." She has named the movement "Let's Move!" (http://letsmove.gov/). This effort does not supplant her other efforts: supporting military families, helping working women balance career and family, encouraging national service, promoting the arts and arts education, and fostering healthy eating and healthy living for children and families across the country. She has earned widespread publicity on the topic of healthy eating by planting the first white house vegetable garden since Eleanor Roosevelt served as first lady.

View the full website biography of Obama, Michelle.