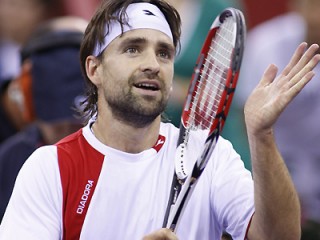 Nicolas Kiefer
Date of birth : 1977-07-05
Date of death : -
Birthplace : Holzminden, Germany
Nationality : German
Category : Sports
Last modified : 2011-05-31
Nicolas Kiefer, is a former German professional tennis player. His mother, Nicole, is French. He won a silver medal in men's doubles with partner Rainer Schüttler at the 2004 Summer Olympics in Athens.

CAREER:

Singles Titles
2000: Hong Kong, Dubai
1999: Tashkent, Halle, Tokyo
1997: Toulouse

Doubles Titles
2003: Tokyo
2002: Los Angeles
1998: Ostrava

2009:
In the 2009 Sony Ericsson Open in Miami, Kiefer beat "the magician" Fabrice Santoro 5–7 7–6(5) 6–2 in Second Round. In Third Round Kiefer was defeated by World #2 Roger Federer 6–4 6–1. At the 2009 Monte-Carlo Rolex Masters Kiefer lost in his first match against qualifier Andreas Beck 1–6 7–6(1) 6–4. At the 2009 Internazionali BNL d'Italia in Rome Kiefer lost again in the first match against Juan Mónaco in straight sets 6–2 6–3. In the 2009 BMW Open Kiefer was down against Ernests Gulbis 2–6 0–2 but eventually won 2–6 6–3 6–2. Kiefer said after the match, "Clay and me, we will never be the best of friends". Kiefer suffered from problems in his back which eventually made him lose against Jérémy Chardy in the next round 6–4 7–6(9). At the 2009 Mutua Madrileña Madrid Open he lost against Tommy Robredo 3–6 6–2 6–2. Kiefer then played the 2009 ARAG World Team Cup in which he played the doubles matches together with Mischa Zverev. They won all of their matches and Germany reached the final but lost against Serbia as Germany lost both of their single matches. Despite Germany losing, Kiefer won the doubles match in the final against Viktor Troicki and doubles World #1 Nenad Zimonjić 7–5 4–6 10–7. Kiefer then participated at the 2009 French Open in which he beat qualifier Ilija Bozoljac in 4 sets 7–6(4) 3–6 7–5 6–4. However, Kiefer lost in the Second Round against World #14 David Ferrer in 5 sets 6–3 5–7 6–4 3–6 6–2. Despite this loss, Kiefer claimed that he was proud that he had played up to a fifth set against one of the best tennis players of the world in clay, since clay is Kiefer's least favourite surface. The clay season had now ended, and the grass season started with Kiefer's participation in his favourite tournament, the 2009 Gerry Weber Open. In the first match he trashed Viktor Troicki 6–2 6–1, but retired in the Second Round against Jürgen Melzer when he was down 6–1 since he had a muscular strain in his abdomen which forced him to retire not only from the match but from the doubles where he had reached the semifinals with Mischa Zverev. Kiefer participated at the 2009 Wimbledon Championships despite having not fully recovered from his abdomen injury. This was reflected in his match against Fabrice Santoro where Kiefer lost in straight sets 6-4 6-2 6-2. Kiefer then played for Germany in the 2009 Davis Cup quarter-finals against Spain. He did so in the doubles match together with Mischa Zverev against Spain's doubles players Fernando Verdasco and Feliciano López. Kiefer and Zverev lost the match 6-3, 7-6(1), 6-7(6), 6-3. In the 1st round of the U.S Open he beat Michaël Llodra 6-3, 6-4, 6-4, but in the second round he lost to number 3 ranked Rafael Nadal 0-6, 6-3, 3-6, 4-6.

PERSONAL:
Began playing tennis at age six
Nicknamed "Kiwi"
His father, Wolfgang, is a teacher
Mother, Nicole, is French
Had excellent junior career, winning the 1995 Australian Open (d. J.-M. Lee) and US Open juniors (d. Seetzen)
Reached final at Wimbledon juniors (l. to Mutis) and SF at Roland Garros Juniors
Finished as No. 2 junior in world in '95 (behind Zabaleta of Argentina)
Also 1993 German junior champion
Considers hard and grass courts as favorite surfaces
Passed his high school oral exam on June 16, 1997 in German and French subjects
His priority was to finish school before turning pro full-time
Enjoyed playing in front of hometown crowd in his first ATP Tour World Championship in 1999 and more than 200 friends and family members attended each of his matches in Hannover
Has worked out with Olympic pole vaulter Sergei Bubka
Big fan of Hannover soccer team
Made an appearance for his favorite soccer team on July 1, 2005, scoring a goal in 14-0 victory in a friendly match
"It was like a dream come through," he said
Enjoys golf, soccer and basketball
Favorite move is Rocky and favorite actors are Julia Roberts and Will Smith
Has a 10-13 career Davis Cup record (9-11 in singles) in 13 ties since 1998
Fitness trainer is Ralf Nonnemann and coached by Sascha Nensel (since December 2005).

View the full website biography of Nicolas Kiefer.