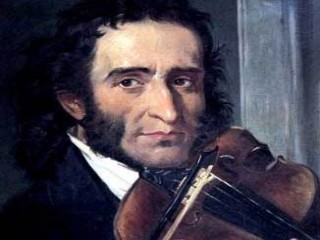 Niccolo Paganini
Date of birth : 1782-10-27
Date of death : 1840-05-27
Birthplace : Genoa, Italy
Nationality : Italian
Category : Historian personalities
Last modified : 2012-01-10
The Italian violinist and composer Niccolo Paganin inaugurated the century of the virtuoso and was its brightest star. He laid the foundation of modern violin technique.
Niccolo Paganini was born on Oct. 27, 1782, in Genoa of musically ambitious parents. At the age of 9 he made his debut playing to an enthusiastic audience his own variations on La Carmagnole. He studied with Giacomo Costa. When Niccolo was taken to the famous violinist Alessandro Rolla, the latter declared he had nothing to teach him. Nevertheless, Niccolo did study violin for a while, as well as composition and instrumentation. At the age of 14 he freed himself from his father.
Paganini's career was checkered: gambling, love affairs, rumors of his being in league with the devil, and rumors of imprisonment, which he frequently denied in letters to the press. In love with a Tuscan noblewoman, he retired to her palace, where he became completely absorbed in the guitar from 1801 to 1804. On returning to the violin he performed a love duet by using two strings of the violin and then surpassed this by playing a piece for the G string alone.
In 1816 Paganini appeared in a "contest" in Milan with Charles Philippe Lafont and later remarked, "Lafont probably surpassed me in tone but the applause which followed my efforts convinced me that I did not suffer by comparison." Paganini's success in Vienna in 1828 led to a cult in which everything was a la Paganini. Similar triumphs followed in Paris and London. In 1833 he invited Hector Berlioz to write a piece for him for the viola; Harold en Italie was the result. Paganini played frequent concerts for the relief of indigent artists. In 1836 he became involved in a Parisian gambling house; government interference led to bankruptcy and permanently damaged his health. He died on May 27, 1840, in Nice.
Even when Paganini was playing Mozart and Beethoven, he could not restrain himself from brilliant embellishments. The violinist made innovations in harmonics and pizzicato and revived the outmoded mistunings. Although he took a giant step forward in scope of technique, he paradoxically did this while holding the violin in the low 18th-century style and using a straight bow of the late Mozart period, which the Parisian violin maker Jean Baptiste Vuillaume persuaded him to give up. Although it is generally assumed that the modern technique is far "superior" to that of the 19th century, this is belied by the fact that many passages in Paganini are still scarcely playable.
Paganini's best pieces—Violin Concertos No. 1 and No. 2, the Witches' Dance, and the 24 Caprices—are firmly in the repertoire. Because he jealously guarded his technical secrets for fear they would be stolen, only his 24 Caprices and some music for guitar were published during his lifetime.
View the full website biography of Niccolo Paganini.