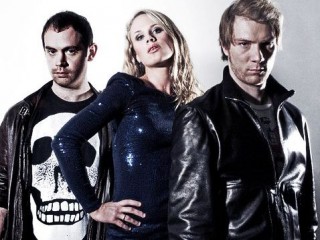 Nero (band)
Date of birth : -
Date of death : -
Birthplace : London, England
Nationality : British
Category : Arts and Entertainment
Last modified : 2012-06-05
Debuted in music industry under the name of Ragga Puffin, Nero is nowadays a British electronic music band which is originating from London, England. The band is consisting of Daniel Stephens, Joseph Ray with Alana Watson a vocalist, who are best known for producing drum and bass, dubstep and house. On 6 December 2010, Nero were announced as nominees for the BBC's Sound of 2011 poll.

Daniel Stephens and Joe Ray had a No.1 single in the UK with "Promises" in August this 2011, and simultaneously held the No.1 album slot in the UK with "Welcome Reality". These immense achievements - as well as supporting and remixing Deadmau5 - marked the culmination of Nero morphing from a d&b act through dubstep and into all-conquering EDM.

Dreamy banger "Innocence", featuring Alana Watson on vocals, was their first big dubstep record on MTA Records, the label run by Chase & Status, another junglist duo who broadened out their palette to embrace other musical styles. And they haven't really looked back, having bigger and bigger hits with 'Me & You', "Guilt" and then 'Promises' as 2011 progressed.

Singles:

2010: "Innocence / Electron"
2011: "Me & You" ; "Guilt" ; "Promises" ; "Crush on You" ; "Reaching Out"
2012: "Must Be the Feeling"
View the full website biography of Nero (band).