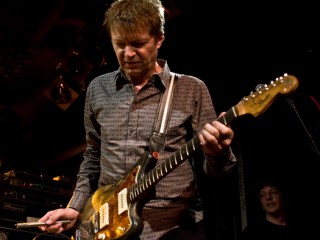 Nels Cline
Date of birth : 1956-01-04
Date of death : -
Birthplace : Los Angeles, California, U.S.
Nationality : American
Category : Arts and Entertainment
Last modified : 2012-01-12
Nels Cline is an American guitarist and composer. He began to play guitar at age 12 when his twin brother, Alex Cline took up the drums. Cline is not classically trained. This gives him a unique avant-garde style that many other jazz guitarists fail to match, due to their probable conventional training. He is noted for his apt use of effects pedals and looping devices, which enhances his style and gives his approach to guitar and music a distinct sound.

Cline is known for his improvisational work and for the diversity of his musical projects. He has played with jazz musicians Charlie Haden, Gregg Bendian, Wadada Leo Smith, Tim Berne, Vinny Golia and the late bassist Eric von Essen, a longtime musical companion in the L.A. jazz group Quartet Music.

Cline has also performed and recorded with punk rock hero Mike Watt in his touring bands The Crew of the Flying Saucer and The Black Gang, as well as with members of Sonic Youth and country music legend Willie Nelson, and in the jazz/punk/improv band Banyan with Watt and ex-Jane's Addiction drummer Stephen Perkins. He frequently participates in jazz projects with his twin brother, Alex, however their first actual duo together was in Culver City, California, during their 50th birthday show.

Nels's first appearance on an album was on Vinny Golia's 1978 record, Openhearted, and his first work as a bandleader was 1988's Angelica. In the late 1980s, Cline formed the Nels Cline Trio, which featured his guitar playing complemented by Mark London Sims at bass and Michael Preussner at drums.

Cline has performed on over 150 albums in the jazz, pop, rock, country, and experimental pop music genres. He continues to expand his audience as a member of the Grammy-winning rock band Wilco, which he joined in early 2004. He was later featured in the cover story of Guitar Player Magazine for his collaboration with the band.

Cline appears on Wilco's albums Sky Blue Sky, Wilco (The Album) and The Whole Love, as well as the live album Kicking Television: Live in Chicago, and tours with the band.

In February, 2007, Cline was chosen by Rolling Stone Magazine as one of the Top 20 New Guitar Gods, and given the title "The Avant Romantic."

View the full website biography of Nels Cline.