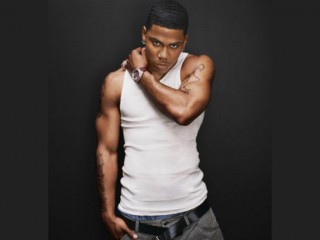 Nelly
Date of birth : 1974-11-02
Date of death : -
Birthplace : Texas, United States
Nationality : African-American
Category : Arts and Entertainment
Last modified : 2010-06-08
Cornell Haynes, Jr. (born November 2, 1974), better known by his stage name Nelly, is an American rapper, singer, actor, CEO, and entrepreneur. He has performed with the rap group St. Lunatics since 1993 and signed to Universal Records in 1999. Under Universal, Nelly made his solo debut in 2000 with Country Grammar, the title track of which was a top ten hit.

After plowing at his craft for seven years, rapper Nelly has finally reached stardom for himself as well as his group, the St. Lunatics. His first release was praised for its originality and it was a commercial success. Nelly has also played an integral part in getting his hometown, St. Louis, Missouri, on the rap game's stratosphere. While New York City and its East Coast style, and the West Coast flavor of rappers such as Snoop Dogg, dominated the scene, Nelly is joining a growing list of artists without a New York-Los Angeles connection. Nelly's voice has a Midwest twang, but he does not hide it with any false East Coast bravado or fake tone of voice; rather, he appears proud of his St. Louis accent, that's part Southern and part city.

Cornell Haynes, Jr., was born in Texas, but his father was in the Air Force and moved the family to Spain. They eventually landed in St. Louis, Missouri, which Nelly calls home. "St. Louis is real, it's the rawest of the raw," Nelly said, on his website, nelly.net. "It's so small that everybody knows each other. I've got a love-hate relationship with it."As the family's youngest child, Nelly had a penchant for hanging with the older crowd and getting into trouble. It also caused him to become transient within his family, as his mother moved him around to live with several different relatives in hopes of changing his focus. "I went to eight different schools as a child; four of them I was kicked out of," Nelly told Rolling Stones Magazine. "I was a bad little [f-----,] always fighting. I was never in one place too long, living with my mom, my dad, my grandparents, my mom's friends, my daddy's friends."

The lure of the street had its ugly hooks on Nelly, but before drugs and gangs could take him under, his mother moved the family to University City, Missouri, a suburb outside of St. Louis. It was there that Nelly learned that life was more than hanging out and getting involved in mischievous activity, as he became more constructive with his time. Nelly began playing organized baseball and becoming good enough to attend training camps for the Atlanta Braves and the Pittsburgh Pirates. On nelly.net, he stated, "I really thought that I'd be playing ball right now." But, at the same time that he excelled at baseball, Nelly was developing his rap skills. In 1993, the same year that the family left St. Louis, Nelly and his high school friends, Kyjuan, Ali, Murphy Lee, Jason, and Nelly's brother, City Spud, formed the St. Lunatics.

By 1996 the St. Lunatics had self-produced a song, "Gimmie What Ya Want," which was a smash hit locally and regionally. According to Nelly.net, "Gimmie What Ya Want" reached its peak by selling 7,000 units regionally and achieved No. 1 on St. Louis' top hip-hop station, FM 103. However, there was no immediate follow up to the St. Lunatics' success and it did not result in a national record deal, which was ultimately the group's goal. They made a bold move: the St. Lunatics sent Nelly out to seek a record deal. The gamble paid off, as Universal Records signed him to a deal and by 2000 Nelly had hit the scene. The debut album, Country Grammar was a mixture of melodic unique beats and simple lyrics that are easy to follow. The title song, "Country Grammar," featured a hook that was as catchy as a nursery rhyme. The refrain, "I'm goin' down, down baby ..." became etched in the minds of many rap fanatics who had no idea that St. Louis existed in the rap world. "We'll have kids running up and down the block all day, playing ghetto games," Nelly told Rolling Stone. "We can't afford all the high-priced games, so we make up our own games and our own chants; 'down, down baby' is just a chant from one of those games." As the nation heard more of the album, it became more impressed by Nelly, whose path seemed to mimic that of Master P, a New Orleans-based rapper, hitting the rap world with something that it had not heard before. The album was a multi-platinum success.

In the second single on the debut album "E.I.," Nelly began to introduce the rap audience and the nation to a whole new set of St. Louis slang. "E.I. means 'Yes! Bring it on!'" he explained at nelly.net. On the song, "Country Grammar," Nelly used the term, 'mo.' He explained the meaning to Rolling Stone. "In St. Louis we call our friends "mo," like 'That's my mo'. And we call our girls "mo-ette." While many people from urban metropolises call St. Louis "country" or "bama," Nelly has made it a city to be proud of.

Country Grammar propelled Nelly into the spotlight, as he was recognized at the Source Hip-Hop Music Awards. For his efforts, Nelly won both the Best New Artist of the Year and the Best Album of the Year. He performed at the 2000 MTV Video Music Awards. His career also reached a new pinnacle when he performed with Britney Spears and the Rolling Stones at the Super Bowl in January of 2001. Nelly also planned to launch his own apparel line, becoming the latest rap artist to do so. The new label, titled Vokal, stands for "very organized kids always learning," his manager told the St. Louis Business Journal.

Though he's experienced success as a solo artist and hopes to duplicate that as an entrepreneur, Nelly has not forgotten where it all started with the St. Lunatics. "I don't necessarily feel like a solo artist," he stated at nelly.net. "I'm just a key in the door for the rest of the St. Lunatics ... So it's St. Lunatics for life." The group released its album, Free City in 2001.

With his following albums, Nellyville (2002) and the same-day dual release Sweat and Suit (2004) and compilation Sweatsuit (2006), Nelly continued to generate many chart-topping hits. The rapper's fifth studio album, Brass Knuckles, was released released on September 16, 2008 after several delays. It is Nelly's first album not to be certified platinum. The first official single, "Party People, which features Fergie, was released on March 18, 2008, and peaked at 40 on the US "Billboard Hot 100" and 14 on the "UK Singles Chart". "Stepped on My J'z" which features Ciara and Jermaine Dupri, was released as the second single from the album on June 11, 2008. It peaked at numer 90 on the US Hot 100. The third official single, "Body on Me", which features Akon and Ashanti, was released on June 9, 2008 and peaked at number 42 on the US Hot 100 and 17 on the "UK Singles Chart".

He won Grammy Awards in 2003 and 2004 and starred in the 2005 remake film The Longest Yard with Adam Sandler and Chris Rock. He has two clothing lines, Vokal and Apple Bottoms. He has been referred to by Peter Shapiro as "one of the biggest stars of the new millennium", and he has sold over 20 million records. On December 11th, 2009 Nelly was ranked as the 3rd Top Overall Artist of the 2000-2009 decade by Billboard Magazine.

In the summer of 2009, Nelly made a public anouncement in Las Vegas about the yet-to-be-titled album. In October 2009, Nelly did a interview with SOHH.com and said that the album was going to be released sometime in 2010. In a interview with Semtex TV, Nelly told reporters that he planned to release the album under the name Nelly. In April 2010, Nelly's cousin Michael Johnson was murdered in Missouri, Nelly said that he delayed releasing the album because of this. Nelly said that guests that were going to be featured on the album were: Janet Jackson, Diddy, Akon, St. Lunatics and Usher. In May 2010, Nelly confirmed that the title of the album was Nelly 5.0.
View the full website biography of Nelly.