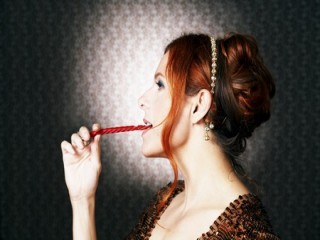 Neko Case
Date of birth : 1970-09-08
Date of death : -
Birthplace : Alexandria, Virginia,U.S.
Nationality : American
Category : Arts and Entertainment
Last modified : 2011-11-02
A rising star on the alt-country scene, Neko Case has established herself among music cognoscenti as a formidable songstress, starting as a drummer in the Canadian punk band the Maows and becoming a top punk/country crossover on the Chicago-based Bloodshot label. She has been featured in Esquire magazine's "Women We Love" section for combining sex appeal with formidable musical chops. In five years and three genre-stretching albums, the peripatetic Case has slowly but steadily added to her legion of fans with a grueling tour schedule, including a stint in 2001 supporting Nick Cave and numerous side projects and collaborations. As she told a writer from Maclean's, "We're doing it the pioneer way, with oxen and covered wagon."

Case was raised in Tacoma, Washington. Her grandmother was the first to expose her to country music and Case grew up listening to both Pasty Cline and the Pacific Northwest rock band Heart. Family problems drove Case to drop out of high school and leave home at the age of 15. She moved in with a friend and began playing drums in local bands, but soon obtained a student visa to attend Vancouver's Emily Carr Institute of Art and Design. While there, Case joined up with C.C. Hammond and Tobey Black to form the all-girl trio Maow. Although Case was the only one of the three with previous musical experience, the group formed a local following, releasing their album Unforgiving Sounds of Maow on the Canadian label Mint in 1996.

Case convinced the label to let her put out a solo album, drawing on her growing interest in country music. Backed by members of the Softies, Zumpano, and Shadowy Men on a Shadowy Planet, Case recorded an eclectic mix of original songs and covers. Virginian, by Neko Case & Her Boyfriends, was released by Mint in 1997. Among the standout tracks were Loretta Lynn's "Somebody Led Me Away," Ernest Tubb's "Thanks a Lot," the Everly Brothers' "Bowling Green," and obscure cult musician Scott Walker's "Duchess." Reviewing the album in Popular Music and Society, S. Renee Dechert declared that Case's voice "has the directness of Loretta Lynn's, the power of Wanda Jackson's, and the anger of Joan Jett's." Case had successfully fused the raw vitality of art-punk with the down-home purity of country. As she told Richard Skanse, of Rolling Stone, "Country's very much like punk rock, anyways. It's made by poor, ... disgruntled people. It's just a very passionate form of music--they're all similar in that way."

The country mainstream, however, was not ready to embrace her fully. Case's video for the song "Timber," in which she destroys a honky tonk when the audience seems inattentive, was refused airplay by Country Music Television on the grounds that it was too violent. In 1998 Case received her bachelor of fine arts degree from Emily Carr, her student visa expired, and she moved back to the States. That same year she played the South by Southwest Music Festival with the Sadies and teamed up with guitarist Carolyn Mark to form the Corn Sisters, a satiric country duo. She also began collaborating with Vancouver's New Pornographers, providing the vocals for what would be 2000's acclaimed Mass Romantic.

Case's relationship with Chicago's insurgent indie label Bloodshot began with the release of Virginian. She contributed to 1999's Homage to Loretta Lynn on that label, and laid down the tracks for her sophomore effort, 2000's Furnace Room Lullaby. Backed by an expanded version of her 'Boyfriends,' Case cowrote all 12 of the album's tracks. Recorded in the wake of a failed relationship, the album has a cathartic feel, with songs like "We've Never Met" and "Set out Running" exposing both personal strength and vulnerability. In her enthusiastic Entertainment Weekly review of Furnace Room Lullaby, Laura Morgan wrote "The fiery singer hollers that she want to get it all behind her, talks of tearin' her heart out, and rails against the poison in her blood. Her brutally vivid, classic country is tonic for achy-breaky hearts." Mark Deming's review for All Music Guide was equally adulatory, "Neko Case understands the honest emotions and working-class poetry Loretta Lynn and Dolly Parton brought to their best music ... Furnace Room Lullaby makes clear how deeply she cares for this music, and confirms her status as one of alt-country's strongest artists."

The 2000 release of the New Pornographers' Mass Romantic brought added acclaim to Case. The band was essentially a Vancouver supergroup, with honorary Canadian Case filling in the vocal slot. The album won a 2001 Juno Award for best alternative album; Case's contribution was singled out for praise. M. Boudignon, reviewing the album for UtterMusic.com, wrote ... the "sparkling jewel in the Pornographers' crown is country crooner Neko Case, appearing as vocalist on most of the tracks, sans twang, but still with remarkable punch."

Based in Chicago, Case contributed backing vocals to label mates the Mekons' 2000 release Journey to the End of the Night. In 2001 she toured as a supporting act with the fabled Australian Nick Cave and the Bad Seeds. Also that year she released an EP, Canadian Amp, on Bloodshot. Recorded at her home, its sound was stripped-down compared to her previous two LPs. With the exception of Hank William's "Alone and Forsaken" and two tracks she wrote herself, all the songs on the EP were written by Canadians, including Neil Young, Jon Rauhouse, and Kelly Hogan. That same year Mint released the Corn Sisters' The Other Woman, recorded live in a Seattle coffee shop in 1998.

Case released Blacklisted, her third full-length recording, in 2002. Recorded in Tucson, Arizona, it was the first to be done without her usual "Boyfriends." Case wrote most of the songs and played a variety of instruments on the album. While most of her previous backing band members hailed from the Pacific Northwest, Blacklisted drew heavily on the talents of Southwest musicians, including members of Calexico and Giant Sand. In turn, Case contributed vocals to Giant Sand's 2002 release, Cover Magazine. In his review for Barnes & Noble, David Sprague noted that "Case stays rooted in country--not the Nashville stripe (or even the comparatively sophisticated Bakersfield variety), but in the sounds that wafted up from the Dust Bowl and Appalachian coal country decades ago." With Blacklisted complete, Case toured extensively in support of the album, while preparing to return to the studio with the New Pornographers.
The New Pornographers' second album, Electric Version, was released on May 6, 2003. Case sang lead on even more of the songs on this album, and toured with the group again.
On Challengers, released on August 21, 2007, Case contributes lead vocals to the title song as well as "Go Places", in addition to her backing vocals on the other tracks.
The 2010 album Together features Case as lead vocalist on "Crash Years" and "My Shepherd."
Case was honored as the Female Artist of the Year at the Plug Independent Music Awards on February 2, 2006.

Selected discography

Solo:
-(With Neko Case and Her Boyfriends) Virginian , Mint/Bloodshot, 1997.
-(Contributor) Homage to Loretta Lynn , Bloodshot, 1999.
-(With Neko Case and Her Boyfriends) Furnace Room Lullaby , Bloodshot, 2000.
-Blacklisted , Bloodshot, 2002.

With the Corn Sisters:
-The Other Woman , Mint, 2001.
-With Maow
-The Unforgiving Sounds of Maow , Mint, 1996.

With the New Pornographers:
-Mass Romantic , Mint, 2000.




View the full website biography of Neko Case.