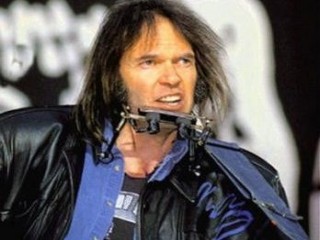 Neil Young
Date of birth : 1945-11-12
Date of death : -
Birthplace : Toronto, Canada
Nationality : Canadian
Category : Arts and Entertainment
Last modified : 2011-05-16
Neil Young is a Canadian singer-songwriter who is widely regarded as one of the most influential musicians of his generation.

Born Nov. 12, 1945, in Toronto, Young performed in rock bands in the Winnipeg area before returning to Toronto in 1965 to pursue a folk-based career. After working with future R&B hitmaker Rick James in the Mynah Birds, a pop-soul band, Young and bassist Bruce Palmer moved to California and teamed with Stephen Stills and Richie Furay to form Buffalo Springfield. Although best known for its 1967 pop hit -- Stills' "For What It's Worth" -- Buffalo Springfield provided the first widespread exposure of Young's songwriting. Following the band's breakup, Young launched his solo career in 1969 with a self-titled album and (with the band Crazy Horse) Everybody Knows This Is Nowhere. The same year, he played his first concert with David Crosby, Graham Nash and former bandmate Stills. Crosby, Stills, Nash & Young released the hit album, Dj vu in 1970.

Although Young would continue to occasionally record and tour with Crosby, Stills and Nash, he continued his solo work with After the Goldrush. Several tracks on the 1970 album emphasized an acoustic sound, including Young's version of "Oh Lonesome Me," a song written by Country Music Hall of Fame member Don Gibson.

In 1971, Johnny Cash invited Young to Nashville to perform on his ABC television show. While in Nashville, Young continued to emphasize his acoustic side while recording Harvest, a commercial breakthrough that included the pop radio hit "Heart of Gold." With Ben Keith's steel guitar prominently featured on the single, the album also featured "Are You Ready for the Country" -- a song Jennings recorded as the title track of his 1976 album.

After exploring other musical directions, Young returned to Nashville to record Comes a Time, considered his most accessible work since Harvest. Released in 1978, the album showcased Crazy Horse and guest vocals from Nicolette Larson. However, it also featured Keith's steel guitar and several of Nashville's top session musicians. It also introduced Young to fiddler Rufus Thibodeaux, who had worked for years with Grand Ole Opry star Jimmy C. Newman. In addition to his original material, the album featured a cover version of Ian Tyson 's "Four Strong Winds."

As usual, Young eventually changed directions yet again to record albums with distinct musical themes, including R&B, rockabilly, techno and hard rock, although his output included another country project, Old Ways. The 1985 album reunited Young with Keith and Thibodeaux, who became members of his touring band, the International Harvesters. Although Old Ways featured Willie Nelson and Jennings, the album was not a huge success among die-hard country fans. However, one of the tracks provided Young with his only appearance on the country charts. "Get Back to the Country" peaked at No. 33 in 1985.

Through the '90s, Young mainly showed his rock side on albums such as Freedom and Ragged Glory. He revisited his acoustic roots on 1992's Harvest Moon, a project aimed at capturing the essence of his most successful album, Harvest. The album included a tribute to Hank Williams in the song, "From Hank to Hendrix."

In 2004, Young prepared the release of his third film, Greendale, which follows 1979's concert movie, Rust Never Sleeps, and 1995's surrealist comedy, Human Highway. He previously presented Greendale in several forms, including a live theatrical event, an audio CD recorded with Crazy Horse and a DVD of Young's solo performance.

Young has been actively involved in numerous charities. In 1985, he joined Nelson and John Mellencamp to create Farm Aid, a non-profit organization aimed at keeping family farmers on their land to provide fresh, locally grown, healthful food. With money raised from its annual concerts, Farm Aid has granted more than $17 million to more than 100 farm organizations, churches and service agencies in 44 states.
View the full website biography of Neil Young.