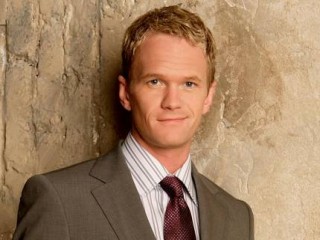 Neil Patrick
Date of birth : 1973-06-15
Date of death : -
Birthplace : Albuquerque, New Mexico, United States
Nationality : American
Category : Arts and Entertainment
Last modified : 2010-08-23
Neil Patrick Harris, born June 15, 1973 in Albuquerque, New Mexico, United States is an American actor.

From his teen years, when he held the leading role of a teen medical prodigy in Doogie Howser, M.D., to his current role as womanizer Barney Stinson on How I Met Your Mother or his title role in the Emmy Award-winning Internet hit Doctor Horrible's Sing-a-Long Blog, Neil Patrick Harris has always known how to manage being in the spotlight. His career has ranged from film to television, from voice acting for cartoons to singing and dancing on Broadway, to a live-action, made-for-Internet hour-long musical. Harris has hosted a number of award shows, including the Magic Awards, due to his talent as an amateur magician, and the 2009 Emmy Awards. Despite his continued success, Harris has stayed grounded. According to director Joss Whedon in Entertainment Weekly, "He's one of those people who understands that the fame will take you so far and no further. I'm sure he's enjoying his success, but at the same time I've never known him when he wasn't fixated on the next thing."

Harris was born on June 15, 1973, in Albuquerque, New Mexico, the younger son of two attorneys. At the age of 16 he made his film debut, and the next year he was tapped to play the title character on Doogie Howser, M.D. The role featured him as a teen prodigy who had his medical degree but still had to cope with normal teen issues. "It was a very fast but wonderful education," Harris said in People. The show ended in 1993, and to avoid being pigeon-holed in a specific type of role, Harris decided to remain off television. He said in Entertainment Weekly, "I wanted nothing to do with television for a while. I felt like I had lived that chapter, and everyone recognized me as someone who I wasn't. I was ready for anonymity."

Harris made enough money on Doogie Howser, M.D. that he could have some fun with his career, taking roles in television movies or action films, like 1997's Starship Troopers, without the pressure for financial success. It gave him the opportunity to pursue his interest in magic, and he became quite skilled as an amateur. In 1996 Harris had the chance to follow another dream: performing on stage. He became acquainted with the road cast of Rent while filming a movie in Boston, and he was encouraged to audition for the Los Angeles production. He landed the role of Mark, and after that, roles continued to come, including performing Shakespeare at San Diego's Globe Theatre and acting in Stephen Sondheim's Tony Award-winning revival of Assassins on Broadway.

In 2004 Harris effectively launched his modern Hollywood career by taking a role playing a drug-addled, stripper-crazed version of himself in the movie Harold and Kumar Go to White Castle. The role showed that Harris was able to laugh at himself, and brought him again into the film spotlight. Quickly on the heels of that role came a spot in the sitcom How I Met Your Mother, in which Harris plays Barney, a scene-stealing womanizer. The character, and Harris as an actor, were both so beloved that even after Harris's 2006 announcement that he was gay, the audience returned to the overly-heterosexual character without blinking an eye.

In 2008 Harris had another huge year: not only did Barney develop as a deeper character, but Harris revisited his role as "Neil Patrick Harris" in the Harold and Kumar franchise and starred as a super villain hopeful and Internet blogger in Doctor Horrible's Sing-a-Long Blog. In 2009 he hosted the TV Land Awards, the Tony Awards, and the Emmy Awards. He continued to star and perform in a number of features, including providing a voice in the animated film Cloudy with a Chance of Meatballs and acting in the live-action films The Best and the Brightest and Beastly. Noting the ease with which the gay, magic-loving, former child actor had managed to stand as "an icon of cool masculinity," Joel Stein wrote in Time, "If Frank Sinatra had wanted a gay singing-and-dancing magician to party with--and no doubt he would have--Harris would have gotten the nod." Harris's collection of stage skills, as appropriate to a Vaudeville star as to a modern actor, have continued to endear him to a wide variety of audiences. But despite his success, Harris is not overconfident. He told Whitney Pastorek of Entertainment Weekly, "I just hope I'm not going to open up the magazine next week and see the little arrow sticking through me three pages after the Bullseye, saying, 'NPH, enough already.'" Pastorek's response? "Not a chance."

AWARDS

Winner of Young Artist Awards, for Doogie Howser, M.D., 1990, 1991, and 1992; People's Choice Award, for Doogie Howser, M.D., 1990; Entertainment Weekly, named one of the Top 25 Entertainers of the Year, 2008.
View the full website biography of Neil Patrick.