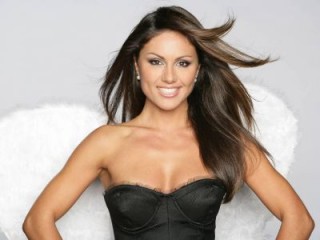 Nazan Eckes
Date of birth : 1976-05-09
Date of death : -
Birthplace : Cologne, Germany
Nationality : German
Category : Arts and Entertainment
Last modified : 2011-02-03

Nazan Eckes, was born 9 May 1976 in Cologne, Germany and she is a German television personality of Turkish descent at the German television channel RTL.

Daughter of Turkish immigrants from Eskisehir, Nazan & Üngör completed 1995 her Abitur, the German final exams of high school in Leverkusen, where her father was employed as a worker in a chemical and pharmaceutical company.

Her practical training at the music television channel VIVA followed a voluntary service for 18 months at the same channel. In 1998, Nazan & Üngör was employed at VIVA. Between 1998-1999, she dabbled at the Turkish regional newspaper Haftalik Posta as a freelancer.
Nazan &Üngör managed in 1999 to do a jump to RTL-North in Hamburg and assumed the presentation of weather forecast of the regional evening program Guten Abend RTL. The next year, she transferred to RTL-West as vice presenter of weather forecast at the local program Punkt 12. At this time, she became also a reporter.

Since 28 January 2003, Nazan presents regularly the RTL II News on workdays. That year, she hosted RTL Exclusiv and Life! - Die Lust zu leben as a vocation substitute. She also presented World Music Awards with Ole Tillmann and Deutschlands beste Doppelganger, a look-alike-show on Saturday nights with Mike Kruger. Furthermore, Nazan Eckes hosts the program Formel Exclusiv on lifestyle, sports and Formula One with Kai Ebel.

From June 2004 on, she hosted Life! - Die Lust zu leben and assumed also die presentation of Bosporus Trend and RTL II Jahresruckblick, a retrospection on 2004 and 2005.
In 2005, she assumed the pregnancy substitution of Frauke Ludowig in EXPLOS'V-Weekend. The next year, she hosted with Hape Kerkeling Let's Dance, the German version of television series Dancing with the Stars. In October of the same year, Nazan Eckes was responsible for the presentation of Das große TV-Quiz, a quiz program with the GameDisk of RTL and NORIS Entertainment. She played also in the German television comedy Crazy Race 3 - Sie knacken jedes Schloss featuring a journalist.

In 2007, Nazan Eckes hosted the second season of Let';s Dance Again with Hape Kerkeling and also the episode Harry Potter and the Order of the Phoenix - The great RTL-Special.

Nazan and Claus Eckes, an advertiser, got to know each other during jetskiing and married in February 2000. The couple divorced in 2007. 2008 Nazan dated with Julian Khol, an Austrian Model who lives in Düsseldorf and is the son of Andreas Khol, a politician from Austria.


View the full website biography of Nazan Eckes.