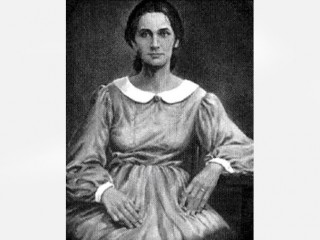 Nancy Hanks Lincoln
Date of birth : 1784-02-05
Date of death : 1818-10-05
Birthplace : Hampshire County, Virginia
Nationality : American
Category : Famous Figures
Last modified : 2010-06-08
Nancy Hanks Lincoln was the mother of Abraham Lincoln, the 16th President of the United States and Sarah Lincoln and wife of Thomas Lincoln.

Nancy Hanks was born in Hampshire County, Virginia (now Mineral County, West Virginia). Abraham Lincoln credited many of his genetic gifts to his mother, because of his belief that his gifts came from his unknown grandfather, who fathered her out of wedlock. It has been speculated that Nancy Hanks may be of Melungeon descent.

On June 12, 1806, she married Thomas Lincoln. Thomas proposed to her at what is now Lincoln Homestead State Park. A record of their marriage license is located at the Washington County, Kentucky courthouse. They had three children:

* Sarah Lincoln Grigsby (February 10, 1807 – January 20, 1828)
* Abraham Lincoln, born February 12, 1809
* Thomas Lincoln, died in infancy, 1812

In 1816 Nancy Hanks and her family moved to southern Indiana.

On October 5, 1818, Nancy Hanks Lincoln died of "milk sickness", a disease contracted from drinking the milk of a cow that has eaten the poisonous white snakeroot. In the same year, several other people also died of "milk sickness" in the small town of Little Pigeon Creek in Spencer County, Indiana, where the Lincolns lived. Nancy Hanks Lincoln was only thirty-four years old when she died, and her son Abraham was only nine.

Nancy Hanks Lincoln's grave is located in the Nancy Hanks Lincoln Cemetery, on the grounds of Lincoln Boyhood National Memorial in Lincoln City, Indiana.

Legacy
Katherine K. Davis wrote the ballad "Nancy Hanks" in 1941 as a tribute to Lincoln's mother, but she is probably better known as the composer of the popular Christmas song "The Little Drummer Boy".

American actor Tom Hanks is a distant relative of Nancy Hanks. This was referenced in the film Toy Story 2, in which the cowgirl Jessie exclaimed "Sweet Mother of Abraham Lincoln" when she first met Woody, voiced by Tom Hanks.

On February 12, 2009, on the bicentennial of the birth of Abraham Lincoln, the West Virginia House of Delegates recognized Mineral County, West Virginia as the birthplace of Nancy Hanks.
View the full website biography of Nancy Hanks Lincoln.