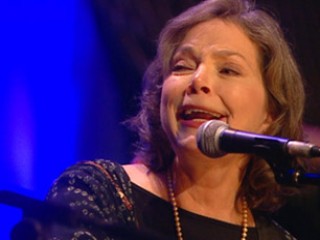 Nanci Griffith
Date of birth : 1953-07-06
Date of death : -
Birthplace : Seguin, Texas, U.S.
Nationality : American
Category : Arts and Entertainment
Last modified : 2011-02-07
Nanci Griffith, born Nanci Caroline Griffith is an American singer, guitarist and songwriter from Austin, Texas.

A self-styled "folkabilly" singer, Griffith began as a kindergarten teacher and occasional folksinger. The country scene took her to heart in the mid-'80s, giving her a reputation as a quality songwriter through hit covers of her songs by Kathy Mattea and Suzy Bogguss. Finding no luck with commercial country radio however, she recorded several pop-oriented albums and then returned to her folk roots by the mid-'90s.

Nanci spent her childhood involved with theater and literature as well as music. She began playing clubs around Austin at the tender age of 14 and continued to perform during her college years at the University of Texas and even while she taught kindergarten in the mid-'70s.

She decided to make music her full-time ambition in 1977. Her songwriting won an award at the Kerrville Folk Festival, prompting the local label BF Deal to record her for a compilation and later for her debut album, There's a Light Beyond These Woods (1978). Her tour schedule took her all over North America, playing festivals and TV shows in addition to the small clubs in which she had begun. Meanwhile, she recorded albums in 1982 (Poet in My Window) and 1985 (Once in a Very Blue Moon).

Finally, in 1986, Griffith got her big break after moving to Nashville. The title song from Once in a Very Blue Moon placed modestly on the country charts, she released the acclaimed Last of the True Believers on Philo (the label that later reissued her first three albums), and -- most importantly -- Mattea's cover of "Love at the Five & Dime" reached No. 3 on the country charts. Last of the True Believers was nominated for a Grammy as Best Contemporary Folk Recording, but commercial country radio still found it difficult to accept her.

She signed with MCA and released her major-label debut, Lone Star State of Mind, in 1987. With it, she popularized the Julie Gold song "From a Distance" -- later covered by Bette Midler -- but also gave Griffith her first country Top 40 hit, the title song. Two other singles from the album, "Trouble in the Fields" and "Cold Hearts/Closed Minds," also grazed the country charts. Little Love Affairs and the live album One Fair Summer Evening (both 1988) were slight disappointments, though "I Knew Love" became her second country Top 40 hit.

Disappointed by lack of support from the country music scene, she moved from Nashville to MCA's pop division in Los Angeles and paired with noted rock producer Glyn Johns for 1989's Storms. The album included guest stars Phil Everly, Albert Lee, and former Eagle Bernie Leadon and became her bestseller, though it featured no successful singles. A move from rock to pop -- helped by producers Rod Argent and Peter Van Hook -- characterized Late Night Grande Hotel (1991); it was clear by then that her move away from Nashville was also compromising her folk and country roots.

A move to Elektra in 1992 marked a return to form for Griffith; Other Voices, Other Rooms (1993) was a tribute to her influences, and several of them -- including Emmylou Harris, Chet Atkins, and John Prine -- made appearances. A compilation release of her best from the MCA years also appeared in 1993. The following year, Griffith's tenth studio album, Flyer, continued her dedication to folk. In March of 1997, Griffith released Blue Roses From the Moons; Other Voices, Too (A Trip Back to Bountiful) followed a year later, trailed in 1999 by Dust Bowl Symphony. After several compilations, she released Hearts in Mind on a small division of Universal in 2004.

Take a listen to More than A Whisper single from Nanci Griffith :



View the full website biography of Nanci Griffith.