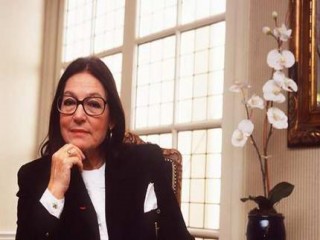 Nana Mouskouri
Date of birth : 1934-10-13
Date of death : -
Birthplace : Athens, Greece
Nationality : Greek
Category : Arts and Entertainment
Last modified : 2010-12-06
Globally speaking, Nana Mouskouri is the biggest-selling female artist of all time. Her fluency in multiple languages -- Greek, French, English, Spanish, Italian, Portuguese -- enabled her to reach audiences all over Europe, the Americas, and even Asia. Possessed of a distinctive, angelic soprano -- the product of having been born with only one vocal cord -- Mouskouri was sometimes described as Europe's answer to Barbra Streisand. Her repertoire was varied enough to support the universal appeal she aimed for: jazz standards, well-known pop tunes from before and after the rock era, French cabaret chansons, movie songs, classical and operatic repertory, religious music, folk songs from her native Greece and elsewhere, and more. Television ads for Mouskouri collections (a major North American marketing tool) leave the impression that her chief strength was interpreting familiar songs in that lovely voice; however, her early fame in Europe was built largely on songs written for and associated with her, most notably her first hit, "The White Rose of Athens." She was particularly successful in her eventual adopted home of France, where her trademark large black glasses were viewed as highly unorthodox visual style. Mouskouri recorded steadily from the 1960s into the new millennium, tailoring specific releases to specific international markets with tremendous success.

Ioana Mouskouri (Joanna in English; nicknamed "Nana" from a young age) was born October 13, 1934, on the island of Crete, in the town of Chania (or Carée in French). Her father worked as a movie projectionist, and moved the family to Athens when she was three. Much of her childhood was colored by the Nazi occupation of Greece -- during which time her father worked for the resistance movement -- and the four-year civil war that broke out on the heels of World War II. She started taking singing lessons at age 12, and listened regularly to radio broadcasts of American jazz singers (Frank Sinatra, Ella Fitzgerald, and Billie Holiday in particular) and French chanson stars (Edith Piaf, etc.). In 1950, Mouskouri was accepted into the Athens Conservatory, where she studied classical music with an emphasis on singing opera. In 1957, it was discovered that Mouskouri had been singing with a jazz group by night, and she was summarily kicked out of the Conservatory.

Mouskouri began singing jazz in nightclubs, concentrating especially on Ella Fitzgerald repertory. In 1958, she met the emerging songwriter Manos Hadjidakis, who would become her mentor in the field of popular music, and recorded an EP featuring four of his compositions for a small record label that year. The following year she performed his "Kapou Iparchi Agapi Mou" (co-written with poet Nikos Gatsos) at the inaugural Greek Song Festival; it won first prize, and Mouskouri's high-profile performance began to make a name for her. At the 1960 festival, she performed two more Hadjidakis compositions, "Timoria" and "Kiparissaki," which tied for first prize; not long after, she made her first appearance outside of Greece at the Mediterranean Song Festival, held in Barcelona. She performed the Kostas Yannidis composition "Xypna Agapi Mou," which again won first prize, and attracted interest from several international record companies. She wound up signing with the Paris-based Philips-Fontana axis.

In 1961, Mouskouri sang on the soundtrack of a German documentary about Greece, which resulted in the German-language single "Weisse Rosen aus Athen" ("The White Rose of Athens"). Adapted from a folk melody by Manos Hadjidakis, it was an enormous hit, selling over a million copies in Germany; later translated into several different languages, it went on to become one of her signature tunes. In 1962, she met producer Quincy Jones, who flew her to New York to record an album of American standards titled The Girl From Greece Sings; not long after, she had a sizable U.K. hit with the pop standard "My Colouring Book." In 1963, she settled permanently in Paris and recorded a Greek-language album; she also sang Luxembourg's entry in the Eurovision Song Contest that year, "À Force de Prier," which became an international hit, and helped win her the prestigious Grand Prix du Disque in France. She attracted the notice of composer Michel Legrand, who supplied her with two major French hits in "Les Parapluies de Cherbourg" (1964) and "L'Enfant au Tambour" (1965). Also in 1965, she recorded her second English-language album in America, Nana Sings, and found a patron in Harry Belafonte, who brought her on tour with him through 1966, and teamed with her for the live duo album An Evening With Belafonte/Mouskouri.

Mouskouri ascended to superstardom in France with her 1967 album Le Jour Où la Colombe, which featured much of the core of her French repertoire: "Au Coeur de Septembre," "Adieu Angélina," "Robe Bleue, Robe Blanche," and a cover of the French pop classic "Le Temps des Cerises," among others. Also scoring with a version of "Guantanamera," she made her first headlining appearance at Paris' legendary Olympia concert theater that year, with a repertoire blending French pop, Greek folk, and Manos Hadjidakis numbers. The following year, she turned her attention to the British market, hosting a variety series called Nana and Guests; in 1969, she released her first full-length British LP, Over and Over, a smash hit that spent almost two years on the charts. Already maintaining a heavy international touring schedule in the late '60s, Mouskouri spent much of the '70s on the road, broadening her worldwide popularity to levels rarely equaled. In France, she released a series of top-selling albums that included Comme un Soleil, Une Voix Qui Vient du Coeur, Vielles Chansons de France, and Quand Tu Chantes, among others; she also recorded a successful version of "Habanera," from Bizet's opera Carmen, in tandem with Serge Lama. Elsewhere, her 1975 album Sieben Schwarze Rosen was a significant success in Germany, and her English-language album Book of Songs sold millions of copies worldwide.

Mouskouri had another English-language triumph with 1979's Roses and Sunshine, which was particularly popular in Canada. She scored a worldwide hit with 1981's "Je Chante Avec Toi, Liberté," which was translated into several languages after its widespread success in France, and also helped boost her hit German album Meine Lieder Sind Meine Liebe. In 1984, Mouskouri returned to Greece for her first live performance in her homeland since 1962; from then on, she would record Greek-language albums for her home market. In 1986, Mouskouri recorded "Only Love," the theme song to a BBC TV series that went on to top the U.K. charts; it was also a hit in the French translation "L'Amour en Héritage." That same year, Mouskouri made a play for the Spanish-language market with the hit single "Con Todo el Alma," a major success in Spain, Argentina, and Chile. She released five albums in different languages in 1987, and the following year returned to her classical conservatory roots with the double LP The Classical Nana (aka Nana Classique), which featured some of her favorite opera excerpts.

Mouskouri's 1991 English-language compilation Only Love: The Best of Nana Mouskouri became her best-selling release in the United States, which had long been the toughest market for her to crack. She spent much of the '90s continuing her rigorous global touring schedule, while recording regularly in French, German, Spanish, English, and Greek. Among her early-'90s albums were the spirituals collection Gospel (1990), the Spanish-language Nuestras Canciones, the multilingual, Mediterranean-themed Côté Sud, Côté Coeur (1992), the self-explanatory Falling in Love Again: Great Songs From the Movies (which reunited her with Harry Belafonte on two songs), and the French Dix Mille Ans Encore. She also dedicated herself to public works, becoming a spokesperson for UNICEF in 1993 and gaining election to the European Parliament as a Greek representative from 1994-1999. She recorded several more albums over 1996-1997, including the Spanish-language Nana Latina (which featured duets with Julio Iglesias and Mercedes Sosa), the English-language Return to Love, and the French pop classics set Hommages. In 1997, she staged a high-profile Concert for Peace at the Cathedral of St. John the Divine in New York; it was later released as an album, and aired as a TV special on PBS in America. Meanwhile, a number of Mouskouri retrospectives appeared overseas, including elaborate box sets in both France and Germany. She continued her extensive international touring into the new millennium.

View the full website biography of Nana Mouskouri.