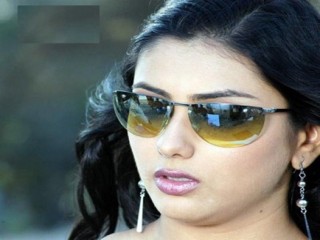 Namitha Kapoor
Date of birth : 1973-05-10
Date of death : -
Birthplace : Surat, Gujarat, India
Nationality : Indian
Category : Arts and Entertainment
Last modified : 2011-07-27
Namitha Kapoor is an Indian actress, who has appeared in Telugu, Tamil, Kannada, Hindi, Malayalam & English films.

Namitha was born on May 10, 1973 in Surat, Gujarat, India in a Punjabi family. She is the only daughter in this family, which consists of her father, a businessman while her mother is a homemaker. She has a degree in English Literature.

She first came into the limelight after she was crowned Miss Surat during the year 1998. She went on to participate in the 2001 Miss India pageant and ended up as the fourth runner-up, while Celina Jaitley was crowned Miss India during this event.

This publicity opened up doors for her and she did a number of TV commercials like Himani cream & hand soap, Arun Ice Cream, Manikchand Gutka, and Nile herbal shampoo.

Her chubby personality attracts the masses and she has become the most widely searched south Indian actress with over 6 crore hits on google search.

She has acted in Tamil, Kannada ,Telugu, Hindi films and she completed her English film 'Maya'.

She became famous after the Tamil film 'Engal Anna' opposite Vijayakanth.

Namitha's father is a businessman and her mother is a housewife.

She is the only daughter in her joint family. Her Screen name for her first two telugu movies , is Bhairavi.

Namitha has taken to yoga in the past to keep her mind and body fit. During her leisure time, Namitha loves to swim and play badminton. She used to be a swimming coach for young kids before coming to movies.

Namitha has got a degree in English literature. In 1998 she won the Miss Surat title and 2001 she came third in the Miss India event.

Before getting in to movies Namitha did a few TV commercials like Himani cream, Himani herbal soap, Nile herbal shampoo, Manikchand Ghutka, Arun Ice cream etc

She is a cooking freak and loves to bake sweets whenever she can.

Namitha loves White and Black colors. White roses are her favorite flowers.

Namitha likes Nandita Das, Tabu, Paresh Rawal among bollywood actors.
View the full website biography of Namitha Kapoor.