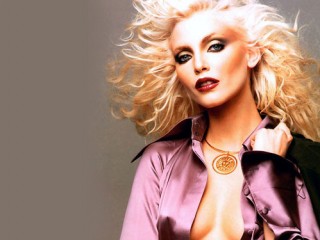 Nadja Auermann
Date of birth : 1971-03-19
Date of death : -
Birthplace : Berlin, Germany
Nationality : German
Category : Arts and Entertainment
Last modified : 2010-06-09
Nadja Auermann (born March 19, 1971) is a German model and actress. Fashion designer Valentino once commented on her physical resemblance to Marlene Dietrich. A fashion columnist wrote of her ice maiden visage and pole vaulter's legs.


HEIGHT: 5′10.5″
MEASUREMENTS 36B-24.5-35.5
WEIGHT: 119lbs
HAIR: Brown
EYES: Blue
BORN: March 19, 1971 in West Berlin to banker parents.
DISCOVERED: Sitting in a cafe in 1989 and asked to model for a travel catalogue (she bombed).
AGENCY: New York-Elite, Paris-Elite, UK-Elite Premier.
INCOME: Her estimated worth in 2000 is $13.2 million.
RESUME: Models for Versace, Valentino, Karl Lagerfeld, Blumarine, Anne Klein, and Prada.
HOME: New York City.

Auermann arrived in Paris in 1990, unsuccessfully signing with Karins Modeling Agency in the same year. In 1991, she signed with Elite Model Management. With her image on the covers of the two thick fall fashion magazines, Auermann achieved a triumph equal to winning two legs of the Triple Crown of Thoroughbred Racing. She had her picture taken for French Vogue, in addition to appearing in Benetton clothing advertisements. Her September 1994 Harper's Bazaar cover prompted one critic to comment negatively about her excessive makeup. She said Auermann looks like Grizabella the Glamour Cat about to break into Memory.

Auermann has modeled for Versace, and she appeared in their classic ad photo in miniskirts along with Kristen McMenamy, Christy Turlington, Claudia Schiffer, Cindy Crawford, and Stephanie Seymour. The ad was shot by Richard Avedon. In the following years, she was photographed by Ellen von Unwerth and appeared in and on the covers of numerous magazines. In 1997, she had her first child with Olaf Björn, a daughter called Cosima. Two years later, she married German actor Wolfram Grandezka. The couple welcomed their first son, Nicolas, the same year and divorced a few years later.

In recent years, Auermann launched her own perfume ("Nadja Auermann") and has begun acting, having been in two German-language films: Letztes Kapitel (2005) and Dornröschens Leiser Tod (2004).

Auermann enjoys vacationing in the spa town of Heiligendamm, on Germany's Baltic coast. She is a vegetarian.
View the full website biography of Nadja Auermann.