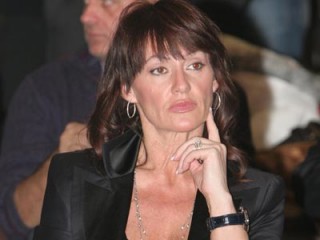 Nadia Comaneci
Date of birth : 1961-11-12
Date of death : -
Birthplace : Onesti, Romania
Nationality : Romanian
Category : Sports
Last modified : 2010-11-11
The future Olympic star, Nadia Comaneci was born on November 12, 1961, in Onesti, Romania, to Gheorghe, an auto mechanic, and Stephania Comaneci. By the age of six, she was already hooked on gymnastics. Then she was discovered by famed Romanian gymnastics coach, Bela Karolyi. He and his wife were looking for youngsters for the National Junior Team and he decided she had potential. She began to train two to three hours a day with Karolyi and he was impressed with her work ethnic.

Even great talent and a strong work ethnic did not guarantee results. Comaneci remembered that in early gymnastic competitions, she fell a lot, and that motivated her to keep practicing. In 1969, at the age of seven, she entered her first official competition, the Romanian National Junior Championship. She finished in thirteenth place. The following year, she won the competition. When she turned 12, she went to live and train at a state-run gymnastics training school. She trained with Karolyi eight hours a day, six days a week.

Comaneci continued to get better and she started to win her competitions regularly. At the time, her role model was the dominant woman in gymnastics, Soviet star Olga Korbut. She continued to win competitions and in January of 1975, became eligible for senior level international competitions. She entered the European championships in May of that year and won four gold medals and one silver medal.

The summer Olympic games were approaching, and Comaneci wanted to be ready. As a warm-up, she competed in the American Cup competition in New York City in March of 1976. In the competition, one male and one female gymnast represent each country in the meet. She won the competition. Standing next to her on the winners' stand after they both won silver cups was an 18-year-old American, Bart Conner, who was also heading for the Olympics. A photographer, thinking the blond, handsome American and the tiny dark-haired wisp of a girl would make a nice picture, asked Conner to kiss her. He obliged with a peck on the cheek. Although Conner, now her husband, says he remembers the moment, Comaneci says never thought much about it.

Comaneci arrived at the 1976 Olympic Games, in Montreal, with her reputation firmly established. On the first night of the competition, July 18, she became the first person in Olympic history to earn a perfect score (a 10.00 on the uneven bars) in gymnastics. The following night she continued her streak, earning perfect scores for her performances on the uneven bars and balance beam. A few nights later, she again received perfect scores for her balance beam and uneven bar performances. In all, Comaneci earned seven perfect scores and won gold medals for the all-around competition, the balance beam, and the uneven bars. The Romanians also won the silver medal in the team competition. Comaneci became the darling of the gymnastics world and was on the cover of several magazines. After the Olympic competition, the Comaneci family got a one month vacation and a new car from the Romanian government.

The times after the 1976 Olympic Games were tough for Comaneci. Her parents divorced and Romanian sports officials separated her from Karolyi and made her train with another coach. Upset by the turn of events, Comaneci swallowed bleach to get attention. The government then allowed her to train with Karolyi once again. In 1979, Comaneci allegedly became involved in with the son of Romanian dictator Nicolae Ceausescu. Reflecting the turmoil in Comaneci's personal life, her performance at the 1980 Olympics in Moscow, Russia, didn't measure up to her personal standards. Although she did win two gold medals and one silver medal, she fell off the uneven bars, considered her best event.

Back home in Romania, life was becoming difficult for Comaneci. First, her beloved coach, Karolyi, defected to the United States in 1981. His revolt was a protest against the oppressive government of Ceausescu. Comaneci was the first to discover his absence, and although she thought about following him, she felt that she could not leave her family. At the age of 19, she participated in her last major competition. Shortly before attending the 1984 Olympic Games (as a honored guest who traveled with the Romanian delegation) that were held in Los Angeles, California, she officially retired from gymnastics.

Because Romania's government regarded her as a valuable Communist model of domination in sports and because it feared that she might defect to the United States, they no longer allowed her to travel to Western countries. For the next several years, she was literally out of sight to the Western press. In the meantime, officials kept a watchful eye on her whereabouts, read her mail, and even tapped the phone in the eight-room house that had been provided for her and her family. Although her fame gave her an easier life than most of her countrymen, Comaneci more and more thought about defecting.

Finally, in late 1989, the 27-year-old found a way. She met Romanian-born Constantin Panait, a roofer who lived in Florida, and learned that he helped people escape to America. Her mind made up, she told only her brother of her plans. She later said she was afraid her parents would have a heart attack if she told them. With five other Romanians, she made a dangerous six-hour walk through the cold of winter to the Hungarian border, where they were stopped by Hungarian police who immediately recognized Comaneci. At first they asked her to stay in their country, but they did let her go on. The group headed for the Austrian border and the American Embassy. Soon they were on a plane to New York City.

The former Olympic star arrived in the United States overweight and heavily made up. Americans were shocked at her appearance and rumors started to hit the press. They charged that Panait, who was now posing as her manager, was a married man with children and that Comaneci was having an affair with him. She denied any such relationship and claimed that Panait was in fact controlling her life and her money and she felt helpless to escape from this new kind of bondage.

Lucky for Comaneci, the world of gymnastic competitors is a tight community. Some of her old friends, including Conner and former Romanian rugby coach Alexandru Stefu, living in Montreal, began to think that she was in trouble. Stefu lured the elusive Panait, along with Comaneci, to a meeting, where she admitted that he was mistreating her. The next day, Panait disappeared with her money. It was a hard lesson, but she was free at last.

Comaneci went to Montreal to live with Stefu and his family. There she returned to gymnastic form and kept up her budding friendship with Conner, who was living in Norman, Oklahoma. When Stefu died in a snorkeling accident, Comaneci moved to Norman. She lived with Paul Ziert, Conner's coach and a friend of her former coach, Bela Karolyi, and his family. Comaneci and Conner began dating, and together they performed in a number of gymnastic competitions. They also worked at the Bart Conner Gymnastics Academy opened by Conner and Ziert. The academy had 37 coaches and 1,000 students.

Besides teaching and performing, Comaneci signed several product endorsement contracts. In 1994, Conner proposed to her while the couple was in Amsterdam. In April of 1996, they were married in an elaborate wedding in Bucharest, Romania, which Sports Illustrated described as "the gymnastics world's version of a royal wedding." She had introduced him to her family in Romania the year before, the first time she had seen her father in five years. (Her mother had previously visited her in the United States.) The government treated them like royalty (Ceausescu had been killed in an overthrow of the Communist government shortly after Comaneci defected), and they were given the use of the Parliament House for the reception.

Comaneci has made a new life for herself in the United States. She and her husband travel extensively throughout the country for exhibitions and commercial appearances, besides their work at the academy in Norman. She hasn't forgotten the dark times, but she doesn't like to talk about them. She is pleased, however, when people stop and talk about her Olympic performances. People still remember how Comaneci captivated fans, judges, and viewers at the 1976 Olympics, and how she changed the world of gymnastics forever.

Currently, Nadia and Bart are business partners with their manager, Paul Ziert, in the Bart Conner Gymnastics Academy, International Gymnast magazine, Perfect 10 Productions, Inc. (a TV production company) and Grips, Etc. (a gymnastics supply company).

In 1999, Comaneci was honored by ABC News and Ladies' Home Journal as one of the 100 Most Important Women of the 20th Century. Comaneci, who is also fluent in French and English, continues to travel the world with her various interests. Her charity work is extensive. She is the Vice-Chairperson of the Board of Directors of Special Olympics International. She is also a Vice President of the Muscular Dystrophy Association. Comaneci also serves as a member of the board of the Laureus Sports For Good Foundation. Nadia also travels to Romania often to support dozens of charities in her homeland.

Even though Nadia won a total of nine Olympic medals, five of them gold, she will always be remembered at the first gymnast to score a perfect 10 and leave her indelible mark on the history of the Olympics.

On June 3, 2006, Conner and Comaneci welcomed their son, Dylan Paul Conner, into the world. Dylan, who was born a few weeks early, was 4lbs. 10 oz., and 17 and 1/2 inches long at birth. He is strong, healthy and doing very well.

View the full website biography of Nadia Comaneci.