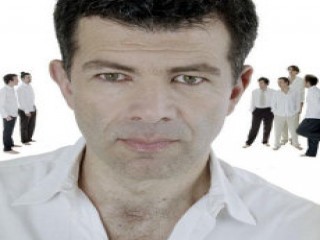 Néry
Date of birth : -
Date of death : -
Birthplace : France
Nationality : Française
Category : Arts and Entertainment
Last modified : 2011-05-04
Néry, de son vrai nom , Stéphane Catineau est un auteur, chanteur, réalisateur et metteur en scène français.

Néry a tout d'abord fait ses armes au sein des Nonnes Troppo, de 1986 à 2002, et des VRP de 1989 à 1993. Bien au-delà de la musique, l'artiste exerce également ses talents dans la création de spectacles comme des opéras, dans la mise en scène pour des artistes tels Enzo Enzo et Olivia Ruiz, la réalisation de clips (La Mano Negra, etc ), ou encore de films d'animation.
Parallèlement à tout cela, il trouve encore le temps de travailler sur des projets solo et sort, en 1999, l'album La Vie c'est de la viande qui pense, Vol libre en 2001, et Belgistan en septembre 2006.


View the full website biography of Néry.