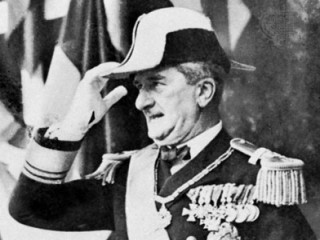 Miklos Horthy
Date of birth : 1868-06-18
Date of death : 1957-02-09
Birthplace : Kenderes, Austria-Hungary
Nationality : Hungarian
Category : Historian personalities
Last modified : 2012-01-22
The Hungarian admiral and statesman Nicholas Horthy de Nagybánya (1868-1957) was regent of Hungary from 1920 to 1944. He led Hungary during a troubled period which began with a Communist revolution and ended with German and then Russian occupation.
By the Treaty of Trianon (June 4, 1920) Hungary lost 72 percent of its territory, 64 percent of its population, and most of its natural resources and markets. Hungary therefore hoped for treaty revision at the expense of its newly created neighbors, Czechoslovakia and Yugoslavia, and the much expanded state of Romania. Adm. Nicholas Horthy de Nagybánya, a convinced revisionist, believed that only friendship with England could effect the restoration of Hungary's prewar boundaries. But Hungary's economic subservience to Germany and the Reich's growing military strength brought Hungary within Germany's political sphere. The eventuality which Adm. Horthy feared most came to pass, for Hungary joined in World War II against England.
Nicholas Horthy de Nagybánya was born on June 18, 1868, in Kenderes of a Calvinist family of the middle gentry. He entered the Austro-Hungarian Naval Academy in 1882 and went on to serve uneventfully until 1908-1909, when he commanded the embassy yacht Taurus in Constantinople during the Young Turk revolutions of those years. In 1909 he was appointed naval aide-de-camp to Emperor Francis Joseph, a position which he held until 1914, acquiring the greatest respect for the aged emperor.
Horthy received command of the cruiser Novara in December 1914 and broke the Allied blockade during several actions in the Adriatic Sea. In May 1917 he commanded a squadron of three ships which conducted a successful action in the Straits of Otranto. In January 1918 he was named admiral and commander-in-chief of the Austro-Hungarian navy, in which position he had to surrender the fleet to the Yugoslav National Council on Oct. 31, 1918.
Having returned to Hungary, Horthy became minister of war in the government Count Gyula Karolyi formed at Szeged to oppose Bela Kun's Bolshevik government in Budapest. He resigned in July 1919, though he retained command of the counterrevolutionary forces he had organized. Upon the Kun regime's collapse in August 1919, Horthy's forces began a "white terror" for which he was blamed by liberal elements. When the Romanian army, which had ejected the Kun regime, retired from Budapest, Horthy's forces entered the capital on Nov. 16, 1919. The parliament elected in January 1920 declared the restoration of the monarchy and, pending settlement of the status of the Hapsburg king Charles IV, elected Horthy regent of Hungary on May 1, 1920. Horthy then twice denied Charles his throne (March and October 1921), thereby offending conservative and legitimist elements. Simultaneously, the attempted restoration so frightened Czechoslovakia, Romania, and Yugoslavia that they concluded the Little Entente to oppose the restoration of the Hapsburg dynasty in Hungary and Hungarian revisionism.
Horthy was inactive in the period 1921-1931 because of his limited constitutional prerogatives and because of his confidence in his conservative prime minister, Count István Bethlen. Hungary's inability to export its agricultural surpluses, coupled with overborrowing during the 1920s, caused an economic crisis during the Depression, forcing the resignation of Count Bethlen and the appointment soon afterward of Gyula Gombos, an admirer of Germany, to the premiership. Germany's willingness to absorb Hungary's agricultural exports and to support its revisionist claims caused Hungarian policy gradually to conform with Germany's. The rise of pro-German sentiment in the country and Germany's growing strength caused Horthy to assume a more active role in the country's affairs, and he received the power to prolong and prorogue Parliament in 1933 and the power to enjoy independence from parliamentary responsibility in 1937. Nevertheless, opposition from the Little Entente powers supported by France, combined with distrust of the Soviet Union and the indifference of England, led Hungary to a dependence on Germany and Fascist Italy.
After the Anschluss of March 1938 united Nazi Germany and Austria politically, Horthy's policy consisted of opposing German influence in Hungary and attempting to retain the goodwill of the Western powers. This policy, however, was complicated by Hungary's acceptance of Czechoslovak and Romanian territories from Germany as a result of the Munich Agreement in 1938 and the Vienna Award in 1940. When Germany invaded the Soviet Union in June 1941, Hungary joined Germany and declared war on the Western Allies on Dec. 13, 1941.
Horthy resisted German economic and political demands during the war. He encouraged attempts to negotiate for peace with the Allies, but Hungary's geographic position made it difficult to break away from Germany. As the Eastern front reached the Hungarian border, German troops occupied the country in March 1944, but Horthy remained regent in order "to save what could be saved."
As Russian troops entered Hungary in September 1944, Horthy relinquished hope in the Western powers and dispatched a mission to Moscow to conclude a preliminary armistice. When he publicly pleaded for an armistice on Oct. 15, 1944, however, he was arrested by the Germans, forced to abdicate, and imprisoned in Germany. On May 4, 1945, Horthy was taken by American troops in the Tirol and imprisoned at Nuremberg. Finally it was decided not to try him, and so he was released on Jan. 2, 1946. Hungary was then Communist-controlled, and Nicholas Horthy de Nagybánya retired to Estoril, Portugal. He published his Memoirs in 1956 and died on Feb. 9, 1957.
View the full website biography of Miklos Horthy.