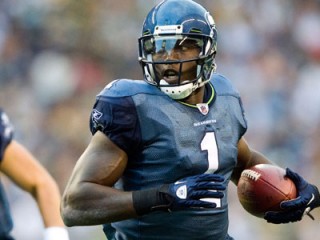 Mike Williams (wide Receiver)
Date of birth : 1984-01-04
Date of death : -
Birthplace : Tampa, Florida
Nationality : American
Category : Sports
Last modified : 2010-12-06
Michael "Mike" Troy Williams is an American football wide receiver for the Seattle Seahawks of the National Football League. He was drafted by the Detroit Lions 10th overall in the 2005 NFL Draft. He played college football at Southern California.

Williams has also played for the Oakland Raiders and Tennessee Titans.

Signed by Seattle on April 16, 2010, as an unrestricted free agent.

NFL CAREER HIGHLIGHTS:

* Originally selected by Detroit in the first round (10th overall) of the 2005 NFL Draft. Traded to Oakland on April 28, 2007, along with Josh McCown, in exchange for a 2007 fourth- round pick. Released by the Raiders on October 30, 2007, before signing with Tennessee on November 22, 2007.
* Recorded career-high six receptions for 84 yards vs. Atlanta (11/24/05).
* Registered career-best 95 receiving yards at Cleveland (10/23/05).
* Made NFL debut vs. Green Bay (9/11/05) and caught one pass for 3 yards and first-career touchdown.

COLLEGE:

Finished college career with 176 receptions for 2,579 yards, 30 touchdowns and a 14.7 yard per-catch average. 2003 first-team All-American (AP, ESPN.com, Football Writers,
SI.com, among others). Also finalist for the Biletnikoff Award (nation's top receiver), fin- ished eighth in HeismanTrophy voting, All-Pac- 10 first team and CBS.Sportsline.com National Player of the Year. In final season as a sopho- more, started all 13 games, recording 95 recep- tions for 1,314 yards (13.8 avg) and 16 touch- downs - most by aTrojan since 1981.

PERSONAL:

Attended Plant High School in Tampa Florida. Had 38 catches for 789 yards (20.8 avg.) with 12 touchdowns as a senior. 2001 honors included Tom Lemming All- American, Super Prep All-Dixie, Prep Star All- Southeast Region, St. Petersburg Times All- Suncoast second team and Tampa Tribune All- Hillsborough County first team as a senior wide receiver at Plant High inTampa (Fla.). As a jun- ior in 2000, made the All-State Class 4A second team while catching 35 passes for 803 yards (22.9 avg.) with 12 scores. Had 28 catches for 631 yards (22.5 avg.) as a 1999 sophomore. Also played basketball averaging 16.9 points, 8.3 rebounds and 4.6 assists as a senior.

View the full website biography of Mike Williams (wide Receiver).