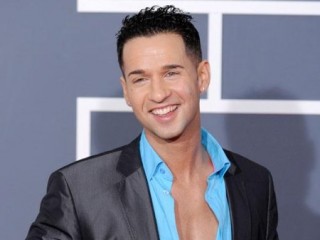 Mike Sorrentino
Date of birth : -
Date of death : -
Birthplace : Staten Island, New York, USA
Nationality : American
Category : Famous Figures
Last modified : 2011-03-16
Michael Sorrentino, publicly known by his nickname The Situation, is an Italian-American television personality and model who has appeared on the MTV reality show Jersey Shore since its beginning in 2009.

Mike Sorrentino, born 1982 an assistant manager of a fitness center in Staten Island, refers to himself as "The Situation."

New York native Michael Sorrentino often went by this alias on MTV's reality program Jersey Shore (2009- ), where cameras followed a group of Italian-American twenty-somethings partying the summer away in Seaside Heights, NJ. Sorrentino's brute physique, over-inflated ego, and sarcastic attitude painted him as the show's villain, which, in the world of reality TV, also meant he was one of the viewers' favorite cast members. Several organizations blasted "Jersey Shore" for the cast's generous use of the terms "Guido" and "Guidette," while portraying the Italian-American community as short-tempered, violent and alcoholic fame seekers with no discernible taste or class. Sorrentino owned up to his "Guido" status and shrugged off the criticism, which angered the show's opponents yet continued to bring in more viewers. More importantly, Sorrentino did not mind poking fun at himself, even appearing on "The Jay Leno Show" (NBC, 2009- ) as a quiz show contestant, which helped extend his 15 minutes of fame and cemented his reputation as the guy with the abs who America loved to hate.

Michael Paul Sorrentino grew up in Staten Island, NY, where he worked several odd jobs including managing a fitness center and exotic dancing with the All American Male crew. The self-professed "Guido" (a slang term for Italian-American men who conduct themselves with a macho attitude and have a penchant for excessive tanning, hair products and gaudy jewelry) moved into a Seaside Heights beach house in August 2009 as part of MTV's "Jersey Shore." The reality series brought together eight young, single and outspoken strangers - all of Italian-American descent - to live and work while cameras followed their every move. Sorrentino was the second oldest of the cast, which included Rhode Island musician Paul "DJ Pauly D" Del Vecchio and aspiring veterinary technician Nicole "Snooki" Polizzi, among others. The show kicked off with a romance brewing between Sorrentino and housemate Sammi "Sweetheart" Giancola during the first episode. The tension mounted after fellow cast member Ronnie Ortiz-Magro also courted Giancola, who ended up choosing him over Sorrentino. From the moment he came on screen, the reality star unveiled his new nickname and began referring to his washboard abdominals as "The Situation."

Sorrentino made it hard for his "Jersey Shore" housemates to like him. He often teased Polizzi for her short, curvy frame and blatantly flirted with women at clubs whom his male roommates were interested in. He was cocky and conceited, yet Sorrentino entertained viewers with his undeniable swagger and self-love. In fact, The Situation and Snooki shared equally in helping make "Jersey Shore" a ratings hit for MTV as its two biggest breakout stars. However, not all viewers were happy about the show and its over-the-top cast. UNICO National, an Italian-American community organization called for a boycott, while major corporations such as Dell, Domino's Pizza, and American Family Insurance pulled out their advertising after the show's premiere episode. Sorrentino went on record saying he did not need to defend his frequent use of the term "Guido," nor the way he was portrayed on the show. His popularity went mainstream after "Saturday Night Live" (NBC, 1975- ) poked fun at Sorrentino and Polizzi with a skit that aired during a December 2009 episode. Both cast members also made guest appearances on talk shows such "The Jay Leno Show" where they willingly participated in a quiz show sketch, which in turn, showed they were in on the joke and made both more likeable. In January 2010, fellow "Jersey Shore" housemate Vinny Guadagnino confirmed the series had been renewed for a second season, despite conflict between the network and the cast over pay.

Not long after the second season of "Jersey Shore" premiered in the summer of 2010 - this time, shot in Miami, FL - it was announced by The Hollywood Reporter that Sorrentino was shockingly poised to rake in $5 million in 2010 from various endorsements, book deals, videos, beverages and exercise gear embossed with his name and likeness. To up the fame game, "The Situation" was announced as one of the contestants on the 11th season of ABC's dance competition show, "Dancing with the Stars" (ABC, 2005- ).


View the full website biography of Mike Sorrentino.