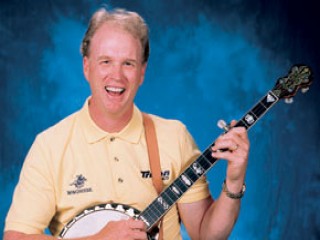 Mike Snider
Date of birth : -
Date of death : -
Birthplace : Gleason, Tennessee, U.S.
Nationality : American
Category : Famous Figures
Last modified : 2011-03-31
Mike Snider is an American country musician and comedian, born in 1961.

One of contemporary country comedy's most popular figures, Mike Snider was immediately recognizable for his signature banjo skills, distinctive Southern drawl, and myriad comic tales of his wife Sabrina, aka "Sweetie."

Born in Gleason, he received his first banjo at the age of 16, and soon won a number of talent contests; at the age of 22 he even took home top honors at the National Banjo Championship. After debuting at the Grand Ole Opry, Snider appeared on TNN's Nashville Now, where his unmistakable Tennessee accent prompted gales of laughter from the audience; he soon began pursuing comedy full-time, and was a cast member on Hee Haw for seven seasons. After earning his Opry membership in 1990, he began starring in Opryland's +The Mike Snider Show a year later; he also recorded a number of albums.


Mike and Sweetie live in Mike's hometown of Gleason, Tennessee, with their children Katie Lynn and Blake.

When Mike and the boys take the stage, audiences know they'll laugh, tap their toes, and hear perhaps the best string band in existence. They will be well entertained, and for Mike Snider, that makes for a good night at the Opry.



View the full website biography of Mike Snider.