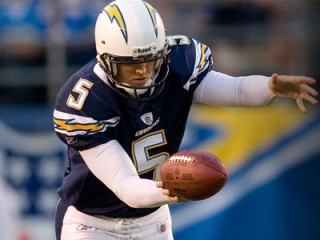 Mike Scifres
Date of birth : 1980-10-08
Date of death : -
Birthplace : Metairie, Louisiana
Nationality : American
Category : Sports
Last modified : 2010-09-20
Michael T. Scifres (born October 8, 1980 in Metairie, Louisiana) is a punter in the National Football League (NFL). Scifres attended Destrehan High School in Destrehan, Louisiana and lettered in football, soccer, and baseball. In football, he was an All-District selection. Scifres graduated from Destrehan High School in 1998. He is also known as the only active NFL player with braces on his teeth, as he wears a special kind of head gear on his teeth, which is often used on players with braces.

Mike Scifres (SIGH-fres) is one of the NFL's top punters of all-time. His high punts and pinpoint accuracy are rarely returned by the opposition and he's a master at landing them inside the 20 without allowing touchbacks. Scifres possesses incredible leg strength and flexibility that he credits to both weightlifting and Pilates.

It was almost a fluke that Scifres ended up with the Chargers. It happened to be on a recommendation from Kyle Smith, the son of Chargers General Manager A.J. Smith. Kyle, then a freshman punt returner at Youngstown State had returned punts against Scifres, who then played for Missouri Valley Conference foe, Western Illinois. Less than a year after fielding the call from Kyle and despite having a Pro Bowl punter on the roster in Darren Bennett, Smith drafted Scifres in the fifth round in 2003.

Drafting Scifres proved to be a savvy move for Smith. Scifres has been a first-alternate for three of the last four Pro Bowls and was voted a member of the Chargers' 50th Anniversary All-Time Team,

The franchise's all-time leader in punting average (44.2), Scifres was solid in 2009 despite grinding through nearly the entire season with a torn groin muscle that required postseason surgery. Despite the constant discomfort, he still landed 23 of his 52 punts inside the 20 (44.2%), and only two went for touchbacks, tied for the league low.

Scifres had come into 2009 off one of the best statistical years of his career in 2008 when set a team record and ranked third in the league in net punting average (40.9), and in seven games allowed zero or negative punt return yards. He had only five touchbacks in 51 punts (9.8%) and landed 19 of 51 inside the 20. Among players with 40-ormore punts, only two others allowed fewer than Scifres' 146 return yards and only five teams had more than 15
punt return yards against the Chargers all season.

Scifres cemented his resume as one of the NFL's top punters during a record-breaking night in a 2008 AFC Wild Card Playoff win over Indianapolis. Scifres landed all six of his punts inside the 20, the highest number and percentage of punts landed inside the 20 during a playoff game in NFL history. He also averaged a playoff-record 51.7 net yards per punt (min. 5 punts) as the Colts managed just six punt return yards for the game. As a result, they were forced to start drives at their own 10, 19, 3, 7, 9 and 1-yard lines following punts. Scifres' last may have been his best, a kick that rolled out of bounds at the 1-yard line, setting the stage for the Chargers' late fourth-quarter comeback.

It wasn't the first time Scifres experienced postseason success against Indianapolis. In 2007, Scifres helped send the Chargers to the AFC Championship Game with another dominating performance vs. the Colts. In a Divisional Playoff game at the RCA Dome, Scifres set a team postseason record averaging 59.0 yards per punt. But more importantly, he saved his best for last, hitting a postseason team=record 66-yarder with the Bolts backed up at their own 14-yard line and only 1:42 left in the fourth quarter. Kicking from his own goal line, Scifres punt was fielded at the Colts' 20. That punt lit a fire on the Chargers' sideline and its defense promptly went out and ended the Colts' season on downs four plays later, sending the Chargers on.

One of the beneficiaries of Scifres' success has been the Ronald McDonald House Charities in San Diego. Since 2008, fans have been able to make pledges to the Ronald McDonald House based on the number of punts inside the 20 that Scifres lands, and fans who made donations were entered into a drawing for a chance to win prizes. Scifres has also served as a spokesperson and made personal appearances on behalf of Ronald McDonald House Charities. The RHMC provides a comfortable place to stay for families whose children face and are being treated for life-threatening illnesses.

Scifres is one of the team's most active players in the community. He regularly participates in events that benefit Rady Children's Hospital, including an annual Teddy Bear Drive during the holidays, and in February he co-hosted an event to benefit St. Michael's Center City Schools.

Scifres went to high school in Destrehan, Louisiana, not far from New Orleans. One of his teammates in high school was Baltimore Ravens' safety Ed Reed. Funny enough, but Reed was the team's punter at the time and because of that Scifres was relegated to kickoffs, field goals and extra points. Few would've guessed that Scifres would turn out to be such a special player. Scifres and Reed have remained friends and exchange text messages several times throughout the season.

Scifres is one of the team's best golfers. He plays regularly with his special teams mates David Binn and Nate Kaeding. Scifres likes to play golf in exotic locales like Hawaii and Mexico. He currently plays to a 15 handicap.

TRANSACTION HISTORY: Fifth-round pick (149), April 27, 2003…signed, July 19…signed four-year contract extension through 2011, Nov. 3, 2005.

2009: Pro Bowl third-alternate…USA Today All-Joe…Game Ball after best-ever game at KC Oct. 25...49.0 average on four punts, forcing three FCs and allowing only one PR for 44.8 net...Game Ball after Dec. 13 win at DAL...buried consecutive punts at four and one during pivotal 3Q.

2008: Pro Bowl first-alternate…USA Today All-Joe…season-long 65-yarder Sept. 28 at OAK…50.5 net Oct. 5 at MIA was career-high in games with multiple punts...only -1 PR yards Nov. 9 vs. KC for higher net (44.3) than gross (44.0)… SI.com Special Teams POW after team postseason and NFL Playoff record six I-20 in Jan. 5 Wild Card vs. IND…52.7 average was third-highestin game in team playoff history and 51.7-net was NFL postseason record (min. 5 att.)…set stage for late 4Q comeback by having final punt (52 yards) roll OB at one… first-ever NFL punt returned for TD in Jan. 11 AFC Divisional Playoff game at PIT.

2007: USA Today All-Joe...Pro Bowl first-alternate…first-career block by DEN's Tony Scheffler Oct. 7…AFC Special Teams POW after 50.2 net vs. HOU Oct. 28…5-of-5 I-20 vs. Texans to run streak of consecutive I-20 to nine…season-long 70-yarder vs. BAL Nov. 25…early 4Q Dec. 9 vs. TEN, 39-yarder downed at one...led to three-and-out by defense and TD by offense…in OT, 51-yarder downed at two…it too was followed by three-and-out and GW TD drive…vs. DEN Dec. 24 on MNF, handled KOs for Nate Kaeding (injury)…Jan. 13 Divisional Playoffs at IND, new team postseason record 59.0 ypp…hit postseason team-record 66-yarder from own 14-with 1:42 left in 4Q…no PR yards allowed in AFC Championship Game at NE.

2006: Pro Bowl first-alternate…season-long 71-yarder, Oct. 1 at BAL…last punt, in 4Q Dec. 3 at BUF went for TB for only second TB of season (Oct. 1 at Baltimore)...ended streak of 38 consecutive without TB…career-high 10 punts in rainy Dec. 24 game at SEA…tied team playoff record with seven punts in Divisional Playoffs vs. NE...five I-20 tied John Kidd's then team playoff record.

2005: Pro Bowl second-alternate…season-high 57.5 ypp vs. NYJ Nov. 6…season-long 71-yarder in ESPN SNF game vs. OAK Dec. 4.

2004: Pro Bowl first-alternate…firstteam All-Pro by SI and SI.com…Chargers Special Teams POY…one PR for one yard and two FC by All-Pro returner Dante Hall Nov. 28 at KC…Dec. 5 vs. DEN, first TB since Sept. 26 at DEN, ending 36 consecutive punts without…23 of 36 during stretch landed I-20…Chargers Alumni POW after TB game Dec. 12…Jan. 2 vs. KC, threw INT as holder on botched FGA.

2003: Handled KOs Wks 4, 7, 12-14 and 16.

COLLEGE: I-AA All-America as soph and senior …three-time first-team all-conference…only 1-AA punter named finalist for '02 Ray Guy Award…second in nation with 48.0 avg. as senior…National POW four times by Football Gazette and Special Teams POW for Gateway Conference twice as senior…conference and Sports Network POW three times as soph…I-AA Special Teams POW after school and conference-record 89-yard punt vs. SW Missouri in '00…school-record 56-yard FG vs. Northern Iowa as time expired in 44-41 win for '00 conference title...was first-career FGA…All-Newcomer as redshirt frosh in '99…played at Western Illinois from 1998-02…communications and broadcasting degree.

PERSONAL: Born in Metairie, Louisiana…all-district selection at Destrehan (La.) HS…lettered in football, soccer and baseball.
View the full website biography of Mike Scifres.