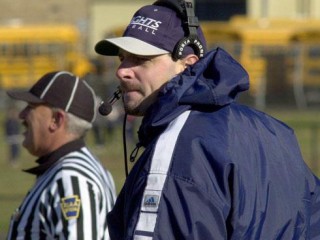 Mike Pettine
Date of birth : 1966-09-25
Date of death : -
Birthplace : Pennsylvania
Nationality : American
Category : Sports
Last modified : 2010-10-26
Mike Pettine is an American football coach who currently serves as the defensive coordinator for the National Football League's New York Jets. He was formerly the outside linebackers coach for the Baltimore Ravens. He joined the Jets after Ravens defensive coordinator Rex Ryan was named head coach of the Jets.

◊ In his first season as a defensive coordinator in the NFL, Coach Pettine installed a completely new defense and fielded a unit that ranked first in points allowed, total defense and pass defense.

◊ Under Coach Pettine CB Darrelle Revis recorded what Coach Ryan referred to as: "…the best year a corner has ever had (and) the most impact a corner has ever had in the National Football League. That's my opinion." Revis earned first-team honors on every recognized team for his performance in 2009.

◊ LB David Harris earned second-team All Pro honors under Coach Pettine after leading the NFL's number one defense with 142 tackles, 5.5 sacks, two interceptions, three passes defensed and two forced fumbles.

◊ Mike Pettine is one of two coaches that joined Coach Ryan was the first assistant coach hired by Head Coach Rex Ryan at the Jets. At the time of his hire Ryan said: "Mike is a rising star in this league. We're fortunate that we were able to get him on our staff."

◊ Pettine's background in football is similar to Coach Ryan's background. While Rex learned from his legendary coaching father, Buddy, Pettine's coaching roots trace to his father, Mike, Sr., the head coach for 33 years at Central Bucks West HS in Doylestown, PA. Pettine played for his dad before graduating in 1984, and assisted him for five seasons (1988-92). When Mike Sr. retired as a head coach after the 1999 season, he was the winningest coach in the history of Pennsylvania High School football with a career record of 326-42-4.

◊ Pettine spent the previous four seasons coaching the outside linebackers for the Baltimore Ravens and was a part of the Ravens organization from 2002 to 2008. During his four seasons as the outside linebackers coach, the Ravens defense finished fifth (2005), first (2006), sixth (2007) and second (2008) in the NFL. In 2006, the defense allowed only 201 points and 264 yards per game.

◊ The Ravens 2008 defense allowed 261.1 yards per game, finishing second overall in the NFL. The 2008 Ravens allowed 244 points, third-fewest in the NFL, and led the NFL with 34 takeaways, 26 interceptions and a league-low 60.6 opponents' passer rating. Baltimore also yielded a league-low four rushing touchdowns.

◊ As the Ravens outside linebackers coach, Terrell Suggs, Adalius Thomas and Jarret Johnson are among the players he tutored on a defensive unit that had always been among the stingiest in the NFL.

◊ Before he was promoted to OLB coach in 2005, Pettine assisted Ryan in 2004 coaching the defensive line. In 2002-03, Pettine used his computer expertise to help develop playbooks, scouting reports and video analysis for the defensive coaches. Through the years he has produced innovative coaching programs that utilize football video to develop playbooks and analyze game video.

◊ Before entering the NFL, Pettine was the head coach at North Penn HS in Towamencin Township, PA, a suburb of Philadelphia. Pettine's 1999 team was featured in the ESPN documentary, "The Season." That team went 11-2, with the only two losses to his father's Central Bucks (CB) West team, which won the state title in his father's final season as a head coach. His dad came out of retirement to assist him during the 2001 season, Pettine's final year coaching in high school.

◊ Pettine's teams won 45 games in five seasons at North Penn. He was also the head coach at William Tennent HS in Warminster, PA for two seasons, leading that team to a school-record nine wins in 1996.

◊ After coaching with his dad for five seasons, Pettine served as a graduate assistant on Johnny Majors' coaching staff at the University of Pittsburgh for two seasons (1993-94), where coincidentally he crossed paths with future Jets great Curtis Martin.

CAREER HIGHLIGHTS

◊ Pettine played free safety at Virginia under Head Coach George Welsh and was a two-year letterman (1986-87). He led the team in interceptions in 1986, including a school-record three in one contest vs. North Carolina State.

◊ He was an All-State quarterback and defensive back at CB West.

OFF THE FIELD

◊ Mike has three children, Megan, Ryan and Katie.

◊ Graduated from the University of Virginia with a degree in Economics.

◊ Played basketball in high school.

View the full website biography of Mike Pettine.