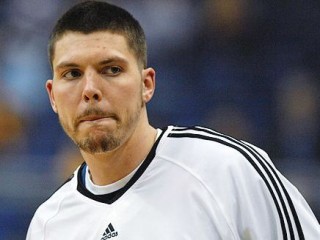 Mike Miller (basketball)
Date of birth : 1980-02-19
Date of death : -
Birthplace : Mitchell, South Dakota, U.S.
Nationality : American
Category : Sports
Last modified : 2011-03-30
Mike Lloyd Miller is an American professional basketball player for the Miami Heat in the National Basketball Association. A first round draft pick in 2000 from the University of Florida, Miller was selected 5th overall by the Orlando Magic. He has also played for the Memphis Grizzlies, Minnesota Timberwolves, and Washington Wizards. In 2001 Miller was awarded Rookie of the Year.

Career history:

Orlando Magic (2000–2003)
Memphis Grizzlies (2003–2008)
Minnesota Timberwolves (2008–2009)
Washington Wizards (2009–2010)
Miami Heat (2010–present)

2009-10 :

Appeared in 54 games (50 starts) for the Washington Wizards and averaged 10.9 points (.501 FG%, .824 FT%), 6.2 rebounds, 3.9 assists and 33.4 minutes…missed a total of 26 games due to injury (three from Nov. 6-10 with a left shoulder sprain and 23 with a strained right calf from Nov. 24-Jan. 2 and Jan. 12-16)…was a DNP-CD twice (Jan. 5 and 6) while still feeling the affects of his left shoulder sprain…ranked second in the NBA in three-point field goal percentage (career-high .480)…led the Wizards in three-point field goals made and three-point field goal percentage…scored in double figures 26 times, including four 20-point efforts…grabbed double-figure rebounds on three occasions and posted three double-doubles…Season Highs: 27 points (at New Orleans, Mar. 31), 13 rebounds (vs. New Jersey, Apr. 4), eight assists (twice), three steals (twice), two blocks (three times) and 44:25 minutes (vs. Charlotte, Mar. 23).

Career highlights and awards:

NBA Rookie of the Year (2001)
NBA All-Rookie First Team (2001)
NBA Sixth Man of the Year (2006)

PERSONAL:

Mike and his wife, Jen, have two sons named Mason and Mavrick.

Miller is an avid lover of animals. He owns three dogs: a Weimaraner named Zeke and two Great Danes, Domino and Rookie. He also has an aquarium filled with exotic fish, and once owned a Java Macaque named Sonny.

He often tells the story in which his monkey escaped from his room: "You would always put him in his room, and then we'd lock the door, and then we'd put the dogs out, and then we'd lock the front door. Well, he found out how to unlock doors, unlocked his door, went downstairs, let the dogs in the house and opened the front door. About an hour later we got a call from our neighbors, saying, 'Your monkey is riding your dogs around the neighborhood.'...I said, 'C'mon y'all, y'all got to get in the house."


View the full website biography of Mike Miller (basketball).