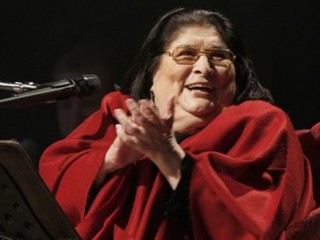 Mercedes Sosa
Date of birth : 1935-07-09
Date of death : 2009-10-04
Birthplace : Tucuman, Argentina
Nationality : Argentine
Category : Famous Figures
Last modified : 2012-02-10
Haydée Mercedes Sosa, known as La Negra (literally: The Black One), was an Argentine singer who was popular throughout South America and some countries outside the continent. With her roots in Argentine folk music, Sosa became one of the preeminent exponents of nueva canción. She gave voice to songs written by both Brazilians and Cubans. She was best known as the "voice of the voiceless ones".

Mercedes Sosa's songs about the pain of exile, the fear of political violence, and the struggle for justice inspire millions of Latin Americans who know that Sosa has lived her words. Born in rural Tucuman, Argentina, she grew up in a culture closer to that of the Incas than to that of their European conquerors. Singing came naturally to her, and by the age of fifteen she had won the amateur hour at a local radio station. Sosa knew then that singing was her life's work, but she also suffered from intense stage fright that made every performance a struggle. Nevertheless, she controlled her fears and became one of the leaders of the "nueva cancion" movement that revitalized Latin American music.

Nueva cancion merged folk rhythms with lyrics that were an artistic response to growing government brutality. Sosa, who grew up in poverty, says that social problems have always been a source of artistic inspiration for her. She dislikes being labeled a protest singer, however; she explained to Larry Rohter in the New York Times: "It is like an invitation for someone to put a stamp on the songs that says 'prohibited' or 'interdicted.' The intelligence of the artist needs to be broader in the face of such possible barriers. Besides, artists are not political leaders. The only power they have is to draw people into the theater."

Censorship is something with which Sosa is intimately acquainted. During the height of Argentina's military dictatorship, which was responsible for the deaths and disappearances of more than 9,000 citizens, she was targeted for official harassment and intimidation. Sosa, her band, and her audience were all arrested at one concert because she dared to sing "When They Have the Land," a call for agrarian reform. After her release, she set out to show the military that she could not be intimidated and scheduled several more concerts. They sold out almost immediately, but had to be canceled due to numerous bomb threats. Finally, the military governor forbade her from making anymore live appearances. As her music was already banned from Argentine radio and television, Sosa was forced to leave the country in order to support herself, traveling to Europe in January 1979.

For three years she lived in France and Spain, but the psychic toll of exile proved to be too much for her; she felt she could no longer sing. "It was a mental problem, a problem of morale," she told Rohter. "It wasn't my throat, or anything physical. When you are in exile, you take your suitcase, but there are things that don't fit. There are things in your mind, like colors and smells and childhood attitudes, and there is also the pain and the death you saw. You shouldn't deny those things, because to do so can make you ill."

Sosa returned to her native land in 1982, just in time to see the military leadership crumble and be replaced by civilian rule. Her first public performance in the newly democratic country was recorded and released as Mercedes Sosa Live in Argentina. Esquire magazine commented on her performance: "Her voice nearly strikes you dead. It is soft, deep, and compelling. And it moves you as it did the fifty thousand adoring countrymen who could be heard erupting into applause." Rather than being bitter about the years she was unwelcome in her homeland, Sosa is philosophical, reflecting that exile broadened her horizons and allowed her to reach new audiences. Besides folk-based tunes, she now includes jazz, pop, and other forms in her repertoire. Boston Globe contributor Fernando Gonzalez praised both her stylistic diversity and her "stunning range of nuance and dynamic. She can turn a song into an anthem or an intimate conversation seemingly at will." "Your Spanish may or may not be good, but Mercedes Sosa requires no translation," concluded Esquire. "Hers is the song of all those who have overcome their fear of singing out."

Her song Balderrama is featured in the 2008 movie Che, starring Benicio del Toro as the Argentine Marxist revolutionary Che Guevara.

She won the Latin Grammy Award for Best Folk Album in 2000 ("Misa Criolla"), 2003 ("Acústico") and 2006 ("Corazón Libre"), as well as many international awards.Her album Cantora 1 won two awards at the Latin Grammy Awards of 2009. She won Best Folk Album and was nominated for Album of the Year. The album was also awarded Best Recording Package.

She died from multiple organ failure on October 4, 2009.
View the full website biography of Mercedes Sosa.