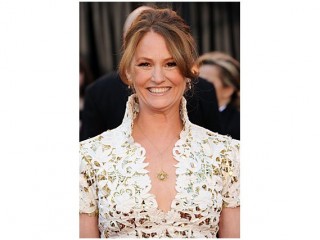 Melissa Leo
Date of birth : 1960-09-14
Date of death : -
Birthplace : Manhattan, New York, U.S.
Nationality : American
Category : Arts and Entertainment
Last modified : 2011-10-04
Melissa Leo (born September 14, 1960), is an American actress. After appearing on several television shows and films in the late '80s, her breakthrough role came in 1993 as Det. Sgt. Kay Howard on the television series Homicide: Life on the Street for the show's first five seasons from 1993 - 1997. Having previously been a regular on All My Children and The Young Riders, her breakthrough film role was in the 2003 film, 21 Grams as Marianne Jordan.

Following several films, Leo received critical acclaim and national attention in the 2009 film, Frozen River earning several nominations and awards, including an Oscar nomination for Best Actress for her role as Ray Eddy. In 2011, Leo earned several awards for her role as Alice Ward in the critically acclaimed film, The Fighter. For this role Leo won the Golden Globe, Screen Actors Guild Award and Academy Award for Best Supporting Actress.

Leo currently appears on the HBO television series Treme as Antoinette "Toni" Bernette.

Leo was born in Manhattan, New York City. She is the daughter of Peggy (née Chessington), a California-born teacher, and Arnold Leo, an editor at Grove Press, fisherman, and spokesman for the East Hampton Baymen's Association. Leo was raised on the Lower East Side of Manhattan and spent summers at her father's house in Springs, a section of East Hampton, N.Y. She is a former resident of Putney, Vermont and now lives in Stone Ridge, New York. She has a son with actor and former boyfriend John Heard named John Matthew Heard (born 1987) and years later adopted Adam (born 1984).

Frozen River won the Grand Jury Prize at the 2008 Sundance Film Festival. Directed by Courtney Hunt, the film tells the story of two upstate New York women-one white (Melissa Leo), and one Native American (Misty Upham)-who conspire to smuggle illegal immigrants into the United States. In the film, Melissa Leo portrays Ray Eddy, a mother of two whose husband has run away with the money for the down payment on the family's soon-to-be-delivered new trailer home. Desperate for cash, Eddy stumbles into a lucrative immigrant smuggling opportunity. Determined to get the new trailer and to be able to afford Christmas gifts for her children, T.J. (Charlie McDermott) and Ricky (James Reilly), Eddy decides to use one of her few remaining possessions-her beat-up car-to drive acros the frozen St. Lawrence River. The film received two Academy Award nominations, one for Best Actress and the other for Best Original Screenplay.

View the full website biography of Melissa Leo.