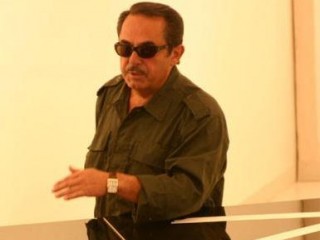 Melhem Barakat
Date of birth : -
Date of death : -
Birthplace : Kfarshima, Lebanon
Nationality : Lebanese
Category : Arts and Entertainment
Last modified : 2011-04-20
Melhem Barakat also known as Melhim Barakat, born in 1941 is a Lebanese singer and song-writer. Who is also nicknamed by his fans as Abou Majd'. Melhem Barakat started his career back in thes, Barakat has arguebley established a genre of his own in both the way he sings and composes, which makes him one of the most esteemed and popular stars in Lebanon today.

Melhem Barakat grew up with the sound of legendary Egyptian composer and singer Mohamed Abdelwahab. Still a child, Melhem showed a special talent while singing in school parties. One day, he composed a text from the school journal and sang it first before his classmates and teachers who appreciated a lot his performance and then before leader names of Lebanese musical scene who affirmed he was an exceptional talent and a charming voice.

Melhem Barakat career was a series of successes. His best works were "Amarine", "Abouha Radi", "Farah Ennass" and "Habibi Inta".

Later on, he entered the prestigious Rahbani school that married western classical and folk music with old Lebanese traditional gigs and gave birth to numerous outstanding artists.

Sayer Kazzab :



View the full website biography of Melhem Barakat.