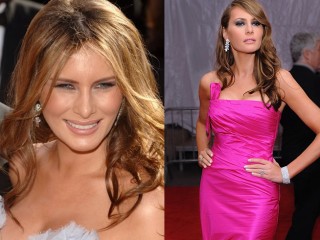 Melania Knauss-Trump
Date of birth : 1970-05-06
Date of death : -
Birthplace : Sevnica, Slovenia
Nationality : Slovenian
Category : Famous Figures
Last modified : 2011-03-16
Melania Knauss-Trump, born Melanija Knavs, germanized to Melania Knauss is a Slovenian model and an American socialite. She is married to American real estate magnate Donald Trump.

Better known these days as Donald Trump's wife, 5' 11" Slovenian model Melania Knauss grew up in a household where constant studying was the rule. Her parents wished for her to be prepared for success and pushed her to become well-educated.

The rarity of opportunities in Slovenia led Melania to the United States where she slowly found work, first as a spokesmodel in Panasonic television commercials. Next, she began doing runway shows for local designers, mainly modeling lingerie. It wasn't long after taking jobs in this aspect of the business that Melania found herself at a fashion gala where she met the famous billionaire Donald Trump. The two hit it off, despite an age difference of 28 years. Melania began receiving more photo shoot offers for popular magazines, such as Allure before touring the country at the mogul's side while he sought the presidency on the Reform Party ticket.

Radio host Howard Stern interviewed the couple on the air, and in his usual frank ways coerced Melania to talk about the couple's affinity for naughtiness in the bedroom. This led to a nude photo shoot for GQ, in which the model is seen lounging around in Trump's private jet. The offers started rolling in, and she has since been featured in magazines such as FHM, Vogue and Vanity Fair.

Knauss and Trump were married on January 22, 2005, in West Palm Beach, Florida. Her engagement ring was a cool $1.5 million, and her dress cost a reported $200,000. Since the wedding, Melania has worked considerably less on her modeling career and concentrated mostly on being a stay-at-home wife; however she still lives it up on the social scene. In addition to an appearance at the 2004 Academy Awards she has been regularly seen on Trump's reality show, The Apprentice.


View the full website biography of Melania Knauss-Trump.