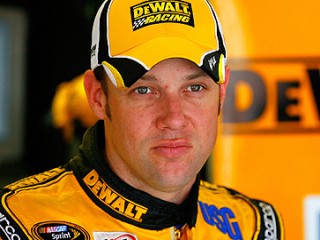 Matt Kenseth
Date of birth : 1972-03-10
Date of death : -
Birthplace : Cambridge, Wisconsin
Nationality : American
Category : Sports
Last modified : 2012-03-02
Native from Cambridge, Wisconsin, Matt Kenseth is a well known NASCAR driver. Early in his life, he knew that racing cars was his passion. As a child, Kenseth's father Roy would purchase the racecars, and race them, while young Matt learned to work on them. When Matt became old enough, he would be allowed to race the cars. He began racing stock cars as soon as he reached the age of 16 in his native Wisconsin at tracks such as Columbus 151 Speedway and Jefferson Speedway. His skill level was evident early on as he won a feature event in only his third night competing.

Kenseth graduated from Cambridge High School and immediately continued his quest to become a successful racecar driver. Throughout the early and mid 1990's, Kenseth won numerous late-model events, and track championships at Wisconsin International Raceway and Madison International Speedway in 1994 and 1995. Additionally, in 1994, he won the Slinger Nationals at Slinger Super Speedway. In many of these events, he competed against veterans such as Dick Trickle and Robbie Reiser.

In 1996, Kenseth entered the upstart USAR Hooters Pro Cup. As a young rookie in the series, Kenseth vied for the series title, only to come up short. Moreover, his NASCAR Busch Series career officially began in1996 as he made his debut at Lowe's Motor Speedway driving for car owner Carl Wegner. He posted a 31st place finish after qualifying the #55 Chevrolet in 37th.

In 1997, Kenseth competed in 21 of the 30 Busch, now called Nationwide Series races, driving for former Wisconsin adversary Robbie Reiser. Reiser selected Kenseth as his driver when the team's original driver Tim Bender suffered a serious injury. Together, the Kenseth and Reiser combination scored two top five finishes, and seven top ten finishes.

In 1998, Kenseth recorded his first Busch (Nationwide) series win in the second race of the season at North Carolina Motor Speedway in Rockingham, NC. Kenseth earned two additional victories, 17 top five finishes, and 23 finishes in the top 10 while finishing second to Dale Earnhardt Jr in the championship standings. A year later, he won four races and finished third in the final championship standings.

Kenseth was turning heads in the NASCAR garage as legend Bill Elliott hired the then 26 year old driver to fill in for the MBNA 400 at Dover International Speedway while Elliott was attending his father's funeral. He posted an eye-catching sixth place finish, third best of any debut driver.

Kenseth's on-track success eventually caught the eye of Mark Martin and Jack Roush. Ultimately, Kenseth, Reiser, and the entire 17 team signed with Roush Fenway Racing with DEWALT Tools as the primary sponsor. The 2000 Winston Cup season would be Kenseth's rookie season. He would join Mark Martin, Jeff Burton, Chad Little, and Kevin Lepage in the Roush Racing stable of Fords.

His first series win was the Coca Cola 600 at the Lowe's Motor Speedway in Charlotte in only his 18th career start. He became the first rookie to win the coveted event. Kenseth finished 14th overall in the 2000 championship standings. Adding to the accolades, he claimed the Raybestos Rookie of the Year award, beating out Dale Earnhardt, Jr.

Kenseth struggled to live up to expectations in 2001, as he failed to win a single race. However, he improved upon his previous position in the championship standings as he placed 13th. In 2002, Kenseth returned to victory lane by winning the second race of the season at Rockingham. He would lead the series in victories with five.

His on-track prowess in 2002 set the stage for a championship season in 2003. He captured the Winston Cup championship, and would become the last driver to do so as NASCAR changed sponsorship to Nextel in 2004. The series was now called Nextel Cup. Despite winning the championship, Kenseth encountered much scrutiny as he only recorded one victory for the season, while nemesis Ryan Newman won eight races and finished 6th in the final standings. His vigilant approach to racing resulted in consistent finishes throughout the season.

At the 2004 NASCAR season Kenseth scored two victories within the first three races of the season, and easily qualified for the Chase for the Championship. Consequently, he was unable to take advantage of the new points system and finished eighth in the final Nextel Cup championship standings. Additionally, Kenseth won the International Race of Championship (IROC) title in 2004.

In 2005, Kenseth appeared to be on his way to a poor season as he was as low as 24th in the standings with twelve races left before the Chase for the Championship began. However, he caught fire and rallied his way back into the top ten cutoff. Unfortunately, the momentum he had built leading up to the Chase subsided and he finished seventh in the standings.

He returned to championship form in 2006 as he posted four wins and finished second to Jimmie Johnson in the championship race.

In the 2007 season, Kenseth became one of two drivers to qualify for the Chase for the Championship in all of its first four years of existence. He won twice in 2007, including the season finale at Homestead, and finished 4th in the final championship standings. His win at Homestead was the final race under the Nextel banner as the series name will be Sprint Cup in 2008. It was also the last race with the car template that had been used for decades as the Car of Tomorrow will be fully implemented in 2008.

On March 4, 2011 Kenseth captured his fifth pole of his career setting a new track record at Las Vegas Motor Speedway. On April 9, 2011, Kenseth snapped 76 race winless streak at Texas Motor Speedway by winning the race.

On May 15, 2011, Kenseth tamed the concrete monster, winning the Fedex 400 benefitting Autism Speaks at Dover International Speedway. For most of the day it appeared as Carl Edwards and Jimmie Johnson had the cars to beat. On a late caution, Kenseth and crew chief Jimmy Fennig called an audible in the pits and decided to go with two tires instead of the four. That proved to be all the difference as Kenseth won for the second time in 5 races.

On October 15, 2011 Kenseth won the Bank of America 500 at Charlotte Motor Speedway for his third win of the season. Kenseth's 2nd Championship hopes went south after several altercations with Brian Vickers. This later carried on into Phoenix where Kenseth was officially knocked out of the championship. He finished 4th in points behind Stewart, Edwards, and Harvick.

On February 28th, 2012 Kenseth won the 2012 Daytona 500.

Matt married his wife Katie in 2000. He has one son, Ross, from a previous relationship. He is an avid Green Bay Packers fan.

View the full website biography of Matt Kenseth.