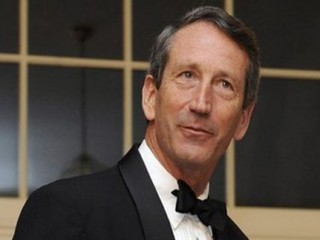 Mark Sanford
Date of birth : 1960-05-28
Date of death : -
Birthplace : Ft. Lauderdale, Florida
Nationality : American
Category : Politics
Last modified : 2012-06-26
Mark Sanford, a former Governor of South Carolina (2003-2011) was born on May 28, 1960 in Ft. Lauderdale, Fla. the oldest of Marshall and Peggy Sanford's four children. As a teenager, Sanford moved with his family to Beaufort, SC, where he graduated high school. in 1983, he graduated with a business degree from Furman University and subsequently worked for Coldwell Banker while earning his master's degree at Virginia University, which he received in 1988. Afterward, he continued to work in real estate and was trained in finance at Goldman Sachs. In 1992, he founded Norton and Sanford Real Estate Investment, a leasing and brokerage company he still owns.

Marshall Clement "Mark" Sanford, Jr. always has been known for voting his conscience and pursuing his convictions. With a 92 percent approval rating from the American Conservative Union, Sanford earned national notoriety in 2009, when, as governor, he announced he would not accept money on behalf of South Carolina from President Barack Obama's stimulus package (although he eventually compromised so long as the money paid down the state's debt burden). As a Congressman, Sanford kept a 1994 promise to serve only three terms, and did not run for re-election in 2000. Sanford is also a real estate developer and a medical administration officer in the U.S. Air Force Reserve.

As with his Congressional campaign, Sanford's entry into the race for governor in 2002 was a long shot. Nevertheless, he again defeated the Republican Party favorite in the primary and narrowly defeated the Democratic incumbent in the fall. Not long after taking office, he began a contentious relationship with the Republican-controlled General Assembly, voicing opposition to pork barrel spending projects and bloated budgets. He made national headlines in 2004, when he brought two live pigs into the state House. In 2006, he forced the General Assembly to override his veto of the state budget.

If his first term was contentious, Sanford's second term has made him a nationally-recognized personality. He continued his independent streak for the first two years of his second term, but after President Barack Obama took office, he joined with other state governors to announce he would not accept money from the 2009 stimulus package. Sanford faced stiff opposition within his state, and eventually relented after learning the money would be distributed to other states. In the final week of June 2009, Sanford's whereabouts could not be confirmed.

Upon his return on June 24, 2009, Sanford held a press conference - without his wife, Jenny - to announce he was guilty of infidelity. Sanford said he had been involved with a woman from Argentina for more than eight years. He said the affair began innocently and had gotten serious in the preceding year and a half. His wife had learned of the affair five months before Sanford's public announcement and the couple had sought counseling. Two weeks before the announcement, however, she had requested a trial separation. It was later discovered Sanford's trips to Argentina were taxpayer-funded.

In 2008, Sanford was on Republican presidential candidate John McCain's long list of potential running-mates. Before the announcement of his affair, Sanford was considered a Republican presidential prospect for 2012, although he never formally announced plans to run. It is likely, however, that the admission of an extra-marital affair will likely remove any possibility of him entering the 2012 Republican primary.

In 2000 Sanford's first book, The Trust Committed To Me, was published. It discussed term limits, and featured a foreword by Robert Novak. A second book, titled Within Our Means, was scheduled to be published by Sentinel in 2010: however the contract was terminated by mutual agreement after the revelation of Sanford's extramarital affair.

View the full website biography of Mark Sanford.