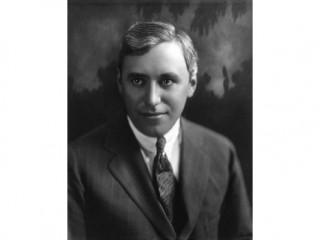 Mack Sennett
Date of birth : 1884-01-17
Date of death : 1960-11-06
Birthplace : Quebec, Canada
Nationality : Canadian-American
Category : Famous Figures
Last modified : 2011-11-11
The American silent-screen producer and director Mack Sennett is frequently considered the originator of film comedy.
Mack Sennett was born Michael Sinnott on Jan. 17, 1884, in Quebec, Canada. He emigrated to New York at the beginning of the 20th century to act in films by D. W. Griffith. Not very successful, Sennett turned to movie direction, and his first two efforts, Comrade (1911) and One-round O'Brien (1912), were so popular that sequels were immediately demanded. Assured of financial backing, he formed his own organization, the Keystone Company, and moved to Hollywood, Calif.
During the first year Sennett produced 140 "Keystone Comedies", the most famous of which were Uncle Tom without the Cabin and Salome vs. Shenandoah. Unable to direct every comedy personally, Sennett supplied himself with a talented crew of gag writers, comedians, cameramen, and stunt men. At the completion of each film, he would attend the final screening and perfect the structure and timing through careful editing. All of these films were made so that, in projection, the action was faster than life.
The Sennett films defied logic and gravity in their epic chases and wild pie-throwing contests. In a Sennett comedy it was not unusual for a bandit to rob a bank with a vacuum cleaner or for a flood to carry a man out of his house in a bathtub. The Sennett Bathing Beauties, which featured such curvaceous creatures as Louise Fazenda and Gloria Swanson, added a touch of sexual delight to the then puritanical American film. Sennett's comedies, when they are at their best, are a combination of impudent satire, vulgar burlesque, and exhilarated madness.
The tragedy of Sennett's career was the arrival of sound in movies in the late 1920s; he was unable and unwilling to adjust to its demands. In 1928 Sennett permanently closed his studio. That same year the Academy of Motion Picture Arts and Sciences awarded the classic innovator a special award, "for his lasting contribution to the comedy technique of the screen." He died on Nov. 6, 1960, in Woodland Hills, Calif.
View the full website biography of Mack Sennett.