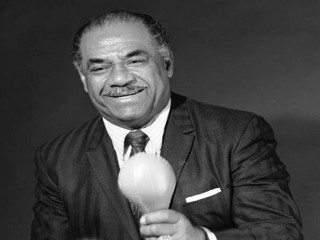 Machito
Date of birth : 1912-02-16
Date of death : 1984-04-19
Birthplace : Havana, Cuba
Nationality : Cuban
Category : Famous Figures
Last modified : 2011-07-05
Machito, born as Francisco Raúl Gutiérrez Grillo, was an influential Latin jazz musician who helped refine Afro-Cuban jazz and create both Cubop and salsa music.

Machito played a huge role in the history of Latin jazz, for his bands of the 1940s were probably the first to achieve a fusion of powerful Afro-Cuban rhythms and jazz improvisation. At its roaring best, the band had a hard-charging sound, loaded with jostling, hyperactive bongos and congas and razor-edged riffing brass.

Machito was the front man, singing, conducting, shaking maracas, while his brother-in-law Mario Bauza was the innovator behind the scenes, getting Machito to hire jazz-oriented arrangers. The son of a cigar manufacturer, Machito became a professional musician in Cuba in his teens before he emigrated to America in 1937 as a vocalist with La Estrella Habanera. He worked with several Latin artists and orchestras in the late '30s, recording with the then-dominant Latin bandleader Xavier Cugat. After an earlier aborted attempt to launch a band with Bauza, Machito founded the Afro-Cubans in 1940, taking on Bauza the following year as music director where he remained for 35 years. After making some early 78s for Decca, the Afro-Cubans really began to catch on after the end of World War II, appearing with -- and no doubt influencing -- Stan Kenton's orchestra (Machito played maracas on Kenton's recordings of "The Peanut Vendor" and "Cuban Carnival") and recording some exciting sides for Mercury and Clef. Upon Bauza's urging, Machito's band featured a galaxy of American jazz soloists on its recordings from 1948 to 1960, including Charlie Parker (heard memorably on "No Noise"), Dizzy Gillespie, Flip Phillips, Howard McGhee, Buddy Rich, Harry "Sweets" Edison, Cannonball Adderley, Herbie Mann, Curtis Fuller and Johnny Griffin. Playing regularly at New York's Palladium, Machito's band reached its peak of popularity during the mambo craze of the 1950s, survived the upheavals of the '60s and despite the loss of Bauza in 1976, continued to work frequently in the '60s, '70s, and early '80s when the term "salsa" came into use.

The band recorded for Pablo (in tandem with Gillespie) and Timeless in its later years, and was playing Ronnie Scott's club in London in 1984 when Machito suffered a fatal stroke. A documentary film by Carlo Ortiz, Machito: A Latin Jazz Legacy, was released in 1987.
View the full website biography of Machito.