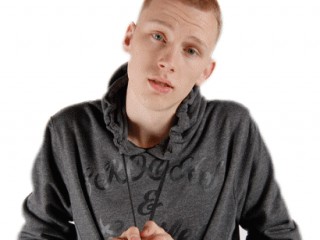 Machine Gun Kelly (rapper)
Date of birth : 1990-04-22
Date of death : -
Birthplace : Cleveland, Ohio,U.S.
Nationality : American
Category : Arts and Entertainment
Last modified : 2011-10-12
Colson Baker was born in 1990, in Texas to missionary parents and took up residence in Egypt, Germany, Chicago, L.A., Denver and Ohio.Since he lived the first four years of his life in Egypt, he spoke Arabic before English. He started listening to rap at the age of four when he went to a predominantly black school in Denver. At 14, Baker moved to his now hometown Cleveland, where he attended Shaker Heights High School, graduating in 2008.

On the verge of getting evicted, Baker went to Harlem's Apollo Theaterin March 2009 where he had back-to-back victories, making him the first rapper to ever win at the Apollo Theater. He records music in his home studio which he refers to as the "Rage Cage". Colson first started to gain exposure when he was featured on MTV2's Sucker Freestyle, where he freestyled numerous verse's from his "Chip Off The Block" single.
In February 2010, he released his debut mixtape 100 Words and Running. He released his second mixtape in November 2010 titled "Lace Up" which featured the hometown anthem "Cleveland" which is played at Cleveland Cavaliers home games and is on rotation on Z107.9 in Cleveland. "Lace Up" was recorded in three months in 2010 during a creative burst. He is currently touring and has forged a friendship with Three 6 Mafia's Juicy J who tapped Kelly to appear on his track "Boat Load" in January 2011 which was produced by Lex Luger .The Music video for "Boat Load" featured Steve-O from Jackass.
In March 2011 he participated in his first SXSW show in Austin, Texas. At the SXSW show he was approached by Sean Combs of Dirty Money and since then has gained massive exposure throughout the music scene. In 2011 Machine Gun Kelly signed with Bad Boy Records which is associated with Interscope. He was featured on the XV song "Finally Home".
Machine Gun Kelly was signed by Jimmy Iovine and Diddy to Interscope and Bad Boy Records on August 3, 2011. In official statement given, Kelly's debut album is titled "Lace Up" due first quarter of 2012. Artists involved on the album are Diddy, Travis Porter and Chip tha Ripper.

In August 2011 Machine Gun Kelly organized a Flash Mob at Strongsville, Ohio's, Westfield SouthPark Mall. After several warnings by mall security to not get on a table, he hopped on a food court table and, along with several members of EST, was arrested by the Strongsville Police. Hours after, he annouced on Twitter that he had been released. He also added "If having fun with my fans means I have to get arrested then keep the cuffs out."

He along with two other members of EST received citations after arrest and release for Disorderly Conduct and paid fines of $230 each.
View the full website biography of Machine Gun Kelly (rapper).