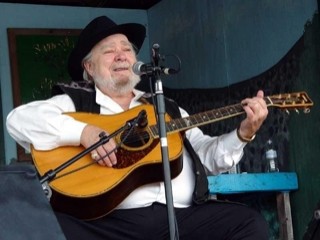 Mac Wiseman
Date of birth : 1925-05-23
Date of death : -
Birthplace : Crimona, Virginia, U.S.
Nationality : American
Category : Arts and Entertainment
Last modified : 2011-04-29

Malcolm B. Wiseman better known as Mac Wiseman, is a bluegrass singer, nicknamed The Voice with a Heart. The bearded singer is one of the cult figures of bluegrass.

Born in Crimora, Virginia, he studied at the Shenandoah Conservatory of Music in Dayton, Virginia and started his career as a disc jockey at WSVA-AM in Harrisonburg, Virginia.

Famed for his clear and mellow tenor voice, Mac Wiseman recorded with many great bluegrass bands, including those of Molly O'Day, Flatt & Scruggs, Bill Monroe, and the Osborne Brothers; his command of traditional material made him much in demand by bluegrass and folk fans alike. Wiseman was born in Crimora, VA and grew up influenced by traditional and religious music and such radio stars as Montana Slim Carter. Wiseman started out working as a radio announcer in Harrisonburg in 1944. At the same time he worked as a singer with Buddy Starcher. He later formed his own group and continued performing with others, including Molly O'Day and Flatt & Scruggs, through the '40s. In 1949, he recorded a single, "Travelin' Down This Lonesome Road," with Bill Monroe. By the 1950s, Wiseman was again leading his own band.

Possessing one of the best tenor voices in bluegrass, Wiseman differed from Monroe and Flatt & Scruggs in that he usually sang alone, with little or no harmonizing. His band also employed two fiddles to play contemporary songs such as Speedy Krise's "Goin' Like Wildfire," as well as adaptations of standards such as the Carter Family's "Wonder How the Old Folks Are at Home" and Mac & Bob's "'Tis Sweet to Be Remembered." With the Country Boys, a band that featured such pioneering musicians as Eddie Adcock and Scott Stoneman, Wiseman recorded many popular local singles, and had his first national Top 10 hit with his version of "The Ballad of Davy Crockett." The song's success steered Wiseman away from bluegrass and more towards pop and country. In 1957, he began recording for Dot; he had a few major successes for the label with such songs as "Jimmy Brown the Newsboy" before moving to Capitol in 1962, where he recorded both country and bluegrass tunes. He began working for Wheeling's WWVA Jamboree in 1965, and also began to play at bluegrass festivals; over the next three decades, he became one of the most popular performers on the circuit.

Wiseman moved to Nashville in 1969 and signed with RCA Victor. His first -- and only -- hit for the label was the Top 40 novelty tune "If I Had Johnny's Cash and Charley's Pride." While at RCA, he also recorded three well-received bluegrass albums with Lester Flatt. From the mid-'70s on, Wiseman concentrated on bluegrass, becoming a fixture at festivals and releasing a series of records on independent records that ran into the '90s. In 1992, Wiseman narrated the documentary High Lonesome, a chronicle of bluegrass music, and in 1993 was inducted into the Bluegrass Hall of Fame.

View the full website biography of Mac Wiseman.