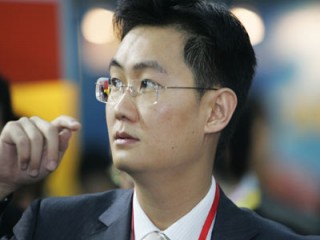 Ma Huateng
Date of birth : 1971-10-29
Date of death : -
Birthplace : Chaoyang, Guangdong, China
Nationality : Chinese
Category : Politics
Last modified : 2011-08-16
Ma Huateng, nicknamed "Pony" is a Chinese entrepreneur. The founder of Tencent Inc., a famous Chinese internet company, he graduated from Shenzhen University.

Sidelights:

Pony Ma is the founder, president, chief executive officer, and executive board member of Tencent Holdings, Ltd., one of the most important telecommunications companies in China. Tencent, with its well-known penguin icon, controls China's largest instant messaging (IM) service and has expanded to other mobile telephone and internet services. Ma's interest in Tencent has made him quite wealthy, and he is regarded as one of China's most desirable bachelors.

Born around 1971, on the island of Hainan, China, Ma uses the nickname "Pony" which is derived from the English translation of his family name, which is "horse." When he was a teenager, he moved to Shenzhen. In 1993, he graduated from Shenzhen University, earning his B.S. in software engineering. After graduation, Ma became employed by China Motion Telecom Development, Ltd. He worked in the Internet paging system development, in charge of research and development. This company supplied such systems to the Chinese government. He also worked for Shenzhen Runxun Communications Co., Ltd., where he also worked in the research and development area. He oversaw Internet calling systems.

Ma also had a personal interest in the developing Internet and surfed the Web at home. He soon came to the conclusion that China was ready for its own IM service. To that end, he and four friends founded Tencent in 1998. They began the company with only $120, 000, primarily garnered from money earned while playing the stock market. The first years of the company were difficult. Ma had to wear many hats in the first year, from janitor to website designer, as the company lacked experienced employees and financial health. The company's early offerings included e-mail and internet paging services.

Within a few years, Tencent added more employees and Ma began focusing on strategic planning, positioning, and management of the company. He was eventually named chief executive officer, executive board member, and chairman of the board. By 1999, Tencent launched the product that would bring it much success and wealth. After initially focusing on a text messaging product, it offered its instant messaging service, originally called OICQ, but later known as QQ. Initially, OICQ was only one of many IM services in China and did not have a big market share.

Ma changed the fortune of his company when OICQ began being offered as a free download. The free download attracted many young users. Demand grew high, with as many as five million users added in one year. This success created problems for Ma and his young company. Because Tencent could not afford the servers or server space needed to service all these customers, Ma tried to sell OICQ, but no deal could be reached. American venture capitalists eventually invested a couple million American dollars to keep Tencent afloat. At that time, OICQ became QQ.

To continue Ma's company's success, QQ users were offered more value-added services each year, such as QQ membership, ring tones, and other services for cellular telephones, as well as the ability to customize some products. Ma also signed deals to work with a number of internet technology companies around the world. By 2004, Tencent was the largest IM service in China. About 335 million Chinese, or 74 percent of the market, used Tencent's services. Ma himself was worth $190 million in 2004. He was named a Global Business Influential by Time magazine as well as one of the top ten Economic Influentials in Innovation by Beijing, China's China Central Television.

In June of 2004, Tencent had its initial public offering (IPO) in the Hong Kong Stock Exchange. It was successful and within a few months, the stock prices had risen nearly 60 percent. Profits rose more than 40 percent from the beginning of 2004. Ma said the company went public in part to have the funds to purchase companies to help enhance the QQ IM service. Ma did not let Tencent rest on its laurels, but continued to expand around its core IM business. He hoped to buy firms working in new areas like wireless technologies to help Tencent retain its position as the number-one company in China. Such acquisitions were intended to keep Tencent competitive in the face of ever increasing foreign competition. Microsoft and Yahoo! both were competing for the same market in China. While Tencent was doing well, it was already facing eroding profit margins as the cost of development and marketing continued to rise.

In 2004, Ma announced that different kinds of games, created within Tencent, would be added regularly to Tencent's services, to keep the customers' interest. This strategy paid off by attracting more than one million online gamers in China, making it the largest such service in that country. Ten-cent also began offering the first licensed radio broadcasts over the Internet in China. However, IM remained the most significant Tencent service. By early 2005, Tencent was the most popular IM service in Asia with 150-160 million active users. Because other companies offered free IM, like Microsoft, Ma looked for new ways to make that service profitable. One way was with the development of new paying services such as an IM product solely for businesses in China called RTX (Real Time Xchange System), launched in 2005. RTX was soon used by 85, 000 companies in China. Tencent also added profits by licensing the QQ brand name to another Chinese company, Guangzhou Donglihang, to produce products like toys with the QQ name.

Ma's next move was to add e-commerce, primarily consumer to consumer sites like auction sites for the registered members of its IM service as well as through its website. His goal was to make Tencent's services the focus of its users' Internet life, as many of its subscribers were under 30 years of age. Mary Meeker, an analyst at Morgan Stanley, believed Ten-cent was quite successful in this arena. She told Bruce Einhorn of BusinessWeek Online , "If you look at instant messaging and the ability to enhance services and generate revenue from them, Tencent is probably the leader in the world." Ma continued on this path by signing a partnership deal with Google. Despite the deal, Ma did not intend to sell out to a foreign company, but continued to add more gaming, community searches, and advertising to retain its customers and add new ones.

By August of 2005, Tencent had more than 438 million registered users and 173 million active users. Revenues continued to grow. Ma wanted to further expand Tencent and keep its position as the leading IM service in China. Making partnership deals with other companies, like Google, were ideal. Ma told Liu Ke of China Today , " Concentration does not mean stubbornly sticking to your own ideas. When we see an opportunity, we grasp it. To succeed in this game, you need an acute sense of business and the markets. We view our challenges not as more pressure, but as roads to success."


Career:

Executive, China Motion Telecom Development, Ltd., China, 1993-98; executive, Shenzhen

Runxun Communications Co., Ltd., China; co-founder of Tencent Holdings, Ltd., China, 1998, then president, chairman of the board, chief executive officer, and other executive positions.

Awards: Named a Global Business Influential by Time , 2004; named one of the top ten Economic Influentials—Innovation by China Central Television.
View the full website biography of Ma Huateng.