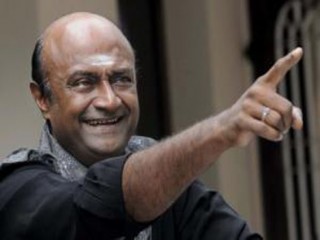 M. S. Baskar
Date of birth : -
Date of death : -
Birthplace : Muthupettai, Tamil Nadu, India
Nationality : Indian
Category : Arts and Entertainment
Last modified : 2011-08-08
M. S. Baskar (born 1950) is an Indian film personality who is one of the upcoming comedy actors in Tamil Cinema, who sprang up as a soap actor. He was acclaimed for his role in the Tamil television serial Chinna Pappa Periya Pappa, which became one of the highly-watched programs on Sun TV. He has acted in several movies and most notably in Sivaji: The Boss, Dasavatharam,Mozhi, Sadhu Miranda as a supporting actor and a comedian. He has also acted in a number of other serials in SUN TV including Alaigal, Vazhkai, Selvi and Arasi. He started his career in Film indutry as Dubbing artiste. He lends his voice for many English movies which are being dubbed to Tamil. He hails from Muthuppettai, Thanjavur district of Tamilnadu.

When the dramatic society ended in 1992 - Bhaskar moved to Teleserials in DD1 and DD2 such as Nam Kudumbam and Vizhudugal, before he essaying roles in Sun TV-serials such as Ganga Yamuna Saraswati and Mayavi Marichan. He then landed a role in the very popular comedy series Chinna Papa Periya Papa, in which he essayed the role of a docile husband and father-in-law. This as well as the series Senior Junior, both aired on Sun TV, made possible his breakthrough. Subsequently, he starred in popular series on Sun TV such as Selvi and Arasi, making him a household name in Tamil Nadu.

Bhaskar made his film debut in 1987 already, enacting a small role in the film Thirumathi Oru Vegumathi. This was followed by several films in the 90's, in which he appeared in very minor or small roles including films like Friends and Thamizhan. He then graduated to supporting roles in films like Sadhu Miranda, Sivaji: The Boss, Dasavathaaram, Santhosh Subramaniam and Mozhi. As of November 2009, he has acted in over 75 Tamil films. A regular actor in directors Perarasu and Radha Mohan's films, he has starred in all their films.

Bhaskar is married and blessed with one son and one daughter. Daughter is studying in church park school.

Filmography:

2010 : Kola Kolaya Mundhirika
2010 : Madrasapattinam
2011 : Kaavalan
2011 : Payanam
2011 : Thambikottai
2011 : Ko

Dubbing Artist

In Spider Man 2 for Jhonson
For Brahmanandam in Tamil
Hollywood movies in Tamil

Serials

Nam Kudumbam
Vizhudugal
Ganga Yamuna Saraswathi
Mayavi Marichan
Chinna Papa Periya Papa
Senior Junior
Alaigal
Vaazhkai
Selvi
Arasi

M. S. Bhaskar was awarded The Best Supporting Actor from the Government of Tamil Nadu, India for the film "Mozhi" in which he played a touching role of a father who gets psychologically affected after his son's death.

View the full website biography of M. S. Baskar.