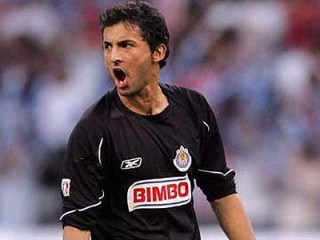 Luis Michel
Date of birth : 1979-07-21
Date of death : -
Birthplace : El Grullo, Jalisco
Nationality : Mexican
Category : Sports
Last modified : 2010-06-12
Luis Ernesto Michel Vergara (born July 21, 1979, in El Grullo, Jalisco) is a Mexican professional footballer who currently plays for Guadalajara in Primera División as a goalkeeper and is the team captain.

Career

Michel debuted against Irapuato, replacing the suspended starting keeper Oswaldo Sánchez on September 24, with Chivas winning 3–2. Three years later, Michel found himself playing in the Clausura 2006 playoffs, when the usual second-choice keeper, Alfredo Talavera, was not playing well and head coach José Manuel de la Torre gave the starting spot to Michel, who wore #31. Luis Ernesto played well, despite receiving 6 goals in 3 games, and being eliminated by Pachuca on an injury-time goal, but he proved that he could be an effective substitute for Sánchez. Months later, Michel played in the Copa Libertadores for 2006, playing in the first match against Veléz Sarsfield of Argentina in the quarterfinals. Throughout Michel's career he has received some nicknames for the jerseys he wears as in the Clausura 2006 playoffs, Luis Ernesto Michel traditionally wore a red goalie uniform, earning him the nicknames "El Diablo" (The Devil) and "El Coloradito" (The Little Red One). After wearing a white goalie jersey on occasions during the 2007 season, he switched to an all-black uniform, leading some fans to call him "El Caballero Negro" (The Black Knight).

After Sánchez was dealt away to Santos Laguna for the Clausura 2007 tournament, Michel was promoted to starting goalkeeper, wearing jersey #23. After months of playing, they switched his jersey number to #1. During a Superliga match against Atlante F.C., he suffered a double fracture on the radius and ulna bones in his forearm after erroneously diving to save a loose ball. Michel was ruled out for the Apertura 2008 season by doctors, making him miss his chance to play with his national team. He was replaced by 2nd choice goalkeeper Sergio Rodriguez until he was replaced by Victor Hernandez. However, Michel made his comeback, and won the Interliga 2009.

On January 11, 2010 Jose Luis Real named Luis Michel as team captain after Ramon Morales was released. He captained Chivas for their historic 8-0 run, which is now the record of most wins in a row at the start of the season. They received their first loss at the hands of Jaguares 4-0 ended their run. When Michel was called up to the national team, Victor Hernandez took over until his injury, in which Liborio Sanchez filled in.

International Career

Michel was first called up to the national side in 2007 by then coach Hugo Sanchez, but did not play. He debuted for the national side against New Zealand and won 2-0. His second appearance was against Iceland which ended with a 0-0 draw. Michel was selected by Javier Aguirre for the Pre-World Cup squad and played in the first preparation match versus Ecuador, which again ended 0-0.

Personal life

Luis Michel married on December 11,2009, in Guadalajara, Mexico. He has a brother that is a well known Doctor in Guadalajara. His family is originally from El Grullo, Jalisco. As a kid, he split his time between Guadalajara and El Grullo where he played in the local soccer leagues as a goalkeeper.

View the full website biography of Luis Michel.