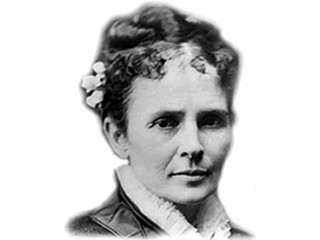 Lucretia Garfield
Date of birth : 1832-04-19
Date of death : 1918-03-14
Birthplace : Hiram, Ohio, U.S.
Nationality : American
Category : Famous Figures
Last modified : 2010-08-05
Lucretia Randolph Garfield, born April 19, 1832 in Hiram, Ohio, United States - died March 14, 1918 in Pasadena, California, United States was the First lady of United States.

The brilliant chandeliers, resplendent dignitaries, and ballroom gowns that are the legitimate accouterments of every First Lady held little interest for the retiring and pragmatic Lucretia Rudolph Garfield. And while high society may have found her homespun social gatherings dull, Mrs. Garfield proved herself when the nation needed her most.

A Rocky Commencement

President James A. Garfield wrote approvingly of his wife, stating (according to the White House web site) that the First Lady "grows up to every new emergency with fine tact and faultless taste." Her capability seemed to have surprised him. More than once he had hesitated in his decision to wed Lucretia ("Crete") Rudolph, and she too had had her doubts about marrying. In personality, the two couldn't have been more different. Outgoing, idealistic James Garfield, who dreamt of becoming a sailor, dated numerous women simultaneously and would become an adulterous husband. Studious and shy Lucretia Rudolph, a devout member of the evangelical Disciples of Christ church, was a schoolteacher who would refuse to have her photograph taken for her husband's campaign purposes. But in time they would bring out the best in each other.

Zeb Rudolph, a prominent citizen of Hiram, Ohio, and founder of the Western Reserve Eclectic Institute (now Hiram College), passed on to his daughter Lucretia his passion for knowledge and religious devotion. She and "Jim" Garfield first met as classmates in Chester, Ohio, in 1849, and again in 1851 as pupils at Western Reserve Eclectic Institute. It was Lucretia's keen intellect that piqued Garfield's interest, though he didn't think of her in romantic terms until he left Ohio in 1853. When he moved to Williamstown, Massachusetts a year later to complete his studies at Williams College, he courted Lucretia with passionate letters. But every time they met in person there was a chill between them, as Lucretia retreated into self-protective shyness.

Over time they came to an understanding and married in 1858, though Lucretia retained doubts about surrendering her independence for marriage. Uncertain about the marriage, she had informed her future husband, "My heart is not yet schooled to an entire submission to that destiny which will make me the wife of one who marries me." It was a time where many women were torn between fearing the loss of their autonomy and performing their traditional roles as women. Lucretia had been earning her own money and was reluctant to give that up.

Both James and Lucretia remained relatively unhappy during the early years of their marriage. She discovered he was having a relationship with a woman in New York City, which she referred to once as a "lawless passion" and then refused to speak of it further. The ensuing years of separation only furthered the emotional distance between husband and wife.

Growing Intimacy

When elected in 1859 to the state legislature, aligned with the anti-slavery Republican Party, Garfield lived in the capital city of Columbus while Lucretia stayed in Hiram. Then, with the onset of the Civil War, Garfield enlisted in the Union Army, where he rose to major general, at the time the youngest man to achieve such a rank. Two years later, in 1863, he came home a war hero. That year, their daughter Eliza Arabella died of diphtheria and Garfield, based solely on his military reputation, won a seat in Congress, which took him to Washington for six years. Lucretia remained in Ohio, mourning her eldest child's death.

Alone in Washington, Garfield grew lonely. In 1869, he built a house in Washington and summoned his wife and children. Documents show it was the happiest time in their marriage. The couple would have seven children Eliza Arabella, Harry Augustus, James Rudolph, Mary, Irvin McDowell, Abram, and Edward, who died in 1876 of whooping cough. Their five surviving children would go on to have prominent careers, many serving in government. Harry became president of Williams College in 1908 and an administrator during Woodrow Wilson's presidency. James became President Theodore Roosevelt's secretary of the interior from 1907 to 1909. Irvin found success as a corporate lawyer. Abram, an MIT graduate, became an architect. And Mary became actively involved in community affairs in New York and California.

As the children matured Lucretia began to show more interest in her husband's career. She discovered that she could cultivate a satisfying intellectual and social life in Washington, and by sharing these interests with her husband the Garfields grew closer to the point that they were rarely seen apart.

A Fleeting Presidency

It was a lively Garfield family that moved into the White House in 1881, five clamourous children along with the President's frail mother, Eliza. While the president would carry his mother, who dressed only in black, up and down the White House stairs, son Irvin would often be riding his bicycle down the mansion's main staircase and into the East Room. Mrs. Garfield may have scorned what she saw as the superficial duties of First Lady, but she was an exceedingly hospitable woman by nature, and her frequent guests all felt welcomed. Nearing fifty she was still said to be trim, graceful with penetrating eyes, and politically informed.

Like many politicians' wives, Mrs. Garfield became an enormous influence on her husband. With her practical outlook on life she was able to temper his idealism and make him a more effective politician. She advised him on many issues, suggesting, for example, the appointment of James Blaine, who lost the presidential nomination to Garfield, to secretary of state, which would pacify a former political rival. It is thought that she tempered his views on suffrage (women's right to vote), which he thought a godless concept, and became a good judge of men by scrutinizing the way they treated women. "History will write him down for just what he is a peacock," she said of the adulterous New York senator Roscoe Conkling. But Mrs. Garfield's usefulness as advisor to the President would be short-lived, due to no failings of her own.

As she began undertaking plans to renovate the executive mansion, she fell suddenly and seriously ill with malaria. Garfield was extremely agitated by her state, and had written earlier that whenever she was unwell he felt as if an earthquake had shaken up his sense of security. The First Lady was taken to the Jersey shore to recuperate, which is where she had been when her husband, on his way to visit her, was shot on July 2, 1881 by the deranged Julius Guiteau. Guiteau was convicted and hanged. "Frail, fatigued, desperate, but firm and quiet and full of purpose to save," a White House official reported, Mrs. Garfield nursed her dying husband for two months. On September 19, he died of blood poisoning, a result of the doctors' constant searching for the bullets with unsterilized materials.

Mrs. Garfield became the first presidential widow to participate in her husband's memorial service, as in earlier times women were not deemed up to the task. During the mournful trip back to Ohio with her family, she kept the curtain in her railroad car open so she could acknowledge the public outpouring of sympathy. Mrs. Garfield was given a small pension from Congress, which department store tycoon Cyrus Field supplemented with a $350,000 trust fund. She died on March 14, 1918 at age eighty-six.
View the full website biography of Lucretia Garfield.