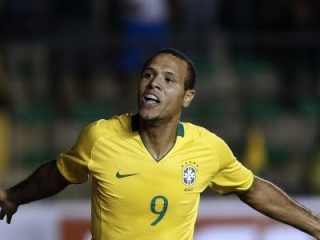 Luís Fabiano
Date of birth : 1980-11-08
Date of death : -
Birthplace : São Paulo, Brazilia
Nationality : Brazilian
Category : Sports
Last modified : 2010-06-15
Luís Fabiano Clemente (born 8 November 1980 in Campinas, São Paulo), commonly known as 'Luís Fabiano' or "The Fabulous One", is a Brazilian football player, who currently plays for Sevilla FC as a striker.

Luis Fabiano was previously unable to win a place in the Brazilian national team as he had to compete for a spot in the line-up against monsters such as Adriano, Ronaldinho or Ronaldo.

But during the absence of those stellar players, the striker who cut his teeth at the Guarani Futbol Club earned his spot in the starting lineup of the national team and became a key player in an offensive trident that also includes Kaká and Robinho.

Born in Sao Paulo in 1980, Luis Fabiano started his career without the fanfare that characterized the careers of his peers. Furthermore, he left Europe more than five years after his pro debut with Guaraní. Before heading to Stade Rennais of France, where he barely played for one season, he had a long journey through several teams in his homeland: Ituano, Ponte Preta and Sao Paulo.

His good performances with those teams allowed Luis Fabiano to return to the "Old World", playing for Portugal's Porto. After another season full of ups and downs he was traded to Sevilla, the club in which he finally settled and now regularly displays his goalscoring touch.

Strengths: He moves really well in the box, where, thanks to his scoring instinct, he becomes a lethal weapon.
Weaknesses: He is often unable to stay focused for the entire 90 minutes.

Career high: With a great header, he paved the road to victory against Middlesbrough in the final game of the 2006 UEFA Cup, a tournament won by Sevilla for the first time in the team's history.
Career low: His first European incursions in France and Portugal were traumatic. He played very little, and when he did he was rendered irrelevant.

Style: A classic centte-forward, with great technique, who also feels comfortable pivoting and playing near the area.

Quotes: "In the way I see football, a good striker is that who scores goals. And he does that. Once, we were in a training in which the players could touch the ball just two times and some players would send the ball wide when in front of the goal. But not him. He would go there and score, because he is hungry for goals. That's why I decided to put him on the team." Brazil boss Dunga.

Trivia: In 2008 he renewed his contract and became Sevilla's best paid player.

Soccernet says: Luis Fabiano earned a spot in Dunga's starting line-up and is now considered a non-negotiable starter by the coach. Due to the importance of his position and the level of his possible competitors, he will have to show that he can lead Brazil's attack in the 2010 World Cup.
View the full website biography of Luís Fabiano .