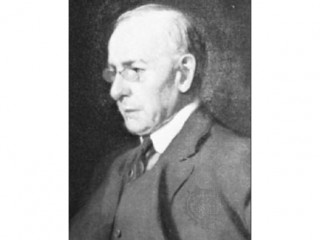 Louis Sullivan
Date of birth : 1856-09-03
Date of death : 1924-04-14
Birthplace : Boston, Massachusetts, U.S.
Nationality : American
Category : Arhitecture and Engineering
Last modified : 2012-01-20
Louis Henry Sullivan was an American architect, and has been called the "father of skyscrapers" and "father of modernism" He is considered by many as the creator of the modern skyscraper, was an influential architect and critic of the Chicago School, was a mentor to Frank Lloyd Wright, and an inspiration to the Chicago group of architects who have come to be known as the Prairie School. Along with Henry Hobson Richardson and Frank Lloyd Wright, Sullivan is one of "the recognized trinity of American architecture".

In the later years of his primary education, his experiences varied quite a bit. He would spend a lot of time by himself wandering around Boston. He explored every street looking at the surrounding buildings. This was around the time when he developed his fascination with buildings and he decided he would one day become a structural engineer/architect. While attending high school Sullivan met Moses Woolson, whose teachings made a lasting impression on him, and nurtured him until his death. After graduating from high school, Sullivan studied architecture briefly at the Massachusetts Institute of Technology. Learning that he could both graduate from high school a year early and pass up the first two years at the Massachusetts Institute of Technology by passing a series of examinations, Sullivan entered MIT at the age of sixteen. After one year of study, he moved to Philadelphia and talked himself into a job with architect Frank Furness.

The Depression of 1873 dried up much of Furness's work, and he was forced to let Sullivan go. At that point Sullivan moved on to Chicago in 1873 to take part in the building boom following the Great Chicago Fire of 1871. He worked for William LeBaron Jenney, the architect often credited with erecting the first steel-frame building. After less than a year with Jenney, Sullivan moved to Paris and studied at the École des Beaux-Arts for a year. Renaissance art inspired Sullivan's mind, and he was influenced to direct his architecture to emulating Michelangelo's spirit of creation rather than replicating the styles of earlier periods. He returned to Chicago and began work for the firm of Joseph S. Johnston & John Edelman as a draftsman. Johnston & Edleman were commissioned for interior design of the Moody Tabernacle, which was completed by Sullivan.

In 1879 Dankmar Adler hired Sullivan; a year later, he became a partner in the firm. This marked the beginning of Sullivan's most productive years. And it was at this firm that Sullivan would deeply influence a young designer named Frank Lloyd Wright, who came to embrace Sullivan's designs and principles as the inspiration for his own work.

Adler and Sullivan initially achieved fame as theater architects. While most of their theaters were in Chicago, their fame won commissions as far west as Pueblo, Colorado, and Seattle, Washington (unbuilt). The culminating project of this phase of the firm's history was the 1889 Auditorium Building in Chicago, an extraordinary mixed-use building which included not only a 3000-seat theater, but also a hotel and office building. Adler and Sullivan reserved the top floor of the tower for their own office. After 1889 the firm became known for their office buildings, particularly the 1891 Wainwright Building in St. Louis and the 1899 Carson Pirie Scott Department Store on State Street in Chicago, Louis Sullivan is considered by many to be the first architect to fully imagine and realize a rich architectural vocabulary for a revolutionary new kind of building: the steel high-rise.

Louis Sullivan coined the phrase "form ever follows function", which, shortened to "form follows function," would become the great battle-cry of modernist architects. This credo, which placed the demands of practical use above aesthetics, would later be taken by influential designers to imply that decorative elements, which architects call "ornament," were superfluous in modern buildings. But Sullivan himself neither thought nor designed along such dogmatic lines during the peak of his career. Indeed, while his buildings could be spare and crisp in their principal masses, he often punctuated their plain surfaces with eruptions of lush Art Nouveau and something like Celtic Revival decorations, usually cast in iron or terra cotta, and ranging from organic forms like vines and ivy, to more geometric designs, and interlace, inspired by his Irish design heritage.

Terra cotta is lighter and easier to work with than stone masonry. Sullivan used it in his architecture because it had a malleability that was appropriate for his ornament. Probably the most famous example is the writhing green ironwork that covers the entrance canopies of the Carson Pirie Scott store on South State Street. These ornaments, often executed by the talented younger draftsman in Sullivan's employ, would eventually become Sullivan's trademark; to students of architecture, they are his instantly-recognizable signature.

Another signature element of Sullivan's work is the massive, semi-circular arch. Sullivan employed such arches throughout his career—in shaping entrances, in framing windows, or as interior design.
All of these elements can be found in Sullivan's widely-admired Guaranty Building, which he designed while partnered with Adler. Completed in 1895, this office building in Buffalo, New York is in the Palazzo style, visibly divided into three "zones" of design: a plain, wide-windowed base for the ground-level shops; the main office block, with vertical ribbons of masonry rising unimpeded across nine upper floors to emphasize the building's height; and an ornamented cornice perforated by round windows at the roof level, where the building's mechanical units (like the elevator motors) were housed. The cornice crawls with Sullivan's trademark Art Nouveau vines; each ground-floor entrance is topped by a semi-circular arch.

Because of Sullivan's remarkable accomplishments in design and construction at such a critical point in architectural history, he has sometimes been described as the "father" of the American skyscraper. In truth, many architects had been building skyscrapers before or contemporarily with Sullivan. Chicago itself was replete with extraordinary designers and builders in the late years of the 19th century, including Sullivan's partner Dankmar Adler, as well as Daniel Burnham, and John Wellborn Root. Root was one of the builders of the Monadnock Building (see above). That and another Root design, the Masonic Temple Tower (both in Chicago), are cited by many as the originators of skyscraper aesthetics of bearing wall and column-frame construction respectively.

It may be that Sullivan's prominence in skyscraper history can be credited not only to his brilliance, but in some degree to the myth-making skills of his disciple, Frank Lloyd Wright, and to the impact of Sullivan's own book, The Autobiography of an Idea. He may also owe some of his legend to the tragic tint of his later years, which lend this great innovator's story a poignancy which has captured the imagination of student and historian alike.

Sullivan's legacy is contradictory. Some consider him the first modernist. His forward-looking designs clearly anticipate some issues and solutions of Modernism. However, his embrace of ornament makes his contribution distinct from the Modern Movement that coalesced in the 1920s and became known as the "International Style". To experience Sullivan's built work is to experience the irresistible appeal of his incredible designs, the vertical bands on the Wainwright Building, the burst of welcoming Art Nouveau ironwork on the corner entrance of the Carson Pirie Scott store, the (lost) terra cotta griffins and porthole windows on the Union Trust building, the white angels of the Bayard Building.

Except for some designs by his long time draftsman George Grant Elmslie, and the occasional tribute to Sullivan such as Schmidt, Garden & Martin's First National Bank in Pueblo, Colorado (built across the street from Adler and Sullivan's Pueblo Opera House), his style is unique. A visit to the preserved Chicago Stock Exchange trading floor, now at The Art Institute of Chicago, is proof of the immediate and visceral power of the ornament that he used so selectively. Original drawings and other archival materials from Sullivan are held by the Ryerson & Burnham Libraries in the Art Institute of Chicago and by the Drawings and Archives Department in the Avery Architectural and Fine Arts Library at Columbia University. Fragments of Sullivan buildings are also held in many fine art and design museums around the world.
View the full website biography of Louis Sullivan.